Damascus
City in Syria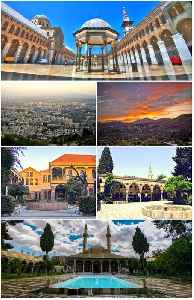 Damascus is the capital of the Syrian Arab Republic; it is also the country's largest city, following the decline in population of Aleppo due to the battle for the city. It is colloquially known in Syria as aš-Šām (الشام) and titled the "City of Jasmine". In addition to being one of the oldest continuously inhabited cities in the world, Damascus is a major cultural center of the Levant and the Arab world. The city has an estimated population of 1,711,000 as of 2009.


IS militants kill more than 60 regime fighters across Syria in 48 hours
Militants have killed more than 60 Syrian regime fighters in 48 hours, a monitor said on Saturday, in some of the deadliest attacks on pro-Damascus forces in recent weeks. Kurdish-led forces in March..
WorldNews - Published
Syria's Assad discusses peace talks, trade with Russian envoys
Syrian President Bashar al-Assad met senior officials from his strongest ally Russia in Damascus on Friday and Saturday to discuss upcoming peace talks and trade between the two countries, state media..
WorldNews - Published
Also reported by •Reuters
Child models with Down Syndrome dazzle on Damascus runway
Dozens of children with Down syndrome participated in a fashion show in the Syrian capital Damascus to highlight the importance of their integration in society.
Credit: Reuters Studio Duration: 00:45Published
Film cameras roll again in Damascus studios
New production houses are investing in Syrian drama series being shot inside the country with a local cast. Emily Wither reports.
Credit: Reuters Studio Duration: 01:20Published
Watch: Cameras roll in Damascus as film industry calls action again
Film sets fell silent during the war and well-known actors and directors left to work in other Arab states.
Credit: euronews (in English) Duration: 00:20Published
Film cameras start to roll again in Damascus studios
A direlict film set is being used to make a TV series which producers believe will help in the gradual revival of the Syrian entertainment industry.
Credit: Reuters Studio Duration: 01:03Published
In rebel-held Syria soccer teams in league of their own
Syrian footballers who represented a number of local teams before the war now hold competitions of their own in rebel-held areas away from the Syrian football federation in Damascus. Emily Wither..
Credit: Reuters Studio Duration: 01:48Published
Iran Demands U.S. Leave Syria, Damascus Threatens Its Ally
According to Reuters, Iran and Syria on Monday demanded the United States to withdraw its troops from Syria, as the Damascus government threatened to defeat Washington's Kurdish allies by force...
Credit: Wochit News Duration: 00:34Published
Assad makes first Iran visit since Syrian war
Syrian President Bashar al Assad made his first public visit to his closest regional ally Iran since the start of Syria's war in 2011, meeting Supreme Leader Ayatollah Ali Khamenei in Tehran on Monday..
Credit: Reuters Studio Duration: 00:43Published
Syria's Assad blasts U.S. designation of Iranian guards as terror organization
DAMASCUS, April 16 (Xinhua) -- Syrian President Bashar al-Assad on Tuesday denounced the recent U.S. move to designate Iran's Islamic Revolution Guards Corps as a "terrorist...
WorldNews - Published
Search this site and the web:
You Might Like