Kim Kardashian
American television and social media personality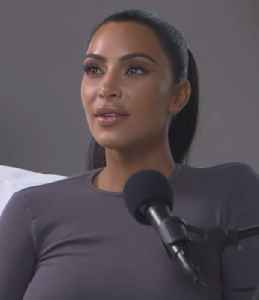 Kimberly Noel Kardashian West is an American media personality, businesswoman, socialite, and model. Kardashian first gained media attention as a friend and stylist of Paris Hilton, but received wider notice after a 2003 sex tape with her former boyfriend Ray J was leaked in 2007. Later that year, she and her family began to appear in the E! reality television series Keeping Up with the Kardashians. Its success soon led to the creation of spin-offs including Kourtney and Kim Take New York and Kourtney and Khloé Take Miami.


Kim Kardashian West to receive top legal award
Kim Kardashian West is to be honoured with a prestigious legal award for her prison reform work. The 'Keeping Up with the Kardashians' star will receive the Women Leadership in Law Award along with her..
WorldNews - Published
Kim Kardashian says she's no college-scandal mom: 'I would never want to use privilege'
Kim Kardashian West speaks out on the college admissions scandal, says she wouldn't buy her children's way into their preferred school.
USATODAY.com - Published
Kim Kardashian Responds To College Bribery Scandal
Kim Kardashian revealed how she feels about the college admission scandal that has actresses Felicity Huffman and Lori Loughlin facing jail time. In an interview with CNN's Van Jones the reality TV..
Credit: Wochit News Duration: 00:42Published
Kim Kardashian's Daughter Explained Why They Are Famous
Kim Kardashian-West's oldest daughter North asked her mother why people are always taking pictures of them. Kim explained the family's fame by saying that: "My name is Kim Kardashian, and Daddy is..
Credit: Wochit News Duration: 00:42Published
Kim Kardashian Pays 5 Years Of Rent For Ex-Con
View 1 more image (Newser) – With Kim Kardashian West pledging to cover five years of rent, one of the first inmates released after federal sentencing reforms says he has finally found a new home,..
Credit: Wochit News Duration: 00:32Published
Trump: I take Kim 'at his word' on Warmbier death
U.S. President Donald Trump said he believed North Korean dictator Kim Jong Un did not know about U.S. student Otto Warmbier's death. Zachary Goelman reports.
Credit: Reuters Studio Duration: 01:44Published
Watch: Kim and Trump shake hands before second summit in Hanoi
US President Donald Trump and North Korea's leader Kim Jong-un shook hands in front of their countries' flags, signalling the start of their second meeting in Hanoi, Vietnam.
Credit: euronews (in English) Duration: 00:48Published
Kanye West aims to deliver Easter program with massive Sunday Service at Coachella
Among the celebrities on or near the stage: West's wife Kim Kardashian West, Khloe Kardashian, Kendall Jenner, Kris Jenner and Chance the Rapper.
USATODAY.com - Published
Yes, Kim Kardashian West wants to be a lawyer. And that's only a good thing.
She used her status to free inmates and push reform. Slamming the celebrity mogul's efforts doesn't make people woke, it makes them shallow.
USATODAY.com - Published
Kim Kardashian: Studying law not about privilege or money
Kim Kardashian has responded to critics who have claimed she is only able to study law...
WorldNews - Published
Also reported by •BBC News
Search this site and the web:
You Might Like