United States Marine Corps
Amphibious warfare branch of the United States Armed Forces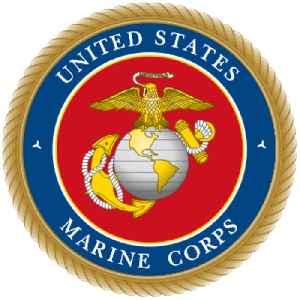 The United States Marine Corps (USMC), also referred to as the United States Marines or U.S. Marines, is a branch of the United States Armed Forces responsible for conducting expeditionary and amphibious operations with the United States Navy as well as the Army and Air Force. The U.S. Marine Corps is one of the four armed service branches in the U.S. Department of Defense (DoD) and one of the seven uniformed services of the United States.


Marine and NYC firefighter killed in Afghanistan remembered by widow and colleagues
The widow of a decorated New York City firefighter, killed while serving in Afghanistan, is speaking out for the first time since his death. Staff Sgt. Christopher Slutman was one of three Marines..
CBS News - Published
Ex-U.S. Marine accused in North Korean embassy raid ordered detained in L.A.
A former U.S. Marine accused of stealing electronics from the North Korean embassy in Madrid in a robbery of the diplomatic compound was ordered by a federal judge in Los Angeles on Tuesday to remain..
Reuters - Published
Congressman Seth Moulton Enters 2020 Presidential Race
According to Reuters, U.S. Representative Seth Moulton of Massachusettes entered the 2020 Democratic presidential race on Monday. The centrist Democrat joins a field of nearly 20 candidates vying for..
Credit: Wochit News Duration: 00:39Published
Telling Fact From Fiction in Political Promises
"If elected president, I promise I'll..."
Credit: Newsy Studio Duration: 03:19Published
Arizona Helicopter Crash Kills Two U.S Marines
According to reports from Reuters, two U.S. Marine pilots have died in a helicopter crash in Arizona. The helicopter crashed near Yuma, Arizona during a routine training mission. The Marines were..
Credit: Wochit News Duration: 00:33Published
Navy SEAL May Move To 'Less Restrictive' Confinement
The Chief Special Warfare Operator was charged for violations of the Uniform Code of Military Justice.
Credit: Newsy Studio Duration: 01:21Published
Facebook Announces New Tools to Combat 'Revenge Porn'
In a press release, Facebook said it's introducing technology to help prevent sharing of intimate images without consent.
Credit: Newsy Studio Duration: 01:08Published
Two Marines Being Investigated After Video Goes Viral Of Them Posing In Apparent Blackface
The U.S. Marine Corps has launched an investigation after a Snapchat video surfaced of two men in uniform in what appears to be blackface.
Credit: Newsweek Duration: 00:59Published
More US Marines heading down under
US Marines headed to Australia's top end for training will take part in new exercises with ADF troops on humanitarian assistance and disaster management.
SBS - Published
Former Marine connected to North Korea embassy raid to appear in federal court
A former U.S. Marine who is a member of a group accused of raiding the North Korean embassy in Madrid in February and stealing electronics is scheduled to appear in a Los Angeles federal court on..
Reuters - Published
Rep. Seth Moulton becomes 20th Democratic presidential candidate
The 40-year-old Democrat and former Marine hopes to claim national security as his signature issue
CBS News - Published
Veteran finishes marathon for fallen Marines
The Boston Marathon is a 26.2-mile race. But for a Marine, the last 100 yards were the toughest. Don Dahler explains why he refused to give up.
CBS News - Published
You Might Like