InfoWars
American far-right conspiracy theory and fake news website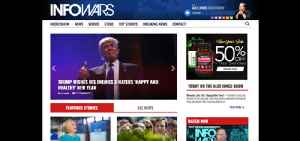 InfoWars is a far-right American conspiracy theory and fake news website owned by Alex Jones. It was founded in 1999, and operates under Free Speech Systems LLC.


You Might Like
Facebook takes down 'call to arms' event after two shot dead in Kenosha
Photo by Tayfun Coskun/Anadolu Agency via Getty Images The killing of two protestors in Kenosha, Wisconsin on Tuesday night may have emerged in response to a Facebook event posted by a..
The Verge - Published
Coronavirus: Why "shark attacks" won't go down as Covid deaths
Infowars claims about testing, the viral body bag video in Brazil and other claims fact-checked.
BBC News - Published
Climate change deniers now downplaying seriousness of coronavirus
Infowars founder Alex Jones among conspiracy theorists sowing doubts about pandemic
Independent - Published
Infowars founder who claimed Sandy Hook shooting was a hoax ordered to pay $100,000
Conspiracy promoter and right-wing media personality Alex Jones has been ordered to pay $100,000 in court costs and legal fees stemming from a lawsuit over his claims that the 2012 Sandy Hook massacre..
Reuters - Published
Alex Jones ordered to pay $100,000 in Sandy Hook defamation case
The Infowars founder has been sued by the father of a child killed in the 2012 US school shooting.
BBC News - Published
Texas judge rules Alex Jones must pay $100,000 in Sandy Hook legal fees
A Texas judge has ruled that Infowars founder Alex Jones must pay more than $100,000 in legal fees and court costs in a defamation case brought against him by the parent of a child who was slain in the..
WorldNews - Published
Also reported by •NYTimes.com
British Anti-Islam Activist Asks Trump For Asylum In U.S.
British anti-Islam activist Tommy Robinson has launched a public appeal for President Donald Trump to grant him asylum in the United States as he faces imprisonment, The Independent reports. Robinson,..
WorldNews - Published
InfoWars to part with Pepe the Frog — now an alt-right 'hate symbol' — in $15,000 suit
Cartoonist Matt Furie, who invented Pepe, wants to take his meme back from the alt-right. This lawsuit against InfoWars is his first victory.
USATODAY.com - Published
Infowars Agrees to Part Ways With Pepe the Frog
Matt Furie, the creator of Pepe, sued to stop its use by the far-right website. Infowars agreed on Monday, paying a $15,000 settlement.
NYTimes.com - Published