Sylvester Stallone
American actor, screenwriter, and film director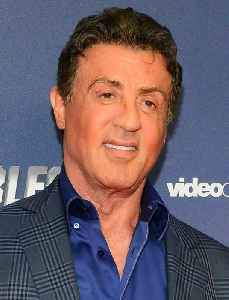 Sylvester Enzio Stallone is an American actor, director, screenwriter, and producer.


Man Carves Sculpture Of Dwayne Johnson From A Tree

The Rock has been crafted from an oak tree. Talented sculptor James O'Neal has painstakingly fashioned Dwayne Johnson from wood. The life-like sculpture was carved from a single piece of a red oak log...
Credit: Cover Video STUDIO Duration: 01:15
Published
Sylvester Stallone Is Playing Rambo in 'Mortal Kombat 11'

A new trailer reveals John Rambo, voiced by Sylvester Stallone, is the latest character to join the iconic game series.
Credit: Cover Video STUDIO Duration: 00:54
Published
Jackie Stallone passes away aged 98

The larger than life celebrity astrologer and women's wrestling promoter was a proud mother to actors Sylvester Stallone, Toni D'Alto and singer Frank.
Credit: Cover Video STUDIO Duration: 00:48
Published
You Might Like



Jackie Stallone, celebrity astrologer, Sylvester Stallone's eccentric mother, dies at 98

Jackie Stallone, the colorful mother of Sylvester Stallone, died Monday at age 98. She was a "true revolutionary gal," wrote musician son Frank.




USATODAY.com - Published





Sylvester Stallone's Mother, Jackie Stallone, Dead at 98

Jackie Stallone, the famed celeb astrologer and Sly's mother, has died ... TMZ has learned. Jackie recently passed away ... according to sources with direct knowledge. The exact circumstances..




TMZ.com - Published





Sylvester Stallone Warns Roy Jones Jr., 'Mike Tyson Is A Wrecking Ball!'

Roy Jones Jr., listen up ... here's some sage boxing advice from Rocky himself -- DON'T GET HIT BY MIKE TYSON!!!! TMZ Sports got Sylvester Stallone leaving Fia in Santa Monica this week ... and when we..




TMZ.com - Published





Sylvester Stallone Axing Paulie's Robot in Director's Cut of 'Rocky IV'

Sylvester Stallone is re-releasing "Rocky IV" with a fresh set of eyes -- in his own pure vision, no less -- but one thing that won't be in the new version ... Paulie's iconic maid robot. Sly made the..




TMZ.com - Published





Sylvester Stallone Selling Tricked-Out Stretched Cadillac Escalade for $350k

Sylvester Stallone is rarely EVER down for the count ... but when it comes to his tricked-out Escalade, he's decided it's time to hang up the gloves and sell the whip for a small fortune. The folks..




TMZ.com - Published





'Dirty Harry' star Reni Santoni, who played Poppie in 'Seinfeld,' has died at 81

Reni Santoni, who partnered with Clint Eastwood in "Dirty Harry" and Sylvester Stallone in "Cobra," has died at 81. He was Poppie in "Seinfeld."




USATODAY.com - Published





On This Day: 29 May 1994

Bruce Willis and Sylvester Stallone were among the stars in attendance as Planet Hollywood opened a branch in Hong Kong. (May 29)  




USATODAY.com - Published





Sylvester Stallone sends heartwarming video message to recovering Nick Cordero: 'You're the man'

Sylvester Stallone is cheering on Nick Cordero after the Broadway star woke up from his medically induced coma. Amanda Kloots shared the sweet video.




USATODAY.com - Published





Sylvester Stallone working on Demolition Man 2

Hollywood heavyweight Sylvester Stallone has revealed that a sequel to his 1993 Demolition Man is on the way. The 73-year-old actor-filmmaker said that he is in talks with Warner Bros Studio for a..




WorldNews - Published





Sylvester Stallone debuts a 'charming' head of silver hair; fans say it's a winning look

Sylvester Stallone showed off his au naturel look Tuesday, sporting a full head of silver hair, a striking contrast from his signature dark locks.




USATODAY.com - Published





Sylvester Stallone surprises high school students at his famous 'Rocky' statue in Philadelphia

High school students were taking picture of the famous "Rocky" statue in Philadelphia when SylvesterStallone himself showed up.




USATODAY.com - Published





Trump posts a picture of himself as Rocky, reviews mixed

CHICAGO: US President Donald Trump received a split decision on Wednesday from tens of thousands of Twitter followers after he posted an image of his head superimposed on the muscular body of Rocky..




WorldNews - Published





Producer Irwin Winkler on Scorsese and Stallone

As a producer, Irwin Winkler has shown "The Right Stuff," made a star of Sylvester Stallone with "Rocky," and had Martin Scorsese's back in the production of two undisputed classics: "Raging Bull" and..




CBS News - Published




'Downton Abbey' overpowers Brad Pitt, Rambo at box office

"Downton Abbey" opened with an estimated $31 million, overpowering Brad Pitt's "Ad Astra" and Sylvester Stallone's "Rambo: Last Blood".




USATODAY.com - Published





Schwarzenegger invokes Crocodile Dundee with knife jibe at Stallone

Arnold Schwarzenegger joked about having a bigger knife than Sylvester Stallone as he wished him luck ahead of the opening of his new Rambo film. The former California governor posted a message on..




WorldNews - Published