Alternative for Germany
Political party in Germany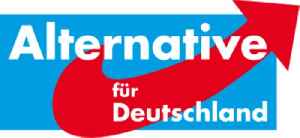 Alternative for Germany is a right-wing to far-right political party in Germany. Founded in April 2013, the AfD narrowly missed the 5% electoral threshold to sit in the Bundestag during the 2013 federal election. In 2014 the party won seven seats in the European election as a member of the European Conservatives and Reformists. After securing representation in 14 of the 16 German state parliaments by October 2017, the AfD became the third-largest party in Germany after the 2017 federal election, claiming 94 seats in the Bundestag, a major breakthrough for the party as it was the first time the AfD had won any seats in the Bundestag. The party is chaired by Jörg Meuthen; its lead candidates in the 2017 elections were AfD Co-Vice Chairman Alexander Gauland and Alice Weidel who now serves as the party group leader in the Bundestag. Since 2017, AfD is the largest opposition party in the Bundestag.


German parliament fines AfD for breaching party donation rules
Germany's parliamentary watchdog has ordered the far-right opposition party Alternative for Germany (AfD) to pay a fine of more than 400,000 euros for violating party donation rules, the AfD said on..
Reuters - Published
Search this site and the web:
You Might Like