United States Congress
Legislature of the United States, Constitutional instution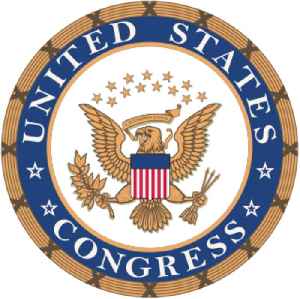 The United States Congress or U.S. Congress is the bicameral legislature of the federal government of the United States and consists of two chambers: the House of Representatives and the Senate. The Congress meets in the United States Capitol in Washington, D.C. Both senators and representatives are chosen through direct election, though vacancies in the Senate may be filled by a governor's appointment. Congress has 535 voting members: 435 representatives and 100 senators. In addition, the House of Representatives currently has six non-voting members, bringing the total membership of the US Congress to 541 or fewer in the case of vacancies.


2 journalists beaten allegedly by Congress workers in Chhattisgarh

Two Journalists were beaten allegedly by Congress workers in Chhattisgarh's Kanker. One of the journalist said that he will go on hunger strike till action is taken against accused.
Credit: ANI Duration: 01:25
Published
Bihar Polls: 'Congress prepared to fight on all 243 seats'

Chairman of Congress Screening Committee for Bihar polls, Avinash Pande stated that the party is fully prepared to fight the elections on all 243 seats. "Congress is fully prepared to fight the..
Credit: ANI Duration: 01:51
Published
Dems to introduce bill setting term limits for Supreme Court justices

U.S. House Democrats will introduce a bill next week to limit the tenure of U.S. Supreme Court justices to 18 years from current lifetime appointments, in a bid to reduce partisan warring over..
Credit: Reuters - Politics Duration: 01:37
Published
Bihar polls: 'Mahagathbandhan' will get due share of seats, says Congress leader Akhilesh Singh

Congress leader, Akhilesh Singh commented on seat sharing in grand alliance ahead of Assembly elections in Bihar. "Things are not okay on that side (NDA) also, considering Chirag Paswan's statement...
Credit: ANI Duration: 01:10
Published
Watch: Farmer groups hold 'rail roko' in Punjab; BJP & Congress trade charges

Farmer groups in Punjab have started their three day long 'rail roko' agitation against the three agriculture bills. Farmers were seen gathering on railway tracks as part of their protests. Special..
Credit: HT Digital Content Duration: 04:12
Published
'Netas, not farmers worried about agri bills': Narendra Tomar's jibe at oppn

Union Agriculture Minister Narendra Singh Tomar has lashed out at the Congress and other opposition parties over the agri bills. Tomar said that Congress had mentioned these very points in their..
Credit: HT Digital Content Duration: 08:18
Published
Powell: Congress, Fed need to 'stay with' aid

In his second trip to Capitol Hill this week, Federal Reserve Chairman Jerome Powell told lawmakers that assistance from the Fed and Congress are needed to bolster the economic recovery.
Credit: Reuters Studio Duration: 00:59
Published
Farm bills row: Congress workers hold tractor rally in Ludhiana

Congress workers along with a group of farmers held a tractor rally at Mullanpur Dakha in Ludhiana on September 23. The protest was against the passing of new agriculture reform bills in the..
Credit: ANI Duration: 01:35
Published
Wall Street ends lower on stimulus fears

Wall Street's main indexes closed lower on Monday as concerns about new lockdowns in Europe and possible delays in fresh stimulus from Congress raised fears the U.S. economy faces a longer road to..
Credit: Reuters Studio Duration: 01:26
Published
Farm bills: Congress, TMC think they are 'Badshahs', says Pralhad Joshi on ruckus in Rajya Sabha

Parliamentary Affairs Minister, Pralhad Joshi lashed out at opposition for creating ruckus over passing of two crucial farm bills in Rajya Sabha. He accused them of murdering the democracy and..
Credit: ANI Duration: 02:02
Published
DMK, CPI(M), Congress to oppose new agri bills in Rajya Sabha

The opposition parties are going to oppose the new agriculture bills in Rajya Sabha today. Dravida Munnetra Kazhagam (DMK) Member of Parliamment (MP), TKS Elangovan said, "This bill is anti-farmer, we..
Credit: ANI Duration: 01:13
Published
Peru president survives Congress impeachment vote

Martin Vizcarra denied corruption and interfering in an investigation into government contracts awarded to a friend.
Credit: Al Jazeera STUDIO Duration: 02:04
Published
Biden warning for a US-UK post-Brexit trade deal

U.S. Democratic presidential candidate Joe Biden warned the United Kingdom that it must honour the Northern Irish peace deal as it extracts itself from the European Union or there would be no U.S...
Credit: Reuters - Politics Duration: 01:11
Published
Raab says EU 'politicisation' of NI issue threatens Good Friday Agreement

The "politicisation" of Northern Ireland issues by Brussels in Brexit tradetalks is threatening the Good Friday Agreement, Foreign Secretary Dominic Raabhas told US congressional leaders. Mr..
Credit: PA - Press Association STUDIO Duration: 01:14
Published
Explain how lockdown prevented 14 to 29 lakh Covid cases: Anand Sharma

Congress leader Anand Sharma lashed out at the Modi government over the handling of the Covid crisis and raised several questions over Union Health's minister Harsh Vardhan's statement on the issue..
Credit: HT Digital Content Duration: 03:25
Published
JDU's Harivansh re-elected RS Deputy Chairman: Watch what PM Modi said

JDU leader Harivansh Narayan Singh has been elected as Rajya Sabha Deputy Chairman for the second time. Prime Minister Narendra Modi, Congress leader Ghulam Nabi Azad and several other leaders..
Credit: HT Digital Content Duration: 07:16
Published
Govt Vs opposition over scrapping question hour: Who said what in Lok Sabha

A massive showdown was witnessed in the Lok Sabha on the first day of the monsoon session over the government's decision to scrap the question hour in view of the coronavirus crisis. The opposition..
Credit: HT Digital Content Duration: 08:51
Published
You Might Like



Farm Bills like slow poison, says Congress; dares BJP allies to oppose Centre

The two Congress leaders also urged the President not to grant his assent to the Bills as farmers are on the roads against them. Selja and Jakhar said NDA allies should support the opposition parties,..




IndiaTimes - Published





At a Pennsylvania rally, Trump said he'd have an edge if the 2020 race were decided by Congress.




NYTimes.com - Published





Congress may rope in Prashant Kishor for 2022 Punjab election

Pollster Prashant Kishor may get to manage Congress in the Punjab elections scheduled for early 2022. Party sources said CM Amarinder Singh is in talks with the former JD(U) member and election..




IndiaTimes - Published





Bihar elections: Congress gives RJD ultimatum on seats

Congress has conveyed to Rashtriya Janata Dal that it should wind up seat-sharing negotiations within next few days and respect Congress's choice of constituencies, with senior members saying that..




IndiaTimes - Published





Congress no-confidence motion against Yediyurappa govt defeated

The no-confidence motion moved by the opposition Congress against the BJP government in Karnataka led by chief minister B S Yediyurappa was defeated by voice vote on Saturday night. After a fierce..




IndiaTimes - Published





Congress may agree to Lalu son as CM face

Congress and RJD are likely to announce Tejashwi Yadav as the chief ministerial candidate of the alliance as the combine hopes to put up a strong fight against the JD(U)-BJP ruling bloc in an..




IndiaTimes - Published





Appeals Court Permits House to Sue Over Trump's Border Wall Spending

A panel ruled that the House had standing to pursue a constitutional lawsuit over the president's move to spend more money on a wall than Congress had approved.




NYTimes.com - Published




Oct 28-Nov 7, India's 1st polls under Covid shadow in Bihar

Bihar is set to make history as it heads into India's first major election to be held under the shadow of Covid-19. The Election Commission on Friday announced polls to the 243-seat assembly that..




IndiaTimes - Published





Watch live: Members of Congress and others pay their respects in Statuary Hall.




NYTimes.com - Published





White House chief of staff contradicts FBI director on voter fraud

Mark Meadows slammed FBI Director Christopher Wray after Wray told Congress there was no evidence of voter fraud.




CBS News - Published





'Disgusting conspiracy' against farmers: Surjewala on farm bills

The Congress on Friday termed the agriculture-related bills introduced by the Centre as a "disgusting conspiracy" against the farmers of the country and said it stands firm with them in support of the..




IndiaTimes - Published





Trump's executively ordered review on section 230 and social media 'censoring' speech given to US Congress

US President Donald Trump's order for the review of laws governing the internet that he issued after Twitter put a fact check on two of his posts has come back with its recommendations, which could..




New Zealand Herald - Published




Congress doing 'double-faced' politics over farm bills: BJP

The BJP on Thursday accused the Congress of "double-faced" politics over the contentious farm bills and said Rahul Gandhi should first disassociate his party from its 2019 election manifesto if he..




IndiaTimes - Published





Congress supports 'Bharat bandh' call given by farmer organisations

The Congress on Thursday supported the 'Bharat Bandh' call given by farmer organisations for Friday, saying millions of party workers stand in solidarity with the farmers' cause and will participate in..




IndiaTimes - Published





Judges propose making disclosure of their personal details a crime

Legal Judges propose making disclosure of their personal details a crime The request to Congress raises serious First Amendment and transparency concerns, critics said. Gov. Ron DeSantis stands behind..




WorldNews - Published





Asian shares fall as caution sets in after Wall St retreat

Asian shares were mostly lower Thursday as caution set in after a retreat on Wall Street driven by a decline in technology shares. Market players are feeling less optimistic about action from the U.S...




WorldNews - Published





US War Crimes in Yemen: Stop Looking the Other Way

The longstanding involvement of the United States in the conflict in Yemen is facing renewed scrutiny. On September 16, State Department officials testified before the House Foreign Affairs Committee..




WorldNews - Published





Farm Bills: Congress begins nationwide protest, Punjab farmers organise 3-day 'rail roko' agitation

The Congress will begin its nearly two-month-long nationwide agitation from today against the Centre for passing the farm bills during the monsoon session of Parliament, meanwhile, Punjab farmers will..




DNA - Published





Covid 19 coronavirus: US experts vow 'no cutting corners' as vaccine tests expand

A huge international study of a Covid-19 vaccine that aims to work with just one dose is getting under way as top US health officials sought to assure a skeptical Congress and public that they can..




New Zealand Herald - Published





COVID vaccine tested, experts say no corners cut

An international study of a COVID-19 vaccine that aims to work with just one dose is getting underway as top U.S. health officials sought Wednesday to assure a skeptical Congress and public that they..




USATODAY.com - Published





GOP senators' anti-Biden report repackages old claims

congress GOP senators' anti-Biden report repackages old claims Ron Johnson and Chuck Grassley's interim report largely relies on previously known information. Senate Homeland Security and Governmental..




WorldNews - Published





Congress did what it said: Rahul Gandhi on Madhya Pradesh farm loan waiver

The Congress did what it said, while the BJP makes only false promises, Rahul Gandhi said on Wednesday, taking a dig at the MP government's reported statement in the assembly that farmers in 51..




IndiaTimes - Published





Asian shares mixed as worries percolate over pandemic

Markets were mixed in Asia on Wednesday as investors kept a wary eye on how the coronavirus pandemic will affect the economic outlook. Stocks slipped in Japan and Hong Kong but rose in Seoul and..




WorldNews - Published





Regrettable that President not according hearing to opposition parties: Congress

The Congress on Tuesday said it is unfortunate and regrettable that President Ram Nath Kovind was not according a hearing to opposition parties who have sought time from him to raise their concerns..




IndiaTimes - Published





George Biggs, a Tuskegee Airman recognized by Congress, dies at 95

George Washington Biggs, one of the last living Tuskegee Airmen from Arizona, died on Saturday at the age of 95, his daughter told The Arizona Republic.




USATODAY.com - Published




Lok Sabha passes three labour codes amid boycott by opposition

The Lok Sabha on Tuesday passed three labour codes amid boycott of the House proceedings by several opposition parties, including the Congress, in protest against the suspension of eight Rajya Sabha..




IndiaTimes - Published





Farm bills: Congress makes 3 demands to end boycott of Rajya Sabha

The Congress on Tuesday said its boycott of Rajya Sabha will not end till the government brings another bill making it illegal for private players to buy food grains from farmers below the MSP, all..




IndiaTimes - Published





Various opposition parties boycott Lok Sabha proceedings in solidarity with suspended Rajya Sabha members

Various opposition parties, including the Congress and the TMC, on Tuesday boycotted Lok Sabha in solidarity with the eight Rajya Sabha members who were suspended for unruly behaviour. Congress leader..




IndiaTimes - Published





Bihar Assembly Election 2020: Tussle on seat-sharing in Grand Alliance, Congress leaders camping in Delhi

Many stalwarts including the Congress President of Bihar are camping in the capital Delhi. According to Congress sources, names are being decided from the list of potential candidates sent by the..




DNA - Published





US stock markets continue falling amid Covid fears as Dow drops 510 points

US stock markets continued falling on Monday as investors worried Congress would not agree to more stimulus cash before the election and reacted to an uptick in coronavirus infections. The Dow Jones..




WorldNews - Published





Congress announces mass movement against Modi govt on farm bills from Sept 24

After protesting against the agricultural bills in Parliament, the Congress announced it will take to the streets, launching a mass movement across the country from September 24.




IndiaTimes - Published





Trump doubts Ruth Bader Ginsburg's dying wish, claiming Democrats wrote it

Donald Trump has attempted to cast doubt on Ruth Bader Ginsburg's dying wish, baselessly claiming a statement released by the supreme court justice's family was written by Adam Schiff, Nancy Pelosi..




WorldNews - Published





Trump and Democrats Brace for Showdown Over Supreme Court Seat

The president's determination to confirm a replacement for Justice Ruth Bader Ginsburg before the election set lawmakers on a collision course as Congress deals with other major issues.




NYTimes.com - Published





Congress releases scathing report on Boeing 737 Max

In a newly released report on Boeing's 737 Max, congressional investigators heavily criticized the airplane manufacturer for ignoring blatant flaws in its system. The report also lays blame on the..




CBS News - Published





DNA Special: Congress opposing the very reforms it had proposed in agriculture sector

In the show DNA, Sudhir Chaudhary analyses the farm Bills and also explains how the Congress is justifying its opposition to the very reforms it had once proposed.




DNA - Published





Congress subpoenas a Bannon ally who oversees a U.S. media agency over concerns of politicization.




NYTimes.com - Published





Tax Strategies to Embrace, or Avoid, Before the November Election

No one knows the outcome of the presidential race or how Congress could adjust the tax code next year. But there are changes taxpayers can make now, financial advisers say.




NYTimes.com - Published





Lok Sabha adjourned twice over Anurag Thakur's Nehru-Gandhi remark

Several opposition parties, including the Congress and Trinamool Congress, demanded an apology from Thakur. The minister was speaking on the opposition objections to PM CARES Fund.




DNA - Published





Twitter rolls out new security features to prevent Election Day chaos

Illustration by Alex Castro Twitter will start prompting high-profile political accounts to take heightened security measures ahead of the 2020 US election, the company announced Thursday. In a..




The Verge - Published





Dems promise to 'keep fighting' for virus funding

Democratic leaders promise to "keep fighting" for funding included in the Heroes Act which has languished in Congress since it was passed in May. (Sept. 17)  




USATODAY.com - Published





Harsimrat Badal's resignation mere theatrics; too little, too late: Congress




IndiaTimes - Published





Ex-intelligence chief Dan Coats: Congress must create election commission so democracy can survive 2020

Coats warned democracy's enemies want Americans to believe "our voting systems are faulty" and "sinister conspiracies" subvert the will of the people.




USATODAY.com - Published





Lok Sabha passes two agriculture sector bills amid protests by opposition, SAD

Lok Sabha on Thursday passed two bills related to the agriculture sector amid protests by the Opposition and the Shiromani Akali Dal (SAD), a constituent of the ruling NDA. The Farmers' Produce Trade..




IndiaTimes - Published





Congress trying to mislead farmers on agriculture-related bills: Manohar Lal Khattar




IndiaTimes - Published





Eight opposition parties protest non-payment of GST dues, Congress not invited

The leaders of eight opposition parties on Thursday held a protest in the Parliament complex against the government, demanding GST dues. Congress leaders were absent from the protest.




IndiaTimes - Published





President Trump contradicts CDC director on masks and vaccines hours after he testified to Congress

Just hours after CDC Director Dr. Robert Redfield testified about the importance of wearing masks and a potential vaccine timeline, President Trump openly contradicted him at a White House press..




CBS News - Published





Congress descends to new low, attacks PM Modi on his birthday

Congress has descended to a new low in Indian politics. Earlier, politicians used to avoid attacking leaders on personal occasions. However, the party has breached that barrier by attacking PM Narendra..




DNA - Published





PM Modi improved lives of 60 crore poor citizens: Amit Shah

What the Congress could not do for the poor in its 70 -year rule, Modi did it in five years, Shah said while greeting the prime minister on his 70th birthday, and wished for his long life so that he..




IndiaTimes - Published





Inquiry Ordered Into Claims Immigrants Had Unwanted Gynecology Procedures

Members of Congress and the D.H.S. are investigating claims by a nurse and lawyers that immigrant detainees in Georgia were complaining of unwanted procedures and rough treatment.




NYTimes.com - Published





Guillen death inspires bid to expand military code

Decisions on whether to prosecute members of the U.S. independently under a bill proposed by Congressional members named, "I Am Vanessa Guillen." It's named for a Texas soldier who was slain by a..




USATODAY.com - Published