Southeast Asia
Subregion of Asia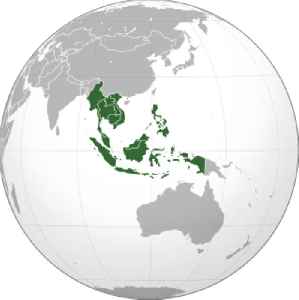 Southeast Asia
or
Southeastern Asia
is the southeastern region of Asia, consisting of the regions that are geographically south of China, east of the Indian subcontinent and north-west of Australia. Southeast Asia is bordered to the north by East Asia, to the west by South Asia and the Bay of Bengal, to the east by Oceania and the Pacific Ocean, and to the south by Australia and the Indian Ocean. The region is the only part of Asia that lies partly within the Southern Hemisphere, although the majority of it is in the Northern Hemisphere. In contemporary definition, Southeast Asia consists of two geographic regions:
Mainland Southeast Asia, also known historically as Indochina, comprising Cambodia, Laos, Myanmar, Peninsular Malaysia, Thailand, and Vietnam.
Maritime Southeast Asia, also known historically as Nusantara, the East Indies, or the Malay Archipelago, comprising the Andaman and Nicobar Islands (India), Ashmore and Cartier Islands (Australia), Brunei, Christmas Island (Australia), the Cocos (Keeling) Islands (Australia), East Malaysia, East Timor, Indonesia, the Philippines and Singapore.
You Might Like



Why China loves durian, the smelly fruit popular in Thailand, Singapore and Malaysia but banned ...

Arguably the most prized of all produce in Southeast Asia, the durians is...




WorldNews - Published





Japan PM pushes closer Southeast Asia ties in China counter

JAKARTA, : Japan's new Prime Minister pledged on Wednesday to help Southeast Asian nations increase their maritime security capabilities, as he used his first overseas trip as leader to push his..




WorldNews - Published





Japan's new populist, pragmatic PM pushes predecessor's vision

Japan's new Prime Minister, Yoshihide Suga, leaves Sunday on his first overseas foray since taking over from his former boss Shinzo Abe last month, heading to Vietnam and Indonesia.The choice to visit..




New Zealand Herald - Published





2nd wave of coronavirus hits Europe and Southeast Asia

Health officials across the world are seeing new cases of the coronavirus, including France where hospitalizations are reaching new records. Elizabeth Palmer reports.




CBS News - Published





India cases cross 7 million as experts warn of complacency

NEW DELHI: India's confirmed coronavirus toll crossed 7 million on Sunday with a number of new cases dipping in recent weeks, even as health experts warn of mask and distancing fatigue setting in...




WorldNews - Published





South China Sea Watch: China holds drills amid new tensions

BEIJING: A look at developments in , where China is pitted against smaller neighbours in multiple territorial disputes over islands, coral reefs and lagoons. The waters are a major commercial shipping..




WorldNews - Published





Education to be new medium of engagement with SE Asia: Modi

Prime Minister Narendra Modi in his address to the 22nd convocation of IIT, Guwahati through video-conferencing said that education will be the new medium of India's relations with South East Asian..




IndiaTimes - Published





Fighting drug trafficking in the Golden Triangle: a UN Resident Coordinator blog

Law and Crime Prevention Drug trafficking has long been a problem in the Golden Triangle, the region where Thailand's Chiang Rai province meets Myanmar and Laos. In this blog, Gita Sabharwal, UN..




WorldNews - Published





Lost World War II Submarine Is Found in Southeast Asia

The U.S.S. Grenadier was scuttled in April 1943 after being attacked by Japanese bombers. Surviving crew members were tortured at a prison camp for more than two years, according to accounts.




NYTimes.com - Published





Lightning Strike in Cambodia Kills 6, Injures 4 People, Reports Suggest

BANGKOK (Sputnik) - Six people have been killed and four others were injured as a result of a lightning strike on a residential building in northwestern Cambodia's Battambang province, the Khmer Times..




WorldNews - Published





Thailand's new finance minister resigns amid economic crisis

BANGKOK (Reuters) – Thailand's recently appointed finance minister, Predee Daochai, has resigned as the government struggles to pull Southeast Asia's second-largest economy out of a slump caused..




WorldNews - Published





Thai economy sees biggest contraction since financial crisis

CRIPPLING EFFECTS: The tourism and export-reliant economy shrank 12 percent in the second quarter, better than a 13 percent slump shown in a poll Reuters, BANGKOK Thailand's economy saw its biggest..




WorldNews - Published





China's days as world's factory are over, iPhone maker claims

A key supplier to Apple Inc. and a dozen other tech giants plans to split its supply chain between the Chinese market and the U.S., declaring that China's time as factory to the world is finished..




WorldNews - Published





Facebook purges ads for illegal wildlife in Southeast Asia as online trade surges

An ad showing a civet cat cowering...




WorldNews - Published





Myanmar's Aung San Suu Kyi confirms contesting for second term

Shares Myanmar leader Aung San Suu Kyi on Tuesday formally declared her intention to seek a second term in an election in November that is seen as a test of the Southeast Asian nation's tentative..




WorldNews - Published





Global report: China records most daily cases since March; poverty fears in south-east Asia

Xinjiang records 112 local transmissions; UN says millions could be forced into poverty in south-east Asia; Indonesia extends restrictions Coronavirus – latest updates See all our coronavirus..




WorldNews - Published





Philippines extends COVID-19 restrictions, makes vaccine pledge

Philippine President Rodrigo Duterte on Friday extended novel coronavirus restrictions in the capital, Manila, until mid-August and said the country would be given priority in supplies if China made a..




WorldNews - Published





India responding with utmost urgency to Covid-19 from start: WHO

India is responding with utmost urgency to coronavirus from the very beginning and has been continuously strengthening preparedness and response measures, WHO Regional Director (South-East Asia) Poonam..




IndiaTimes - Published





It's time to push back against challenge posed by China: Pompeo

Washington: The time has come for the world to push back against the challenge posed by the Chinese Communist Party, Secretary of State Mike Pompeo has said as he contended that the US "slept on this..




WorldNews - Published





The U.S. wants Asian allies to stand up to China. It's not that easy

SINGAPORE — Seeking support in a budding cold war with Beijing, the U.S. is looking to Southeast Asia, where longstanding allies and security partners have clashed with their giant neighbor in the..




WorldNews - Published





US declares 'most' of China's maritime claims in South China Sea illegal

(CNN)US Secretary of State Mike Pompeo on Monday announced a formal rejection of "most" of China's maritime claims in the South China Sea, the latest in the escalation between Washington and Beijing...




WorldNews - Published





India gave China new rice variety 2000 years ago: Research study

According to a multidisciplinary research study involving international scientists, a major change in climate some four millennia ago had led to the diversification of Japanese variety of rice into..




IndiaTimes - Published





Tiger, pangolin farming in Myanmar risks 'boosting demand'

YANGON: Conservationists have warned a sudden change in Myanmar's law allowing the commercial farming of tigers, pangolins and other endangered species risks further fuelling demand in China for rare..




WorldNews - Published





Singaporeans vote in polls expected to return ruling party

SINGAPORE (AP) — Wearing masks and plastic gloves, Singaporeans voted Friday in a general election that is expected to return Prime Minister Lee Hsien Loong's long-governing party to power. Senior..




WorldNews - Published





Asian stocks sink after Wall St losses on economy worries

BEIJING (AP) — Asian stock markets followed Wall Street lower Friday on worries economic recoveries might fade as coronavirus cases increase in the United States and some other countries. Benchmarks..




WorldNews - Published





Indonesia's Bali Island Begins to Reopen After 3-Month Coronavirus Lockdown

(DENPASAR, Indonesia) — Indonesia's resort island of Bali reopened after a three-month virus lockdown Thursday, allowing local people and stranded foreign tourists to resume public activities..




WorldNews - Published





Cambodia bans dog meat trade in 'lynchpin' town

Siem Reap, one of the most popular tourist towns in Southeast Asia, has become the first province in Cambodia to ban the dog meat trade in a victory for animal rights activists who called the area a..




WorldNews - Published





Asian Shares Advance Following Upbeat U.S. Jobs Report

Tokyo's Nikkei 225 index picked up 0.3% to 22,211.89, while the Shanghai Composite index jumped 1% to 3,121.74. In South Korea, the Kospi gained 0.4% to 2,142.74, and Australia's S&P/ASX 200 rose..




WorldNews - Published





WHO asks South-East Asia region countries to pay attention to mental health, suicide prevention

With the coronavirus pandemic still accelerating, impacting lives and livelihoods and causing fear and anxiety among people, the World Health Organization on Thursday called upon countries in the..




IndiaTimes - Published





China supplying weapons to Arakan Army armed group to weaken India, Myanmar: Report

China is supplying funds and sophisticated weaponry to armed groups in Myanmar and the Naypyitaw-designated terrorist group, the Arakan Army, to have leverage over Myanmar and India, Licas News..




IndiaTimes - Published





Thailand targets narco millions hidden in gold, steel and crypto

The downfall of a meth syndicate laundering tens of millions of dollars of drug money through Thai gold shops, oil, and construction firms has cast rare light on the staggering scale of Asia's narco..




WorldNews - Published





Indonesian fishermen rescue nearly 100 Rohingya in Aceh

SEUNUDDON, Indonesia--Indonesian fishermen rescued nearly 100 Rohingya refugees, including 79 women and children, in Aceh province after officials said they were planning to push them back out to sea...




WorldNews - Published





Tencent confirms acquisition of ailing pan-Asian streamer iflix

Chinese tech giant Tencent has confirmed that it has acquired the "content, technology, and resources" of Malaysia-based, pan-Asian streaming service iflix as part of a push into Southeast Asia...




WorldNews - Published





Health officials praise Laos after coronavirus-free declaration

International health organizations on Thursday praised Laos' early response and countrywide networks for containing the novel coronavirus after the Southeast Asian nation declared itself free of the..




Reuters - Published





Indonesia reports 1,031 new coronavirus infections; Southeast Asia's highest case total

Indonesia reported 1,031 new coronavirus infections on Wednesday taking the total to 41,431 and overtaking Singapore with the highest number of COVID-19 cases in Southeast Asia.




Reuters - Published





Coronavirus is a warning to us to mend our broken relationship with nature

In 1997, a large area of rainforest in south-east Asia was burned to the ground to make way for palm oil plantations. A combination of deforestation, forest fires and drought are believed to have..




WorldNews - Published





Traffickers demand payments for Rohingya stranded at sea

People traffickers holding hundreds of Rohingya refugees at sea are demanding payments from their families before they will release them from boats off the shores of Southeast Asia, relatives and..




Reuters - Published





Indonesia's hundreds of suspected child virus deaths highlight danger

Hundreds of children in Indonesia are believed to have died from COVID-19, giving the Southeast Asian country one of the world's highest rates of child deaths from the novel coronavirus that experts..




Reuters - Published





PM Modi discusses Covid-19 pandemic with Cambodian PM

Prime Minister Narendra Modi discussed the Covid-19 pandemic with his Cambodian counterpart Samdech Akka Moha Sena Padei Techo Hun Sen on Wednesday and conveyed India's commitment to further..




IndiaTimes - Published





Exiled Thai activist abducted in Cambodia, rights group says

Unknown gunmen abducted a Thai political activist in Cambodia's capital, rights advocates said on Friday, the latest in a series of mysterious disappearances of Southeast Asian dissidents living in..




Reuters - Published




Jakarta mosques host Friday prayers for first time in two months

Indonesians in Jakarta returned to mosques on Friday for prayers after the city relaxed rules on attending places of worship as part of a loosening of restrictions in place since late March to contain..




Reuters - Published





Indonesia reports 703 new coronavirus infections, 49 new deaths: official

Indonesia reported 703 new coronavirus infections on Friday, taking the number of confirmed cases in the Southeast Asian country to 29,521.




Reuters - Published




Philippines' Duterte renews threat to kill drug dealers after big bust

Philippine President Rodrigo Duterte renewed on Friday a threat to kill drug dealers after police seized 756 kg (1,667 lb) of methamphetamines, a haul he said proved the Southeast Asian country had..




Reuters - Published




Indonesia capital tentatively eases some coronavirus restrictions

The governor of Indonesia's capital announced on Thursday the easing of some coronavirus restrictions though he warned that the fight against the outbreak was far from over in Southeast Asia's biggest..




Reuters - Published





Facebook and PayPal invest in Indonesian start-up Gojek

JAKARTA - Facebook and PayPal have invested in the Indonesian ride-hailing and digital payment start-up Gojek, joining other tech giants Tencent and Google, the Jakarta-based company said Wednesday...




WorldNews - Published





Thai researcher eyes affordable, accessible coronavirus vaccine for SE Asia

A researcher leading Thailand's push to manufacture a coronavirus vaccine says its aim is to make it cost-effective and accessible to Southeast Asia, and play a part in preventing a supply shortage..




Reuters India - Published





Indonesia reports 479 new coronavirus cases

Indonesia reported 479 new cases of the novel coronavirus on Monday, taking the total in the Southeast Asian nation to 22,750, Health Ministry official Achmad Yurianto said.




Reuters - Published