Southeast Asia
Subregion of Asia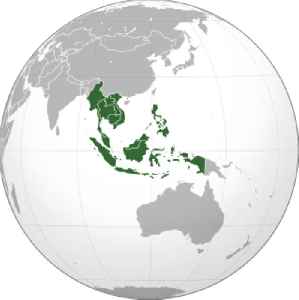 Southeast Asia
or
Southeastern Asia
is a subregion of Asia, consisting of the countries that are geographically south of China and Japan, east of India, west of Papua New Guinea, and north of Australia. Southeast Asia is bordered to the north by East Asia, to the west by South Asia and the Bay of Bengal, to the east by Oceania and the Pacific Ocean, and to the south by Australia and the Indian Ocean. The region is the only part of Asia that lies partly within the Southern Hemisphere, although the majority of it is in the Northern Hemisphere. In contemporary definition, Southeast Asia consists of two geographic regions:
Mainland Southeast Asia, also known historically as Indochina, comprising parts of Northeast India, Vietnam, Laos, Cambodia, Thailand, Myanmar and West Malaysia.
Maritime Southeast Asia, also known historically as Nusantara, the East Indies and Malay Archipelago, comprises the Andaman and Nicobar Islands of India, Indonesia, East Malaysia, Singapore, the Philippines, East Timor, Brunei, Christmas Island, and the Cocos (Keeling) Islands. Taiwan is also included in this grouping by many anthropologists.
Philippines' Duterte hits Canada on exported garbage
Philippines President Rodrigo Duterte berated Canada on Tuesday in a longrunning dispute over waste exported to the Southeast Asia nation, threatening to sail it back to Canada.
Reuters - Published
Thailand marijuana festival has visitors on a high
As Thailand became the first in Southeast Asia to legalise marijuana for medical use last year, many Thais are drawn to a northeastern town for its debut weed festival.
USATODAY.com - Published
Fleeing Brunei: 'If I die, I lived a good life'
Nineteen year-old transgender refugee Zoella Zayce fled to Canada in 2018 from Brunei, which this month introduced the death penalty for homosexuality. This is her story in her words. Rough Cut (no..
Credit: Reuters Studio Duration: 01:26Published
Political Islam looms over Indonesian polls
Religion is becoming politicized in Indonesia as over 192 million people are expected to head to the polls in what will be the world's largest single-day election. Justin Solomon reports.
Credit: Reuters Studio Duration: 01:50Published
Researchers Remove Huge Python From South Florida Preserve
It's the largest Burmese python to ever be pulled out of the Big Cypress National Preserve in south Florida.
Credit: Newsy Studio Duration: 01:27Published
Philippines housing crisis: Filipinos need affordable homes
Southeast Asia's fastest-growing economy has a housing shortage, with more than 6 million homes needed for impoverished families.
Credit: Al Jazeera STUDIO Duration: 02:51Published
Philippine news site chief and Duterte critic freed on bail after latest arrest
Maria Ressa, Duterte critic and the chief of Philippine news site Rappler, is freed on bail after being arrested at a Manila airport. Rough cut - no reporter narration.
Credit: Reuters Studio Duration: 01:08Published
Monitor says Thai election campaign 'heavily tilted' to benefit junta
An election monitor says that the run-up to Thailand's weekend vote was 'heavily tilted' to benefit a party close to the ruling military junta. Rough cut - no reporter narration.
Credit: Reuters Studio Duration: 00:57Published
The History of Interventionism
As the debate over intervening in international conflicts continues to rage, we take a look at the roots of interventionism.
Credit: Newsy Studio Duration: 03:00Published
North Korea leader Kim Jong Un departs for Hanoi
North Korea's state-run television KRT shows a video of its leader Kim Jong Un leaving Pyongyang by train for the second summit with U.S. President Donald Trump in Hanoi. Rough cut - no reporter..
Credit: Reuters Studio Duration: 01:35Published
Indonesia's 'smooth' polls a beacon in sea of strongmen: analysts
JAKARTA: Indonesia pulled off a complex yet peaceful election across its vast — and ethnically diverse — island territory this week, cementing its place as a democratic beacon in a sea of..
WorldNews - Published
Brunei wants to punish gay sex with death by stoning – can boycotts stop it?
(The Conversation is an independent and nonprofit source of news, analysis and commentary from academic experts.) Paula Gerber, Monash University (THE CONVERSATION) The sultan of Brunei has been on the..
WorldNews - Published
South African police halt shipment of rhino horns, arrest two
South African police have intercepted 167 rhino horns believed to be destined for Southeast Asia, in one of the biggest such hauls ever in the country.
Reuters - Published
Search this site and the web:
You Might Like