Zombie
Mythical undead being created through the reanimation of a human corpse, or submitted person or entity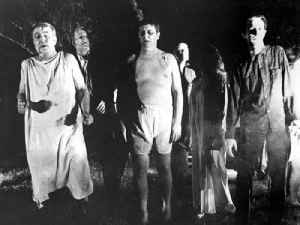 A zombie is a fictional undead being created through the reanimation of a corpse. Zombies are most commonly found in horror and fantasy genre works. The term comes from Haitian folklore, in which a zombie is a dead body reanimated through various methods, most commonly magic. Modern depictions of the reanimation of the dead do not necessarily involve magic but often invoke science fictional methods such as carriers, radiation, mental diseases, vectors, pathogens, scientific accidents, etc.


Cannes 2019, Day 2: Waking the dead and putting the living to sleep
After a glitzy red carpet, the Cannes Film Festival soon slipped back into a torpor as Jim Jarmusch opened the competition and ended the world with his droll, lethargic Zombie satire "The Dead..
France 24 - Published
Cannes 2019: Zombies, rocks stars and controversy
It's lights, camera, action time at the 72nd Cannes Film Festival. Film critic Lisa Nesselson and presenter Eve Jackson talk about this year's exciting line-up, kicking off with the zombie-killing..
France 24 - Published
Search this site and the web:
You Might Like