Vancouver
City in British Columbia, Canada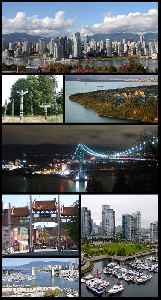 Vancouver is a coastal seaport city in western Canada, located in the Lower Mainland region of British Columbia. As the most populous city in the province, the 2016 census recorded 631,486 people in the city, up from 603,502 in 2011. The Greater Vancouver area had a population of 2,463,431 in 2016, making it the third-largest metropolitan area in Canada. Vancouver has the highest population density in Canada with over 5,400 people per square kilometre, which makes it the fifth-most densely populated city with over 250,000 residents in North America behind New York City, Guadalajara, San Francisco, and Mexico City according to the 2011 census. Vancouver is one of the most ethnically and linguistically diverse cities in Canada according to that census; 52% of its residents have a first language other than English. Roughly 30% of the city's inhabitants are of Chinese heritage. Vancouver is classed as a Beta global city.


Explore Western Canada—from Vancouver to Banff, Lake Louise and Jasper
From cosmopolitan cities to wild landscapes, this trip gives you everything
USATODAY.com - Published
Canada tweaked terror report after pressure from Sikh groups
Prime Minister Trudeau attended a nagar kirtan in Vancouver less than 24 hours after the decision to remove all references to Khalistani extremism from the report that was made and the changes were in..
WorldNews - Published
Fleeing Brunei: 'If I die, I lived a good life'
Nineteen year-old transgender refugee Zoella Zayce fled to Canada in 2018 from Brunei, which this month introduced the death penalty for homosexuality. This is her story in her words. Rough Cut (no..
Credit: Reuters Studio Duration: 01:26Published
How Bees Can Tell Us How Dirty Our Air Is
A new study shows bees could help scientists understand urban pollution. Canadian researchers were able to measure the level of source of pollution in urban environments by analyzing honey. According..
Credit: Wochit News Duration: 00:42Published
Huawei Pleads Not Guilty To Violating U.S. Sanctions On Iran
The U.S. is accusing Huawei's CFO, Meng Wanzhou, of covering up the alleged sanctions violations.
Credit: Newsy Studio Duration: 00:59Published
Jason Momoa On Why He 'bleeds' All Blacks
Vancouver, Canada – South Africa overcame France 21-12 to win its first title of the season. The World Series' defending champion saw off Argentina and Fiji in the knockout stages before outscoring..
Credit: Wochit News Duration: 00:33Published
Canada Approves Extradition Proceedings Against Huawei Executive
According to Reuters, the Canadian government cleared the way on Friday for extradition proceedings against the chief financial officer of Huawei, who faces charges in the United States. Meng Wanzhou..
Credit: Wochit News Duration: 00:36Published
Transgender teenager from Brunei seeks asylum in Canada
Zoella Zayce displays no photos of her family in her basement apartment in Vancouver, thousands of miles from where she left them in Brunei. The 19-year-old refugee claimant is a transgender woman,..
Reuters - Published
Search this site and the web:
You Might Like