Vancouver
City in British Columbia, Canada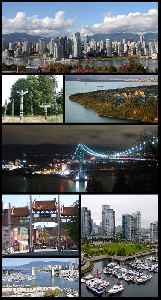 Vancouver is a coastal seaport city in western Canada, located in the Lower Mainland region of British Columbia. As the most populous city in the province, the 2016 census recorded 631,486 people in the city, up from 603,502 in 2011. The Greater Vancouver area had a population of 2,463,431 in 2016, making it the third-largest metropolitan area in Canada. Vancouver has the highest population density in Canada with over 5,400 people per square kilometre, which makes it the fifth-most densely populated city with over 250,000 residents in North America behind New York City, Guadalajara, San Francisco, and Mexico City according to the 2011 census. Vancouver is one of the most ethnically and linguistically diverse cities in Canada according to that census; 52% of its residents have a first language other than English. Roughly 30% of the city's inhabitants are of Chinese heritage. Vancouver is classed as a Beta global city.


Huawei CFO house arrest contrasts with Canadians detained in China
Huawei Chief Financial Officer Meng Wanzhou described her house arrest in Vancouver as "restricted to a limited space" even as she spent her past six months in a six-bedroom, multi-million dollar..
Reuters - Published
Martinez scores to lead Atlanta United past Vancouver 1-0
Josef Martinez scored in the 29th minute and Atlanta United won its fifth straight game by shutout, beating the Vancouver Whitecaps 1-0 Wednesday night
USATODAY.com - Published
Death toll from Alaska tour planes crash rises to six
Searchers found the bodies of the last two Alaska seaplane crash victims on Tuesday evening, after a hunt through the debris and frigid waters following a mid-air collision that left a total of six..
Credit: Reuters Studio Duration: 01:12Published
Huawei CFO fights extradition citing Trump comments
Huawei's chief financial officer intends to seek a stay of extradition proceedings in part based on statements by President Donald Trump about the case, which her lawyers say disqualifies the United..
Credit: Reuters Studio Duration: 01:47Published
Huawei Says Detained CFO to Seek Extradition Stay
According to Reuters, Huawei on Wednesday said that it will seek to stay extradition proceedings against its detained chief financial officer, saying her business activities were conducted with the..
Credit: Wochit News Duration: 00:32Published
Fleeing Brunei: 'If I die, I lived a good life'
Nineteen year-old transgender refugee Zoella Zayce fled to Canada in 2018 from Brunei, which this month introduced the death penalty for homosexuality. This is her story in her words. Rough Cut (no..
Credit: Reuters Studio Duration: 01:26Published
How Bees Can Tell Us How Dirty Our Air Is
A new study shows bees could help scientists understand urban pollution. Canadian researchers were able to measure the level of source of pollution in urban environments by analyzing honey. According..
Credit: Wochit News Duration: 00:42Published
Search this site and the web:
You Might Like