Prince Andrew, Duke of York
Member of the British royal family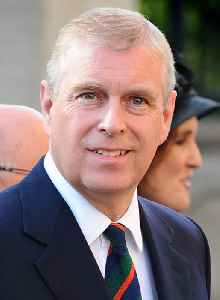 Prince Andrew, Duke of York, is a member of the British royal family.


Prince Andrew escorted Princess Beatrice down the aisle

Prince Andrew was able to walk Princess Beatrice down the aisle at her wedding on Friday (17.07.20) because they had been isolating together in the weeks beforehand.
Credit: Bang Media World Duration: 01:15
Published
No royal fanfare at wedding of Princess Beatrice

Britain's Princess Beatrice, the eldest daughter of Prince Andrew and Sarah, Duchess of York, married her fiance Edoardo Mapelli Mozzi on Friday. Queen Elizabeth and a small number of guests attended..
Credit: Reuters Studio Duration: 00:55
Published
Princess Beatrice Married In Secret Windsor Castle Wedding

There were wedding bells for Princess Beatrice. CNN reports that the daughter of Prince Andrew and Sarah, Duchess of York, got married on Friday, in a secret Windsor Castle wedding. Beatrice married..
Credit: Wochit News Duration: 00:45
Published
Esptein victims' attorney: Prince Andrew should come forward

American attorney Gloria Allred has criticised the failure of Prince Andrew, the Duke of York, to come forward for questioning about his connection to known sex offender Jeffrey Epstein. Ms Allred..
Credit: ODN Duration: 02:34
Published
"Epstein Pimp" Agrees To Name Names

Jeffrey Epstein's former mentor claimed Ghislaine Maxwell will fully cooperate with the feds. The NY Post reports that disgraced elderly socialite was busted on charges that she groomed underage..
Credit: Wochit News Duration: 00:32
Published
Famous People Connected To Jeffrey Epstein

Billionaire Jeffrey Epstein was very well connected. Epstein was arrested in 2019 for suspicions of child sex trafficking. Because of his vast wealth Epstein traveled in some very powerful circles...
Credit: Wochit News Duration: 00:41
Published
You Might Like



Woman claims she saw Prince Andrew with Ghislaine Maxwell and Virginia Giuffre on 'Woking Pizza Express' night

She alleges she saw them at London nightclub Tramp, US lawyer says




Independent - Published





Court papers include document on Prince Andrew's alleged sexual encounter with Epstein victim

Duke of York whispered 'sweet nothings' in ear of Virginia Giuffre and licked her feet, claim papers filed during now-settled defamation lawsuit




Independent - Published





Prince Andrew lobbied US government for better plea deal for Jeffrey Epstein, newly released Ghislaine Maxwell documents claim

Newly unsealed court documents claim the Duke of York allegedly lobbied the US government for his former friend Jeffrey Epstein to secure a "favourable" plea deal in the disgraced late..




WorldNews - Published





Today in History for July 23rd

Highlights of this day in history: Race rioting hits Detroit; Former President Ulysses S. Grant dies; Britain's Prince Andrew marries 'Fergie'; Vanessa Williams gives up Miss America crown; Golfer..




USATODAY.com - Published





Prince Andrew vs. the feds: Can he be forced to talk about Jeffrey Epstein, Ghislaine Maxwell?

Efforts by prosecutors to press Prince Andrew into cooperating in the Jeffrey Epstein/Ghislaine Maxwell sex-crimes case appear to be at a stalemate.




USATODAY.com - Published





Prince Andrew notably absent from Princess Beatrice's wedding photos

Nuptials of prince's daughter overshadowed by questions surrounding his friendship with sex offender Jeffrey Epstein




Independent - Published





Prince Andrew Sought Washington Lobbyist to Help With Epstein Case

Lawyers for the prince consulted a lobbyist with connections in Trump foreign policy circles. No deal was struck.




NYTimes.com - Published





Ghislaine Maxwell 'won't speak about Prince Andrew', says friend

Ghislaine Maxwell will not speak about Prince Andrew as part of a potential plea deal, according to a friend.




BBC News - Published





Prince Andrew 'deliberately evading' US authorities, lawyer for Jeffrey Epstein victims says

Prince Andrew is "deliberately evading authorities", the lawyer for dozens of Jeffrey Epstein's alleged victims has said.




Independent - Published





Prince Andrew under pressure after arrest of Ghislaine Maxwell

Royal 'bewildered' after US attorney asks him to come forward following arrest of his friend over alleged sex crimes Pressure on Prince Andrew to speak to FBI investigators was mounting after his..




WorldNews - Published





US DOJ: Would like Prince Andrew to talk Epstein

British socialite Ghislaine Maxwell was arrested by the FBI on Thursday on charges she helped procure underage sex partners for financier Jeffrey Epstein. (July 2)  




USATODAY.com - Published





Prince Andrew accuser labels him 'a toad' after he expresses regret for infamous Newsnight interview

Duke is 'facet of insidiousness' according to Virginia Giuffre




Independent - Published





Prince Andrew won't be extradited over Epstein investigation, says US attorney general

The Independent employs over 100 journalists around the world to bring you news you can trust. Please consider a contribution or subscription. Prince Andrew won't be extradited to the...




WorldNews - Published

Also reported by •Independent


U.S. prosecutors say Britain's Prince Andrew not cooperating in Epstein probe

U.S. prosecutors accused Britain's Prince Andrew on Monday of evading their efforts to question him over his contacts with the late financier Jeffrey Epstein, but lawyers for the prince accused them of..




Reuters - Published




Prince Andrew 'falsely portraying himself as willing', US prosecutor claims

US attorney claims Prince Andrew has "repeatedly declined" requests to schedule an interview.




BBC News - Published





No plans to extradite Prince Andrew to US as part of Epstein investigation – Barr

Lawyers for Britain's Prince Andrew on Monday hit back at claims that he was not co-operating with US prosecutors investigating the late financier Jeffrey Epstein, suggesting they were seeking..




WorldNews - Published





Prince Andrew 'falsely portraying himself as eager to cooperate' in Epstein investigation, US lawyer say

Geoffrey Berman claims request to arrange interview has been 'repeatedly declined'




Independent - Published





U.S. says no extradition for Prince Andrew over Epstein case

U.S. Attorney General William Barr said on Monday there were no plans to extradite Britain's Prince Andrew to the United States for questionining in the sex crimes case involving late financier Jeffrey..




Reuters - Published




Lawyers for UK's Prince Andrew hit back at U.S. authorities over Epstein inquiry

Lawyers for Britain's Prince Andrew on Monday hit back at claims that he was not cooperating with U.S. prosecutors investigating the late financier Jeffrey Epstein, suggesting they were seeking..




Reuters India - Published

Also reported by •Reuters


Prince Andrew: Lawyers lash out at US justice department in new Jeffrey Epstein statement

Prince Andrew's lawyers have lashed out at the US justice department over how it has treated their client in the Jeffrey Epstein investigation. "The Duke...




WorldNews - Published

Also reported by •Independent


UK Prince Andrew's lawyers hit back over U.S. inquiry into Epstein

Lawyers for Britain's Prince Andrew on Monday hit back at claims the royal was not cooperating with U.S. prosecutors investigating the late financier Jeffrey Epstein, suggesting they were seeking..




Reuters - Published




U.S. authorities seek to question UK's Prince Andrew over Epstein, source says

The U.S. Department of Justice is seeking to question Britain's Prince Andrew as part of its investigation into possible co-conspirators of deceased financier and convicted sex offender Jeffrey..




Reuters India - Published

Also reported by •Reuters


Jeffrey Epstein: US prosecutors 'officially request Prince Andrew be made available for questioning'

Move comes after New York attorney said Duke of York was not cooperating with probe




Independent - Published





'US requests UK assistance to obtain Prince Andrew testimony in Epstein probe'

US authorities have formally requested Prince Andrew answer questions as a witness in a criminal probe into sex offender Jeffrey Epstein, according to reports. The Department of Justice has submitted a..




WorldNews - Published





Prince Andrew 'shut the door' on Epstein probe cooperation: U.S. prosecutor

Britain's Prince Andrew has declined to cooperate with a U.S. investigation into possible co-conspirators of deceased financier and accused sex trafficker Jeffrey Epstein, a U.S. prosecutor said on..




Reuters - Published




Prince Andrew won't voluntarily cooperate in Epstein inquiry, prosecutor says

Prince Andrew has "completely shut the door" on cooperating with US investigators in the Jeffrey Epstein case and they are now "considering" further options, a New York prosecutor said on...




WorldNews - Published





'Call the FBI': Prince Andrew targeted by school bus with giant picture of his face driving around London

Sighting comes as FBI pushes for Duke to cooperate in Epstein investigation




Independent - Published





Tell Prince Andrew to call FBI says message on U.S-style bus near palace

A yellow, U.S.-style school bus displaying Prince Andrew's face and asking him to call the FBI drove past Buckingham Palace on Friday, in a move designed to press him to help authorities investigating..




Reuters - Published





Princess Eugenie wishes dad Prince Andrew a happy birthday amid Jeffrey Epstein scandal

Princess Eugenie joined Sarah Ferguson in celebrating Prince Andrew's birthday amid ongoing controversy over his Jeffrey Epstein ties.




USATODAY.com - Published





Westminster bells ring out for Prince Andrew's 60th birthday despite controversy

The bells of London's Westminster Abbey rang out for Prince Andrew's 60th birthday on Wednesday even though he has stepped down from public life following a backlash about his friendship with convicted..




Reuters - Published




After Prince Andrew scandal, Princess Beatrice's royal wedding details revealed

Princess Beatrice, 31, got engaged to  Mozzi, CEO of architecture/design studio Banda Property, in September while on vacation in Italy.




USATODAY.com - Published





Prince Andrew Asks To Defer Naval Promotion 'Until He Returns To Public Duty'

Prince Andrew has asked to defer a traditional honorary military promotion to the rank of admiral, which he was due to receive on his 60th birthday. Buckingham Palace said Prince Andrew has asked for..




WorldNews - Published





Prince Andrew: Bells of Westminster Abbey to ring for Duke of York's 60th birthday as councils exempt from celebration

UK government says councils will not be forced to mark date by flying flags after backlash




Independent - Published





Prince Andrew: Lawyers for Jeffrey Epstein's victims demand royal is exchanged for Anne Sacoolas

A lawyer acting on behalf of six women in the Jeffrey Epstein scandal has called for the alleged killer of Harry Dunn to return to the UK and for the Duke of York to face questioning from the FBI in..




Independent - Published





'Time to talk': Prince Andrew accuser urges him to speak to FBI

'Do the right thing, if not for me then the countless other Epstein victims who deserve the truth'




Independent - Published





Harry Dunn case and Prince Andrew inquiry 'not to be haggled over'

UK Foreign Secretary Dominic Raab said the extradition treaty with the US is "rules-based".




BBC News - Published





Prince Andrew 'angry and bewildered at claims of zero cooperation with Epstein probe'

Duke of York 'happy to talk to FBI but he hasn't been approached by them yet', claims source




Independent - Published





Can Prince Andrew be forced to testify?

Clive Coleman looks at whether the Duke of York can be forced to co-operate with a US investigation.




BBC News - Published





Jeffrey Epstein accusers outraged by Prince Andrew's 'lack of co-operation'

A US lawyer, who represents some of the late Jeffrey Epstein's accusers, urges the duke to assist the probe.




BBC News - Published





Epstein probe gets 'zero cooperation' from Prince Andrew - U.S. prosecutor

Britain's Prince Andrew has provided "zero cooperation" to U.S. authorities probing sex trafficking allegedly carried out by deceased financier Jeffrey Epstein and co-conspirators, a prosecutor said on..




Reuters - Published