John F. Kennedy International Airport
International airport in New York, United States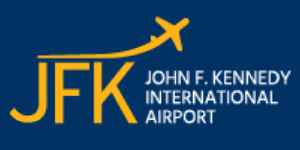 John F. Kennedy International Airport is the primary international airport serving New York City. It is the busiest international air passenger gateway into North America, the 22nd-busiest airport in the world, the sixth-busiest airport in the United States, and the busiest airport in the New York airport system; it handled just over 59 million passengers in 2017. More than ninety airlines operate from the airport, with nonstop or direct flights to destinations in all six inhabited continents.


Historic JFK terminal turned into a luxury hotel
The famous winged TWA terminal at New York's John F. Kennedy Airport came out of its decades-long retirement Wednesday with a new life as a luxury hotel. (May 15)
USATODAY.com - Published
8 things to know about the new TWA Hotel at JFK Airport from retro themes to day passes
The TWA Hotel at JFK Airport wants guests to experience the glory days of mid-century travel.
USATODAY.com - Published
An Abandoned JFK Airport Terminal Reopens Today As A Luxury Hotel
The Trans World Airlines Flight Center at JFK International Airport has been a New York landmark for decades. Designed by Eero Saarinen and opened in 1962, the iconic structure has sat abandoned since..
Credit: Wochit News Duration: 00:48Published
TSA Catches Man Smuggling Handgun
According to Business Insider, A New York man was arrested after a handgun was discovered hidden inside a DVD player he had packed in his checked bag at John F. Kennedy International Airport on..
Credit: Wochit News Duration: 00:39Published
U.S. Authorities Investigate American Airlines Flight At JFK Airport
According to Reuters, the U.S. National Transportation Safety Board said on Wednesday it is investigating an April 10 American Airlines flight at New York's JFK International Airport that struck an..
Credit: Wochit News Duration: 00:32Published
Search this site and the web:
You Might Like