Alex Morgan
American association soccer player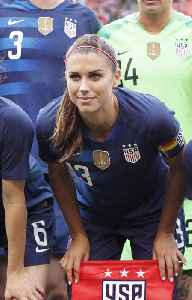 Alexandra Patricia Morgan Carrasco is an American soccer player, Olympic gold medalist, and FIFA Women's World Cup champion. She is a forward for Orlando Pride in the National Women's Soccer League (NWSL) and the United States national team. Since 2018, she co-captains her national team alongside Carli Lloyd and Megan Rapinoe.


Women's World Cup 2019: Key USA pair Morgan and Ertz fit to face Spain
Alex Morgan and Julie Ertz are fit for Monday's last-16 Women's World Cup game against Spain in Reims, says USA head coach Jill Ellis.
BBC News - Published
Alex Morgan - meet the USA star who transcends her sport
She has more Instagram followers than Virgil van Dijk and Pele, but how influential can Alex Morgan be on the continued growth of women's football?
BBC News - Published
The science of heatwaves: How will this week compare to 2003?
Alex Morgan at #TheCube asks extreme weather expert Dr Dann Mitchell how this heatwave might compare to past summers, and if we're having more hot spells.
Credit: euronews (in English) Duration: 05:21Published
US Goes Undefeated In World Cup With Zero Conceded Goals
Sweden was expected to present a challenge to the U.S. women's soccer team but beat them 2-0. According to CNN, this makes it the third win for the U.S. in the World Cup with no goals conceded. U.S...
Credit: Wochit News Duration: 00:32Published
U.S. Soccer agrees to mediation with women's team in pay equity dispute
The U.S. Soccer Federation has reached a tentative agreement for mediation with the women's national team to resolve complaints in a lawsuit over equal pay with the men's team,
Credit: Reuters - Sports Duration: 01:10Published
US Defends Itself After Accusations Of Bad Sportsmanship
The USWNT defended itself against accusations of bad sportsmanship. The team humiliated Thailand in its record 13-0 Women's World Cup victory in France on Tuesday. Thailand's players were in tears at..
Credit: Wochit News Duration: 00:32Published
Fans Divided On USWNT 13-0 Win
(Reuters) - The United States' record 13-0 drubbing of Thailand at the Women's World Cup on Tuesday did not sit well with everybody, with opinion divided on whether the team should have so..
Credit: Wochit News Duration: 00:51Published
U.S. Women Win 13-0 At The World Cup
REIMS, France (Reuters) - Striker Alex Morgan scored five times as holders the United States began their World Cup campaign with a record 13-0 win over Thailand on Tuesday. Soccer Football - Women's..
Credit: Wochit News Duration: 00:41Published
Early Olympics bow out motivation for U.S. going into the World Cup – Alex Morgan
Alex Morgan says the United States' poor performance in the 2016 Olympics will serve as motivation as they look to hoist the World Cup trophy again in France.
Credit: Reuters - Sports Duration: 01:29Published
'It's not a straight shot' to winning the World Cup - U.S. women's head coach Ellis
The United States may be favorites to retain their Women's World Cup title but U.S. Women's National Soccer Team head coach Jill Ellis said that it won't be a "smooth ride" when the tournament gets..
Credit: Reuters - Sports Duration: 01:27Published
Search this site and the web:
You Might Like