Kiev
City with special status in Kiev City Municipality, Ukraine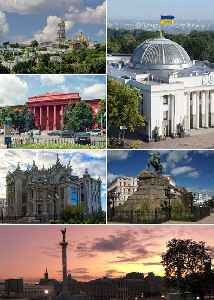 Kiev or Kyiv is the capital and most populous city of Ukraine, located in the north-central part of the country on the Dnieper. The population in July 2015 was 2,887,974, making Kiev the 7th most populous city in Europe.


Ukraine: Russian Military Intelligence Hit Squad Captured
The Ukrainian security service SBU said it captured a Russian military intelligence hit squad Wednesday it claims was responsible for the attempted murder of a Ukrainian military spy in the run-up to a..
WorldNews - Published
Poroshenko 2.0: Ukraine leader reboots campaign ahead of presidential run-off
Flanked by rock musicians wearing yellow overalls and black t-shirts with skulls on them, Ukraine's President Petro Poroshenko pumped his fist, danced to the music and waved to supporters outside a..
Reuters - Published
Ukraine comedian's campaign strategy is no joke
Ukraine's presidential candidates took drug tests on Friday in a gripping tit-for-tat rivalry between incumbent Petro Poroshenko and popular TV comedian Volodymyr Zelenskiy. David Doyle reports.
Credit: Reuters Studio Duration: 02:02Published
Comedian Could Become Ukraine's President
KIEV (Reuters) - A comedian with a popular anti-corruption message but no political experience took the lead in the first round of Ukraine's presidential election on Sunday, early exit polls showed...
Credit: Wochit News Duration: 00:42Published
National Corps: why Ukraine's far-right party is enjoying growing support
2,000 supporters of Ukraine's ultra-nationalist movement hit the streets of Kiev for a second-anniversary march on Saturday (March 2).
Credit: euronews (in English) Duration: 00:33Published
Despite Putin's bravado, Russian navy lags behind
President Vladimir Putin calls improving the Russian navy's combat capabilities a priority, but the unfinished husks of three guided-missile frigates that have languished for three years at a Baltic..
Credit: Reuters Studio Duration: 02:25Published
Ukrainian President Arrives for Debate In Kyiv, Challenger Doesn't
With reporting by Christopher Miller in Kyiv, RFE/RL's Ukrainian Service, AP, AFP, and Reuters. Ukrainian President Petro Poroshenko arrived at Olimpiyskiy Stadium in Kyiv for a presidential election..
WorldNews - Published
Ukraine admitted to interfering in the 2016 US election on Clinton's side
Special Counsel Robert Mueller has finally released his conclusions of the investigation into Russia's role in the US Presidential Election 2016. The investigation did not establish that members of the..
WorldNews - Published
Search this site and the web:
You Might Like