Sri Lanka
Island country in South Asia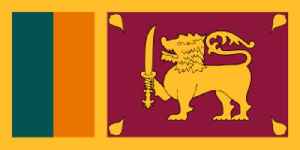 Sri Lanka, officially the Democratic Socialist Republic of Sri Lanka, is an island country in South Asia, located in the Indian Ocean southwest of the Bay of Bengal and southeast of the Arabian Sea. It is geographically separated from the Indian subcontinent by the Gulf of Mannar and the Palk Strait. Sri Jayawardenepura Kotte is its legislative capital, and Colombo is its largest city and centre of commerce.


These two brothers collected water from 151 rivers for Ram temple Bhoomi Pujan

Ahead of the mega foundation laying ceremony of Ram temple in Ayodhya, two brothers have collected water from more than 150 rivers. Since 1968, both the brothers collected water from 151 rivers across..
Credit: ANI Duration: 03:10
Published
How COVID-19 Drew The Curtain Back On India's Inability To Provide Basic Public Health Services

India is now third on the Johns Hopkins University tally of countries struggling with the novel coronavirus COVID-19, following the US and Brazil. Far from flattening the curve, CNN reports India's..
Credit: Wochit News Duration: 00:34
Published
Vande Bharat flight repatriates 648 Indians from Australia, Oman, Dubai

A special flight under Vande Bharat Mission bought back 648 stranded Indians to Chennai airport from Australia, Dubai, Oman and Sri Lanka on July 18. The flight landed at Chennai Airport. All..
Credit: ANI Duration: 01:02
Published
Sri Lanka election body mulls delaying polls due to coronavirus

Snap parliamentary election was delayed previously because of lockdown, but opposition urges holding them soon.
Credit: Al Jazeera STUDIO Duration: 02:07
Published
Indian Coast Guard rescues 6 Sri Lankan fishermen in Chennai

Indian Coast Guard rescued six Sri Lankan fishermen by a merchant vessel YM Summit from 170 nautical miles east of Chennai in Tamil Nadu. The rescue operation was coordinated by Indian Coast Guard..
Credit: ANI Duration: 01:20
Published
Spills and thrills as tuk tuks battle in Sri Lanka

Daring Sri Lankan tuk tuk drivers put their three-wheeled vehicles to the test in a gruelling race through city streets and off-road jungle terrain in a two-day adventure.
Credit: Reuters - Sports Duration: 02:20
Published
Samudra Setu: INS Jalashwa departs from Iran's Bandar Abbas port for TN's Tuticorin

India's amphibious warship Indian Navy Ship (INS) Jalashwa, which has been deployed to bring back the stranded citizens from Iran under Operation Samudra Setu, has departed from Bandar Abbas port on..
Credit: ANI Duration: 01:28
Published
Stranded Indians in Colombo applaud Vande Bharat Mission

Indian nationals stranded in Sri Lanka arrived at Colombo Airport for the special Air India flight AI 1202 for repatriation. This is the 3rd phase of Vande Bharat Mission. The Indian nationals thanked..
Credit: ANI Duration: 01:31
Published
Op Samudra Setu: INS Shardul returns from Iran with 233 stranded Indians

Indian Naval Ship Shardul on June 11 safely docked at the harbour in Gujarat's Porbandar bringing back 233 stranded Indians from Iran. Indian Navy had launched Operation Samudra Setu to repatriate..
Credit: ANI Duration: 01:08
Published
'No rush' for ICC to make decision on T20 World Cup, Richardson says

Australia bowler Kane Richardson has backed the International Cricket Council's move to hold off on deciding the fate of the T20 World Cup. The tournament, hosted by Australia, is due to kick off in..
Credit: PA - Press Association STUDIO Duration: 00:42
Published
Watch: INS Jalashwa carrying 700 Indians from Maldives arrives in Tamil Nadu

INS Jalashwa carrying 700 Indian nationals from Male, Maldives arrived at Thoothukudi harbour in Tamil Nadu on June 07. With this, INS Jalashwa alone has repatriated around 2700 Indians from Maldives..
Credit: ANI Duration: 01:14
Published
You Might Like



Sri Lanka's Rajapaksas hope to tighten grip on power in election

By Arjuna Ranawana COLOMBO (Reuters) - Sri Lankan President Gotabaya Rajapaksa hopes to tighten his hold on the nation's fractious politics in an election on Wednesday that could elevate his brother..




WorldNews - Published





India agrees for $400 million currency swap with Sri Lanka

The development comes as a relief to Sri Lanka amidst COVID-19 and will help in its post-pandemic economic recovery. A currency swap is a transaction in which two parties exchange principal and..




DNA - Published





Sri Lanka for the first time records birth of twin elephant calves

According to various research papers, elephants are less than one per cent likely to give birth to twins. It's even less likely both calves survive into...




WorldNews - Published





England v West Indies: Dom Sibley lost 12kg after 'wake-up call'

Opener Dom Sibley says he "felt self-conscious about my physique and my weight" on England's aborted tour of Sri Lanka.




BBC News - Published





Indian Coast Guard coordinates rescue operation of six Sri Lankan fishermen

The details of the rescue operation prove to be quite riveting and show the swift response of the Indian Coast Guard in coordinating rescue measures.




DNA - Published





Coronavirus funerals: Sri Lanka's Muslims decry forced cremation

Sri Lankan authorities insist on cremation for coronavirus victims. Some Muslims says its discrimination.




BBC News - Published




From Pagodas in Myanmar to Shiva temple in Lao, how India is helping countries restore cultural heritage

Playing an important role in the restoration of cultural heritage in several countries across the region from Sri Lanka to Myanmar to Vietnam to Bhutan, India is playing an important role in heritage..




DNA - Published





India, Sri Lanka hold talks on Colombo's debt repayment

The matter was raised at the leadership level during Prime Minister Narendra Modi's telephonic conversation with Sri Lankan President Gotabaya Rajapaksa on May 23.




DNA - Published





India hold discussions on rescheduling Sri Lanka's repayment

News // India band Sri Lanka have been engaged in close and constructive discussions on rescheduling Sri Lanka's repayment to India, and on currency swap under bilateral...




WorldNews - Published





Supreme Court Says Rejected Asylum Seekers Have No Right to Object in Court

The case concerned a member of Sri Lanka's Tamil ethnic minority who said he feared persecution and sought to file a petition for a writ of habeas corpus.




NYTimes.com - Published





Former Sri Lanka rebel leader condemned as 'barbaric'

COLOMBO: A claim by a former Tamil Tigers commander that he had killed as many as 3,000 Sri Lankan troops during the country's bloody civil war showed the rebel group's "brutality and..




WorldNews - Published





China's goal in South Asia is to limit 'defiance' from India and 'hinder' India-US ties: Report

The report titled 'A Global Survey of US-China Competition in the Coronavirus Era' by the Hudson Institute also noted that China's deep partnership with Pakistan and close relationship with Sri Lanka..




IndiaTimes - Published





Sri Lanka holds coronavirus-proof test vote ahead of election

Voters wear face masks and observe social distancing in queues to prepare for a general election.




BBC News - Published





Oldest Known Bow And Arrow Weapons Found Outside Africa Discovered in Sri Lankan Cave

The earliest human inhabitants of Asia's tropical rainforests were packing some serious heat, according to a new study in the journal Science Advances, which describes the discovery of 130 arrowheads..




WorldNews - Published





Adam Gilchrist, MS Dhoni changed cricket for wicket-keepers: Sanju Samson

NEW DELHI: Aggression at top of the order was almost non-existent until New Zealand's Mark Greatbatch, under the leadership of the late Martin Crowe, took the white ball on in the 1992 World Cup...




WorldNews - Published





Cricket: India postpone Sri Lanka tour over COVID-19 fears

India have postponed their limited-overs tour of Sri Lanka scheduled later this month over COVID-19 fears, cricket boards of both the countries said on Thursday.




Reuters India - Published





Sri Lanka delays general election for second time, sets August 5 as new date

Sri Lanka will hold its general election on Aug. 5, the head of the nation's election commission said at a news briefing on Wednesday, delaying the parliamentary vote for a second time as the country..




Reuters - Published





INS Jalashwa brings back nearly 700 stranded Indians from Male

With this voyage, INS Jalashwa alone has so far repatriated around 2,700 Indians from the Maldives and Sri Lanka under Operation 'Samudra Setu'. On June 1, the vessel repatriated approximately 700..




IndiaTimes - Published





Naval ship carrying 685 stranded Indians leaves Sri Lanka

A total of 685 Indian nationals stranded in Sri Lanka due to the COVID-19 linked international travel restrictions were evacuated on Monday from the island nation onboard an Indian Navy warship.




IndiaTimes - Published





Sri Lanka to reopen some tourism in August with restrictions - official

Sri Lanka plans to reopen its tourism sector on Aug. 1 by allowing only small groups of visitors to begin with, a tourism official said on Sunday.




Reuters - Published





Covid-19: 176 Indians evacuated from Sri Lanka




IndiaTimes - Published





Sri Lankan PM Mahinda Rajapaksa calls for better economic cooperation with India

Sri Lankan Prime Minister Mahinda Rajapaksa on Wednesday called for closer economic ties with India, saying the bilateral relationship would become further stronger with the addition of new areas of..




IndiaTimes - Published





PM Modi speaks with Sri Lankan PM Mahinda Rajapaksa

Prime Minister Narendra Modi congratulated his Sri Lankan counterpart Mahinda Rajapaksa on Wednesday on completing 50 years as a parliamentarian. The two leaders also discussed the health and economic..




IndiaTimes - Published





Arumugam Thondaman, Sri Lankan Tamil minister, dies




IndiaTimes - Published





Lanka seeks $1.1 billion currency swap facility from India amidst depleting forex reserves




IndiaTimes - Published





India committed to strengthen multi-faceted ties with Sri Lanka: Envoy




IndiaTimes - Published





India delay call on Sri Lanka tour amid travel restrictions

India's cricket board (BCCI) will wait for more clarity on international travel restrictions before making a call on the limited-overs tour of Sri Lanka in July, a top board official told Reuters.




Reuters India - Published





Air India flight to bring back Indians stranded in Sri Lanka on May 29

Air India will operate a special flight later this month to repatriate Indian nationals stranded in Sri Lanka, Indian High Commission said on Monday. This is the first flight from Sri Lanka since the..




IndiaTimes - Published





Stranded in Sri Lanka for 2 months, over 2400 Indians waiting for update on evacuation flight

Stranded for over two months in a foreign land, over 2,400 Indians in Sri Lanka are still making rounds to the high commission in Colombo with no announcement yet about their possible evacuation from..




IndiaTimes - Published





Tamil Genocide Day: 11 years today - 3,000 dead and 25,000 critically injured

Marking 11 years since the Sri Lankan military onslaught that massacred tens of thousands of Tamils, we revisit the final days leading up to the 18th of May 2009 – a date remembered around the world..




WorldNews - Published





India's new High Commissioner to Sri Lanka presents credential through video conferencing

Gopal Baglay, the new High Commissioner of India to Sri Lanka, on Thursday presented his credentials to President Gotabhaya Rajapaksa during a ceremony held here through video-conferencing, a first of..




IndiaTimes - Published





Federal Government ordered to pay $200,000 in Biloela family case

The Federal Government has been ordered to pay more than $200,000 in legal fees for a Biloela family fighting their deportation to Sri Lanka.




SBS - Published




Covid-19: Sri Lanka extends curfew in high risk districts till May 4

Sri Lanka on Saturday extended the nationwide curfew in four high risk districts, including Colombo, till May 4 to stem the spread of the deadly coronavirus in the country, President Gotabaya..




IndiaTimes - Published





Sri Lanka marks Easter Sunday attack anniversary

More than 250 people were killed by a group of suicide bombers on Easter Sunday last year.




BBC News - Published





Sri Lanka Catholic church 'forgives' 2019 Easter suicide bombers

Sri Lanka's Roman Catholic Church says it has forgiven the suicide bombers behind the attacks that killed at least 279 people last Easter. ......




WorldNews - Published





Pan-Pan! Facebook plea gets Sri Lankan chef off Italy-bound cruise

A Sri Lankan chef stuck aboard a cruise ship headed to Europe managed to get ashore in Colombo this week after issuing a social media plea for help from his government.




Reuters - Published





India despatches 10-tonne consignment of medicines to Sri Lanka by special flight




IndiaTimes - Published




COVID-19 crisis: India's navy ships, medical teams on standby for neighbours

They are on standby for deployment in the Maldives, Sri Lanka, Bangladesh, Nepal, Bhutan & Afghanistan if the situation worsens.




DNA - Published





India proposes online platform for Saarc to jointly combat coronavirus

India made the proposal at a video-conference of senior health officials of the South Asian Association for Regional Cooperation (Saarc) countries on Thursday.The Saarc is a regional grouping..




IndiaTimes - Published





One dead in Sri Lanka jail clash as South Asia tries to stem virus

One prisoner died and three others were injured when fighting broke out on Saturday in a Sri Lankan jail over rumors of coronavirus, as governments across South Asia tightened restrictions on movement..




Reuters - Published





Jack Ma Foundation and Alibaba Foundation Donate Medical Supplies to 10 More Asian Nations

HANGZHOU, China--(BUSINESS WIRE)--Mar 21, 2020-- The Jack Ma Foundation and Alibaba Foundation today announced plans to donate much-needed medical supplies to 10 more countries in Asia to help the..




WorldNews - Published





Sri Lanka imposes curfew as South Asia steps up coronavirus battle

Sri Lanka imposed a nationwide weekend curfew on Friday as South Asian countries escalated efforts to check the spread of coronavirus across the densely populated region of 1.9 billion people.




Reuters - Published




276 Indians, including 255 in Iran, infected with coronavirus abroad: MEA

As many as 276 Indians have been infected with coronavirus abroad, including 255 in Iran, 12 in UAE and five in Italy, the government said. In a written reply to a question in the Lok Sabha, minister..




IndiaTimes - Published





Pakistan urges calm as coronavirus cases surge, Sri Lanka stops flights

Pakistan's prime minister has urged calm after its tally of coronavirus cases rose to 245 while Sri Lanka sealed itself off and shut its stock market on Wednesday, fuelling fears that South Asian..




Reuters - Published





Sri Lanka bans all incoming flights for two weeks to combat coronavirus: government spokesman

Sri Lanka said on Tuesday said it will ban all incoming flights for two weeks from 1830 GMT on Wednesday to combat the spread of the coronavirus.




Reuters - Published





England fans affected as Sri Lanka closes border to UK visitors

Sri Lanka closes its border to travellers from the UK, affecting England fans who were still planning to visit the country despite the postponement of the two-Test series.




BBC News - Published





Coronavirus: Sri Lanka border closed to UK visitors

Sri Lanka closes its border to travellers from the UK, affecting England fans who were still planning to visit the country despite the postponement of the two-Test series.




BBC News - Published





Sri Lankan national Arun Selvarajan convicted by NIA court for spying for Pakistan

He accused has been sentenced to five years of rigorous imprisonment along with fine of Rs. 20,000.




DNA - Published





Coronavirus Outbreak: All SAARC nations respond to Prime Minister Modi's call, video conference on Sunday at 5 PM

SAARC stands for the South Asian Association for Regional Cooperation with eight members including Afghanistan, Bangladesh, Bhutan, India, the Maldives, Nepal, Pakistan, and Sri Lanka.




DNA - Published





'The players' minds were elsewhere' - Root relieved Sri Lanka tour postponed

England captain Joe Root says fears over coronavirus were getting in the way of performance and cancelling a tour of Sri Lanka was correct.




BBC News - Published