Victor Hugo
19th-century French poet, novelist, and dramatist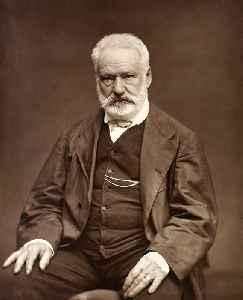 Victor Marie Hugo was a French poet, novelist, and dramatist of the Romantic movement. Hugo is considered to be one of the greatest and best-known French writers. Outside France, his most famous works are the novels Les Misérables, 1862, and The Hunchback of Notre-Dame, 1831. In France, Hugo is known primarily for his poetry collections, such as Les Contemplations and La Légende des siècles.


Notre-Dame fire: Booksellers urge Hunchback publishers to donate
Publishers of Victor Hugo's iconic Hunchback novel are asked to contribute to the restoration fund.
BBC News - Published
'A symphony of stone': Artists pay tribute to Notre-Dame after blaze
Author Victor Hugo called it "a sublime and majestic edifice" and lamented the state of "this aged queen of our cathedrals" in the 19th century. As Notre Dame is reduced to a shadow of its..
France 24 - Published
Disney Pledges $5 Million To Notre-Dame Rebuild
According to ComicBook.com, Disney is pledging $5 Million to rebuild Notre Dame Cathedral. Disney's ties to the Notre-Dame Cathedral go back quite a bit, as the structure was at the heart of one of..
Credit: Wochit News Duration: 00:36Published
Paris' Notre Dame Cathedral Has a History of Disrepair
Fires engulfed Paris' Notre Dame Cathedral this week, but the 850-year-old structure has faced destruction before.
Credit: Newsy Studio Duration: 02:01Published
Dominic West on new "Les Mis" adaptation
Actor Dominic West earned a Golden Globe nomination for playing a cheating husband who complicates his family's life in "The Affair" on Showtime, a division of CBS. Now he is taking the role of Jean..
CBS News - Published
Lily Collins: 'Les Mis' made me push myself
Themes of Victor Hugo's "Les Miserables" still resonate today for new screen adaptation stars Dominic West, David Oyelowo and Lily Collins. (April 11)
USATODAY.com - Published
Search this site and the web:
You Might Like