Slavery
Treatment of people as property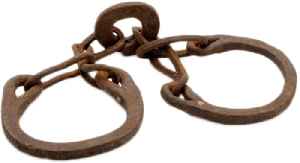 Slavery and enslavement are the state and condition of being a slave, where a person is denied the opportunity to leave whilst performing labor for another. In chattel slavery, the enslaved person is legally rendered the personal property (chattel) of the slave owner. In economics, the term de facto slavery describes the conditions of unfree labour and forced labour that most slaves endure. In the course of human history, slavery was often a feature of civilisation and legal in most societies, but is now outlawed in most countries of the world.


You Might Like
Covid 19 coronavirus: US Attorney General William Barr compares lockdown to slavery
US Attorney General William Barr drew sharp condemnation on Thursday (US time) for comparing lockdown orders during the coronavirus pandemic to slavery.In remarks on Wednesday night at an event hosted..
New Zealand Herald - Published
Kanye West Compares Music Biz and NBA to Slavery, Taylor Swift Roped In
Kanye West is on the attack -- against Universal, Sony and the NBA -- claiming they are enslaving Black people and he's trying to save them ... but somehow, Taylor Swift gets brought into the mix too...
TMZ.com - Published
Chiwetel Ejiofor: An actor's journey
Chiwetel Ejiofor is hardly a household name, but his harrowing performance in the film "12 Year's a Slave" is beginning to change all that. He's been nominated for almost every Best Actor award this..
CBS News - Published
Tory plans to curb rail strikes would leave workers as 'slaves', union bosses say
'This is the hallmark of the right-wing junta, not a democratically elected British government'
Independent - Published
How an accidental encounter brought slavery to the United States
Slavery's arrival in the United States happened by accident, but its arrival created a thriving tobacco industry and fueled the Industrial Revolution.
USATODAY.com - Published
Slavery's explosive growth, in charts: How '20 and odd' became millions
A twist of fate brought the first recorded enslaved Africans to Virginia in 1619. We trace the origins of this shameful era of American history.
USATODAY.com - Published
Augustine Tolton, Ex-Slave and First Black Priest in U.S., Takes Step to Sainthood
The Catholic Church said it was reviewing a miracle said to be attributed to Father Tolton, whom Pope Francis put on the path to sainthood Wednesday.
NYTimes.com - Published
'Pick up my book, slave': Black students face hostile environment at Ohio school district
Records from a federal investigation reveal racial discrimination in an Ohio district.
USATODAY.com - Published