Calgary Flames
Hockey team of the National Hockey League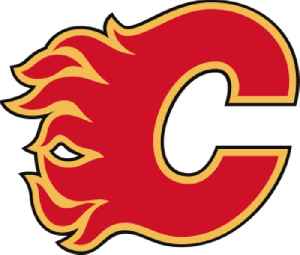 The Calgary Flames are a professional ice hockey team based in Calgary, Alberta. They are members of the Pacific Division of the Western Conference of the National Hockey League (NHL). The club is the third major-professional ice hockey team to represent the city of Calgary, following the Calgary Tigers (1921–1927) and Calgary Cowboys (1975–1977). The Flames are one of two NHL franchises in Alberta; the other is the Edmonton Oilers. The cities' proximity has led to a rivalry known as the "Battle of Alberta".


Avalanche moving on in playoffs for 1st time since 2008
Colorado Avalanche beat No. 1 seed Calgary Flames to move on in postseason for 1st time since 2008
USATODAY.com - Published
Avalanche knock out top-seeded Flames in five games
The top seeds in each conference are done after the Colorado Avalanche defeated the Calgary Flames in Game 5 of their first-round series.
USATODAY.com - Published
Avalanche beat Flames 5-1 in Game 5 to advance to 2nd round
Colin Wilson and Mikko Rantanen each had two goals and an assist, and the Colorado Avalanche beat the Calgary Flames 5-1 in Game 5 of their playoff series to advance to the second round
USATODAY.com - Published
NHL playoffs: Betting odds, lines for Friday's Bruins-Maple Leafs, Flames-Avalanche games
There are two NHL playoff games on Friday – Toronto at Boston and Colorado at Calgary.
USATODAY.com - Published
Rantanen scores OT winner, Avs beat Flames 3-2 in Game 4
Mikko Rantanen scored 10:23 into overtime after tying the game with a goal late in regulation and the Colorado Avalanche rallied for a 3-2 win over the Calgary Flames on Wednesday night to take a 3-1..
USATODAY.com - Published
Makar shines in NHL debut, Avs beat Flames 6-2 for 2-1 lead
Nathan MacKinnon scored twice in the first period and set up newly signed rookie Cale Makar's first NHL goal in his debut as the Colorado Avalanche routed the Calgary Flames 6-2 to take a 2-1 lead in..
USATODAY.com - Published
You Might Like