National League
Baseball league, part of Major League Baseball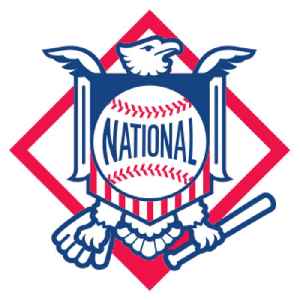 The National League of Professional Baseball Clubs, known simply as the National League (NL), is the older of two leagues constituting Major League Baseball (MLB) in the United States and Canada, and the world's oldest current professional team sports league. Founded on February 2, 1876, to replace the National Association of Professional Base Ball Players (NAPBBP) of 1871–1875, the NL is sometimes called the Senior Circuit, in contrast to MLB's other league, the American League, which was founded 25 years later.


Mets' Jacob deGrom returns to New York for tests after experiencing elbow discomfort
NL Cy Young winner Jacob deGrom will be sent back to New York because of elbow discomfort, as well as fatigue from strep throat, the Mets said.
USATODAY.com - Published
Former All-Star Carlos Zambrano says he's launching a comeback
Carlos Zambrano finished fifth in Cy Young voting three times and led the National League with 16 wins in 2006. He hasn't pitched in the majors since 2012.
USATODAY.com - Published
Is Jacob deGrom Healthy?
The sky was briefly falling faster than it normally does for Mets fans on Friday when it was announced that Jacob deGrom would be getting an MRI on his elbow. Last year's National League Cy Young..
Credit: Wochit News Duration: 00:41Published
SI's Ben Reiter Picks Nationals to Represent NL in World Series
No Bryce Harper? No problem, says SI senior writer Ben Reiter, who adds that the Nationals' deep and talented roster make them the likely choice to represent the National League in the Fall Classic.
Credit: Sports Illustrated Duration: 01:54Published
Harper agrees to historic Phillies deal -reports
Prized free agent outfielder Bryce Harper agrees to a 13-year, $330 million deal with the Philadelphia Phillies, according to multiple reports. Freddie Joyner reports.
Credit: Reuters Studio Duration: 01:37Published
Search this site and the web:
You Might Like