Met Gala
Annual fundraising gala for the Metropolitan Museum of Art's Costume Institute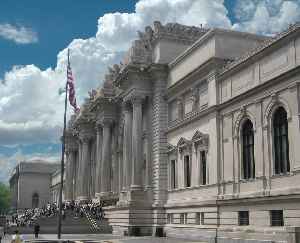 The Met Gala, formally called the Costume Institute Gala and also known as the Met Ball, is an annual fundraising gala for the benefit of the Metropolitan Museum of Art's Costume Institute in New York City. It marks the opening of the Costume Institute's annual fashion exhibit. Each year's event celebrates the theme of that year's Costume Institute exhibition, and the exhibition sets the tone for the formal dress of the night, since guests are expected to choose their fashion to match the theme of the exhibit.


Jamie Foxx's daughter Corinne says he and Katie Holmes are 'really happy'
Earlier this month, Jamie Foxx and Katie Holmes drew eyes when they posed for pictures inside the Met Gala. Foxx's daughter says they are "great."
USATODAY.com - Published
Selena Gomez goes ultra-glam for her 2019 Cannes debut
Gomez's glam look was quite similar to her 2015 Met Gala look, where she was spotted in a white Vera Wang costume with red lips and bold eye make-up. fashion and trends Updated: May 15, 2019 16:28..
WorldNews - Published
YouTuber James Charles Loses 3M Subscribers Since Tati Feud
CNN reports James Charles started the week flying high at the Met Gala. Now his career seems to be in free fall. The 19-year-old YouTube beauty blogger had around 16.5 million subscribers Friday,..
Credit: Wochit News Duration: 00:37Published
Harry Styles Pierced His Own Ear For Met Gala
There's no debating that Harry Styles a splash at the annual Met Gala on Monday evening. The former One Direction member arrived at the famed fashion event on the arm of fellow co-chair Alessandro..
Credit: Wochit News Duration: 00:44Published
These Celebs Missed The Mark At This Year's Outrageous Met Gala
2019's Met Gala was one for the ages - but some celebs didn't live up to the hype.
Credit: Wochit News Duration: 00:58Published
'Camp: Notes On Fashion', the Met Gala show 2019.
Stars used the new theme to be outlandish and extravagant as they wore voluptuous gowns, excessive headpieces, and daring designs.
Credit: euronews (in English) Duration: 01:50Published
Met Gala 2019's most eyecatching outfits
A who's who of the celebrity world gathered in New York City for the annual Met Gala. We take a look at some of the most memorable outfits from the event.
Credit: PA - Press Association STUDIO Duration: 00:47Published
Met Gala 2019: Pink carpet fashion
Lady Gaga, Katy Perry and Kim Kardashian were among the celebrities showing off brave looks at the Met Gala in New York.
Credit: PA - Press Association STUDIO Duration: 00:54Published
Celebrities take on 'campy' looks at Met Gala
Celebrities at New York's annual Met Gala on Monday interpreted the evening's theme, "Camp: Notes on Fashion" with Lady Gaga wearing four outfits on the red carpet and Katy Perry dressing up as..
Credit: Reuters Studio Duration: 02:15Published
Met Gala: Lady Gaga wows red carpet with four looks
Lady Gaga took the Met Gala red carpet by storm with no fewer than four outfits - from the sublime to the risque.
Credit: PA - Press Association STUDIO Duration: 01:45Published
Dirty Little Secrets The Met Gala Doesn't Want You To Know
Every big event has dirt - but the elegance of the Met Gala makes it all the more shocking.
Credit: Wochit News Duration: 01:03Published
In Case You Missed It: Met Gala, meteors and bears
Some of the video stories you might have missed this week.
BBC News - Published
Search this site and the web:
You Might Like