Seattle Mariners
Major League Baseball team in Seattle, Washington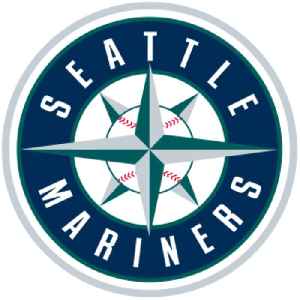 The Seattle Mariners are an American professional baseball team based in Seattle, Washington. The Mariners compete in Major League Baseball (MLB) as a member club of the American League (AL) West Division. The team joined the American League as an expansion team in 1977 playing their home games in the Kingdome. Since July 1999, the Mariners' home ballpark has been T-Mobile Park, located in the SoDo neighborhood of Seattle.


Pujols passes Ruth on RBI list, but Mariners beat Angels 6-5
Albert Pujols passed Babe Ruth for fifth place on baseball's career RBI chart, but the Seattle Mariners hit four homers and beat the Angels 6-5
USATODAY.com - Published
Bour blunders again on bases, Angels fall to Mariners 5-3
Angels slugger Justin Bour blundered again on the bases, this time failing to run out a popup that the Seattle Mariners turned into an easy double play in a 5-3 win over Los Angeles
USATODAY.com - Published
Baseball icon Ichiro Suzuki retires
Ichiro Suzuki, the most prolific hitter in baseball history and an icon on both sides of the Pacific, retires as his fellow Seattle Mariners wept, bowed and hugged him in a Tokyo stadium rocking with..
Credit: Reuters Studio Duration: 01:33Published
Ichiro Suzuki Announces Retirement
According to CNN, Ichiro Suzuki has played his last game in major league baseball. On March 21st, the Seattle Mariners played the Oakland Athletics at the Tokyo Dome in Japan, with Suzuki in the..
Credit: Wochit News Duration: 00:41Published
Ichiro To Announce Retirement From MLB After 18 Seasons
Seattle Mariners outfielder Ichiro Suzuki will announce his retirement from baseball after 18 plus MLB seasons on Thursday.
Credit: Sports Illustrated Duration: 00:30Published
Mariners blow 8-run lead, rally for 11-10 win over Angels
The Seattle Mariners blew an eight-run lead they took into the seventh inning before they rallied to beat the Angels 11-10
USATODAY.com - Published
Carrasco K's 12, Indians sweep Mariners with 1-0 win
Carlos Carrasco rebounded from one of his worst starts with 12 strikeouts, Jake Bauers hit a solo homer and the Cleveland Indians beat the Seattle Mariners 1-0 to complete a three-game sweep
USATODAY.com - Published
Bieber, bullpen lead Indians to 4-2 win over Seattle
Shane Bieber struck out five and combined with three relievers to hold Seattle to six hits as the Cleveland Indians beat the Mariners 4-2 Tuesday night and stretched their winning streak to three..
USATODAY.com - Published
Bauer, Ramirez help Indians hold off Mariners for 6-4 win
Trevor Bauer allowed one run while pitching into the seventh inning, slumping Jose Ramirez hit his first homer of the season and the Cleveland Indians held on late for a 6-4 win over the Seattle..
USATODAY.com - Published
Cole strikes out 11, Diaz homers, Astros win 3-2 at Seattle
Gerrit Cole struck out 11 batters in six innings and Aledmys Diaz homered as the Houston Astros completed a three-game sweep of the Seattle Mariners with a 3-2 win Sunday.
USATODAY.com - Published
Altuve homers, Verlander dominates as Astros beat M's 3-1
Jose Altuve homered for the fifth straight game, Justin Verlander struck out eight of the first 10 batters he faced and finished with a season-high 11, and the Houston Astros won their eighth straight..
USATODAY.com - Published
Altuve, Gurriel hit grand slams, Astros beat Seattle 10-6
Jose Altuve and Yuli Gurriel hit grand slams and the Houston Astros limited heavy-hitting Seattle by using two starting pitchers in a 10-6 win over the Mariners on Friday night
USATODAY.com - Published
You Might Like