Maryland
State in the United States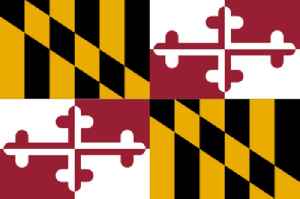 Maryland is a state in the Mid-Atlantic region of the Southeastern United States, bordering Virginia, West Virginia, and the District of Columbia to its south and west; Pennsylvania to its north; and Delaware and the Atlantic Ocean to its east. The state's largest city is Baltimore, and its capital is Annapolis. Among its occasional nicknames are Old Line State, the Free State, and the Chesapeake Bay State. It is named after the English queen Henrietta Maria, known in England as Queen Mary, who was the wife of King Charles I.


Trump Hospitalized For COVID-19

A feverish, fatigued, and coughing US President Donald Trump will be admitted to Maryland's Walter Reed Medical Center on Friday. The president announced that he and first lady Melania tested positive..
Credit: Wochit News Duration: 00:35
Published
You Might Like



Maryland man arrested after threatening to kidnap, kill Joe Biden and Kamala Harris

The man detailed graphic threats against Biden and Harris in a handwritten letter.




USATODAY.com - Published

Also reported by •NYTimes.com


Maryland man charged for leaving letter threatening Biden and Harris

The man was caught on a Ring door camera leaving the note threatening to kill Biden and Harris at a Maryland house.




CBS News - Published





Maryland man arrested, accused of shooting at truck of Trump supporters who honked at him

Neal Houk and his son, Bradley Lang said Douglas Kuhn was putting up a Black Lives Matter sign when they honked at him.




USATODAY.com - Published




Man accused of answering pro-Trump neighbors' honk with a gunshot

Maryland man was posting a BLM sign when a pickup truck carrying a Trump billboard honked, and he allegedly fired a 12-guage shotgun round.




CBS News - Published





Maryland's Republican Gov. Larry Hogan writes in Ronald Reagan rather than vote for Trump

"I thought it was important to just cast a vote that showed the kind of person I'd like to see in office," Gov. Hogan told The Washington Post Friday.




USATODAY.com - Published





'We're being silenced': Smith Island residents say Maryland took away their voting rights

One remote community says Maryland took their right to vote by closing its sole voting precinct. Now they're fighting back to defend their way of life




USATODAY.com - Published





Trump's doctors say he could be released from the hospital as soon as Monday

Physicians treating President Trump say his condition is improving, despite experiencing two drops in oxygen levels since his positive COVID-19 diagnosis Thursday. Doctors from Walter Reed Medical..




CBS News - Published





Trump travels to Walter Reed hospital on Marine One after coronavirus diagnosis

President Trump took the presidential helicopter Marine One from the White House to Walter Reed National Military Medical Center in Maryland, where Mr. Trump will be working for a few days after being..




CBS News - Published




President Trump Being Moved to Walter Reed Hospital for COVID-19 Treatment

President Trump will be flown to Walter Reed Military Hospital for continued treatment for COVID-19. The White House just announced the President will be flown to the renowned Bethesda, MD facility on..




TMZ.com - Published





Maryland Man Sentenced After Holding Large Parties During Covid Pandemic

Shawn Marshall Myers was arrested in March, after prosecutors said he threw two parties of 50 or more people at his home in defiance of the state's ban on gatherings of more than 10 people.




NYTimes.com - Published





$20 Million Settlement Reached in Maryland Officer's Fatal Shooting of William Green

Michael Owen, a police corporal in Prince George's County, Md., shot William H. Green six times while he was in a patrol car in January, the authorities said.




NYTimes.com - Published





Black women leaders respond to Trump's question: "What do you have to lose?"

Campaigning in 2016, Donald Trump called on Black voters across the country to "try something new" by voting against the Democratic Party, saying "What do you have to lose?" Now, more than 1,000 Black..




CBS News - Published





Ridiculous Fight at Running Track, Trump Supporter Goes Off

This video shows the level of tension that we have come to know as 2020, as a Trump supporter goes nuts on a Black guy who dared to stand in his lane on a running track. It appears the track is..




TMZ.com - Published





Jamal Khashoggi, other "guardians" are Time's Person of the Year for 2018

Time magazine has revealed its pick for Person of the Year: a group of journalists that the magazine is calling "the guardians." They include slain reporter Jamal Khashoggi; the Capital Gazette..




CBS News - Published





Convicted serial killer Samuel Little confesses to 1972 killing

In Maryland, a 46-year-old cold case is closed. Samuel Little, a convicted killer, admitted to murdering an unidentified woman outside Washington, D.C. in 1972. Little claims to have killed 90 people..




CBS News - Published





Coronavirus live updates: Philly mayor blasted for dining indoors; Australia falls into first recession in 28 years; 184K US deaths

Australia falls into recession. Uber to require mask selfie verification to some riders. Maryland businesses to reopen on Friday. Latest COVID news.




USATODAY.com - Published




Philadelphia mayor apologizes after viral photo shows him dining indoors in Maryland despite city ban

Kenney apologized in a tweet Monday, explaining that he felt "the risk was low because the county he visited had fewer than 800 COVID-19 cases."




USATODAY.com - Published




Weakened Laura still carries a punch as it heads toward Atlantic Ocean

The remnants of Hurricane Laura continued to weaken Saturday but it may bring tornadoes to North Carolina and the Delaware-Maryland-Virginia region.




USATODAY.com - Published




Farmers and local communities come together to overcome pandemic-related hurdles

In the latest Small Business Pulse Survey by the Census Bureau, almost 79 percent of businesses across the nation reported experiencing negative effects of the pandemic. Farmers at Mile High Fungi in..




CBS News - Published





President of Young Democrats of Maryland found dead

Body of Joseph Kitchen, 34, found in D.C. more than week after he was last seen, in Annapolis, Maryland.




CBS News - Published





Obama vows to double gas mileage by 2025

In a speech at a Safeway distribution center in the Maryland suburbs, President Obama directed the Environmental Protection Agency (EPA) and the Department of Transportation to write new standards for..




CBS News - Published





Winter weather takes its toll on millions

Fallout from a recent winter storm in the Northeast continues as about 168,000 people in Pennsylvania and Maryland are still without electricity three days after an ice storm downed trees and power..




CBS News - Published





Motive unclear in Maryland mall shooting

As the investigation into the deadly shooting at the Columbia Mall in Maryland continues, police say they still don't know why the suspect, Darion Aquilar, opened fire. Sources say investigators have..




CBS News - Published





Germantown exorcism suspects charged with murder

Maryland mother Zakieya Avery has been charged with murder in the stabbing deaths of her one-year-old son and two-year-old daughter, as well as attempted murder charges of two more of her children...




CBS News - Published





Cummings wishes Bob Gates "waited a little longer" to write book

Rep. Elijah Cummings, D-Md., offers his thoughts on Bob Gates' new memoir, Gov. Chris Christie's traffic scandal, and other topics.




CBS News - Published





Cops Arrest 5 Suspects In Racist Football Field Vandalism Case

5 men have been arrested for allegedly vandalizing a Maryland high school -- in an incident where racist graffiti was sprayed on the football field, officials say. As we previously reported, graffiti..




TMZ.com - Published





Deadly gas explosion destroys homes in Baltimore

CBS News correspondent Kris Van Cleave joins CBSN from the scene of a gas explosion that killed at least one person and destroyed three homes in Baltimore County, Maryland.




CBS News - Published





If Public Schools Are Closed, Should Private Schools Have to Follow?

A dispute in Maryland over whether prestigious private schools can teach in person during the coronavirus pandemic highlights a national divide.




NYTimes.com - Published





East Coast Braces for Floods and Wind as Isaias Intensifies

A heavy soaking is expected in the Carolinas and Maryland, with tropical storm warnings and watches in effect all the way up the Eastern Seaboard.




NYTimes.com - Published





Maryland governor overturns order that would keep Barron Trump's school closed as president pushes reopening

Gov. Larry Hogan said the decision to reopen should be left to "schools and parents, not politicians."




USATODAY.com - Published





As Trump Calls for Schools to Fully Reopen, His Son's School Says It Will Not

St. Andrew's Episcopal School, the private school in the Maryland suburbs attended by Barron Trump, said it was considering either a hybrid part-time plan or going back to entirely online classes.




NYTimes.com - Published





GOP governor sees mistakes in US virus response

Maryland Gov. Larry Hogan is pushing to have more federal funding for coronavirus testing kits and to aid state governments. He says Washington missed opportunities to stop the public health crisis..




USATODAY.com - Published





Dog is safe after lengthy foot chase on MD highway

An accident on the I-495 Beltway in Montgomery County, Maryland on Friday ended up in a high-intensity chase of a small, white dog. (July 22)  




USATODAY.com - Published





US Authorities Move to Seize Ex-Gambia Dictator's Mansion

Former Gambian President Yahya Jammeh used bribery proceeds and stolen government funds to buy a mansion in a suburb of Washington, D.C., U.S. authorities allege in a lawsuit seeking to seize the..




WorldNews - Published





Back-to-school tax holidays: Tax-free shopping comes to 16 states this summer. Here's who is giving a tax break.

Sales tax holidays will still happen this summer in 16 states including Florida, Maryland, South Carolina, Alabama, Tennessee, Texas and Virginia.




USATODAY.com - Published





Sound of the police: how US law enforcement uses noise as a weapon

Potentially harmful military-grade weapons such as flashbangs are being utilized with accelerating regularity at US protests - In Silver Spring, Maryland, fireworks can still be heard months after they..




WorldNews - Published





Mural of Breonna Taylor painted in Maryland park

Nearly 30 volunteers and 10 teaching artists painted a 7,000-square-foot mural honoring Breonna Taylor – a 26-year old Black woman who was fatally shot by police in her Louisville, Kentucky apartment..




USATODAY.com - Published





Hogan, Maryland Governor, Plans Book Tour as He Eyes 2024 White House Run

Larry Hogan, the Republican governor of a solidly Democratic state, who has drawn attention for his criticism of President Trump's coronavirus response, writes at length about the experience.




NYTimes.com - Published





U.S. pumps $1.6 billion into Novavax's COVID vaccine development

Novavax Inc., one of the front-runners in the race to develop a COVID-19 vaccine, will receive $1.6 billion from the U.S. government, the biggest contribution yet from the Operation Warp Speed program...




WorldNews - Published





'They don't make turtle-sized wheelchairs': Two years later, Maryland's 'Lego Turtle' has recovered from shell fractures

An Eastern box turtle who spent two years recovering from shell fractures that required use a custom Lego wheelchair is nearing a full recovery.




USATODAY.com - Published




He Says a Union Fired Him Over His Push for Police Reform

A clash at a Maryland local shows the tensions in a labor movement whose ranks include law enforcement officers along with many nonwhite, nonpolice members.




NYTimes.com - Published





Teens Are on Front Lines of Black Lives Matters Protests

High school students have organized protests in California, Maryland and Michigan. In one Texas suburb, three teenagers led hundreds of people in a march, and they say they aren't done organizing.




NYTimes.com - Published





Why some black-owned U.S. businesses are hardest hit by coronavirus shutdowns

After 15 years working as a hair stylist in other people's salons, Gary Connell opened his "Healthy Hair" studio in Montgomery County, Maryland in early March, sinking his savings into a two-chair shop..




Reuters - Published




White Americans turn out for Floyd protests, but will they work for change?

Leslie Batson, a white office administrator from Maryland, joined the thousands of marchers protesting the killing of George Floyd in Washington, D.C., last weekend after her children asked why the..




Reuters - Published




CrossFit founder, dropped by Reebok, apologizes about tweet

SILVER SPRING, Md. (AP) — Reebok says it has cut ties with CrossFit after the fitness training company's CEO invoked George Floyd's name in a Twitter post chastising a health group for saying that..




WorldNews - Published





Maryland cyclist arrested after assaulting 'BLM' supporters posting fliers says he's 'sick'

Video appeared to show Anthony Brennan accosting young people posting Black Lives Matters fliers along a popular D.C.-area bike trail.




USATODAY.com - Published