Maryland
State in the United States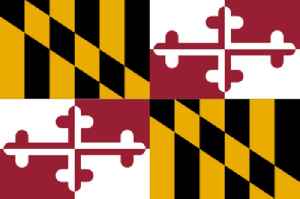 Maryland is a state in the Mid-Atlantic region of the Eastern United States, bordering Virginia, West Virginia, and the District of Columbia to its south and west; Pennsylvania to its north; and Delaware and the Atlantic Ocean to its east. The state's largest city is Baltimore, and its capital is Annapolis. Among its occasional nicknames are Old Line State, the Free State, and the Chesapeake Bay State. It is named after the English queen Henrietta Maria, known in England as Queen Mary, who was the wife of King Charles I.


Washington Redskins Under Pressure to Change Name

The football team is being blocked from relocating from FedEx Field in Maryland to RFK Stadium in DC unless it changes its name.
Credit: Cover Video STUDIO Duration: 00:55
Published
Recovery slow for many black-owned businesses

Gary Connell, owner of 'Healthy Hair' salon in Maryland, is struggling to keep his new business solvent as some economists are sounding the alarm that coronavirus-related damage to black-owned..
Credit: Reuters Studio Duration: 02:20
Published
Record spikes in COVID-19 cases, hospitalizations sweep parts of U.S.

New coronavirus cases and hospitalizations in record numbers swept through more U.S. states, including Florida and Texas, as most push ahead with reopening and President Donald Trump plans an indoor..
Credit: Reuters - Politics Duration: 01:25
Published
Confusion, long lines as U.S. states vote during pandemic

Confusion, missing mail-in ballots and long lines at some polling centers marred primary elections on Tuesday in eight states and the District of Columbia, the biggest test yet of voting during the..
Credit: Reuters - Politics Duration: 02:25
Published
U.S. coronavirus deaths top 100,000 -Reuters tally

U.S. deaths from the novel coronavirus topped 100,000 on Wednesday, according to a Reuters tally. Chris Dignam has more on the ongoing battle to contain the deadly disease.
Credit: Reuters - Politics Duration: 03:47
Published
Disparate death rates may fuel U.S. divide over COVID-19

A Reuters analysis of demographic and public health data found that death rates in Democratic parts of the U.S. are triple those in Republican ones. This report produced by Zachary Goelman.
Credit: Reuters Studio Duration: 02:16
Published
Maryland restaurant promotes social distancing with inflatable tubes

Customers in a Maryland restaurant get their take-out food surrounded by inflatable tubes to encourage social distancing.
Credit: Reuters Studio Duration: 00:16
Published
Parts of NY, VA and MD reopen in patchwork start

Less populated areas of New York, Virginia and Maryland took their first steps towards lifting lockdowns on Friday, part of a patchwork approach to the coronavirus pandemic that has been shaped by..
Credit: Reuters Studio Duration: 01:49
Published
Arrest warrants issued for NFL players Baker, Dunbar for alleged armed robbery

Arrest warrants issued for NFL players Deandre Baker and Quinton Dunbar for alleged armed robbery at party in Florida
Credit: Reuters - Sports Duration: 01:08
Published
You Might Like



Mural of Breonna Taylor painted in Maryland park

Nearly 30 volunteers and 10 teaching artists painted a 7,000-square-foot mural honoring Breonna Taylor – a 26-year old Black woman who was fatally shot by police in her Louisville, Kentucky apartment..




USATODAY.com - Published





Hogan, Maryland Governor, Plans Book Tour as He Eyes 2024 White House Run

Larry Hogan, the Republican governor of a solidly Democratic state, who has drawn attention for his criticism of President Trump's coronavirus response, writes at length about the experience.




NYTimes.com - Published





U.S. pumps $1.6 billion into Novavax's COVID vaccine development

Novavax Inc., one of the front-runners in the race to develop a COVID-19 vaccine, will receive $1.6 billion from the U.S. government, the biggest contribution yet from the Operation Warp Speed program...




WorldNews - Published





'They don't make turtle-sized wheelchairs': Two years later, Maryland's 'Lego Turtle' has recovered from shell fractures

An Eastern box turtle who spent two years recovering from shell fractures that required use a custom Lego wheelchair is nearing a full recovery.




USATODAY.com - Published




He Says a Union Fired Him Over His Push for Police Reform

A clash at a Maryland local shows the tensions in a labor movement whose ranks include law enforcement officers along with many nonwhite, nonpolice members.




NYTimes.com - Published





Teens Are on Front Lines of Black Lives Matters Protests

High school students have organized protests in California, Maryland and Michigan. In one Texas suburb, three teenagers led hundreds of people in a march, and they say they aren't done organizing.




NYTimes.com - Published





Why some black-owned U.S. businesses are hardest hit by coronavirus shutdowns

After 15 years working as a hair stylist in other people's salons, Gary Connell opened his "Healthy Hair" studio in Montgomery County, Maryland in early March, sinking his savings into a two-chair shop..




Reuters - Published




White Americans turn out for Floyd protests, but will they work for change?

Leslie Batson, a white office administrator from Maryland, joined the thousands of marchers protesting the killing of George Floyd in Washington, D.C., last weekend after her children asked why the..




Reuters - Published




CrossFit founder, dropped by Reebok, apologizes about tweet

SILVER SPRING, Md. (AP) — Reebok says it has cut ties with CrossFit after the fitness training company's CEO invoked George Floyd's name in a Twitter post chastising a health group for saying that..




WorldNews - Published





Maryland cyclist arrested after assaulting 'BLM' supporters posting fliers says he's 'sick'

Video appeared to show Anthony Brennan accosting young people posting Black Lives Matters fliers along a popular D.C.-area bike trail.




USATODAY.com - Published




George Floyd's death sparks new generation of activists in U.S.

Kristina Knox, a 25-year-old child development teacher from Maryland, cried for days after watching video footage of George Floyd, a 46-year-old black man in Minneapolis who died after a police officer..




Reuters India - Published

Also reported by •Reuters


Cyclist Charged With Assaulting Teenagers Who Posted Fliers Against Police Brutality

The police said that Anthony Brennan III, 60, of Kensington, Md., was arrested after investigators received hundreds of tips from people who had seen a video of the encounter.




NYTimes.com - Published





Maryland police searching for cyclist caught on video accosting people posting signs calling for justice for George Floyd

Maryland police are looking for a man who allegedly accosted a group of three people putting up flyers seeking justice for George Floyd this week.




USATODAY.com - Published




Police chief joins peaceful protest

A Maryland police chief joined a protest over police brutality and the recent death of George Floyd by carrying her own sign that read, "Silence is complicity."




USATODAY.com - Published





Factbox: Seven U.S. states hold primaries for seats in Congress

Seven U.S. states hold congressional primaries on Tuesday, some of which were delayed by the coronavirus. Voting for members of Congress will take place in Indiana, Iowa, Maryland, Montana, New Mexico,..




Reuters - Published




NIH head: Coronavirus 'good candidate' for vaccine

Dr. Francis Collins, the director of the National Institutes of Health (NIH) in Bethesda, Maryland, says that the coronavirus is a "good candidate" for medical researchers to accomplish finding a..




USATODAY.com - Published





UConn student Peter Manfredonia, wanted for 2 killings, caught in Maryland after six-day manhunt

Peter Manfredonia, a fugitive college student wanted for two murders in Connecticut, was caught in Maryland on Wednesday night.




USATODAY.com - Published




UConn Student Wanted in 2 Homicides is Caught in Maryland

Mr. Manfredonia, 23, had been a fugitive since Friday, when the college senior fled Connecticut after a series of violent crimes, the authorities said.




NYTimes.com - Published





Maryland hospital adds modular ICU units for virus

A Maryland hospital just opened an on-site modular home with more ICU beds to handle the potential spike in coronavirus cases as stay at home orders are phased out and the threat of a second wave..




USATODAY.com - Published





Homeless rerouted, 'safe' Margaritaville, summer camps cancel: News from around our 50 states

Crowded Maryland beaches alarm Delaware governor, North Carolina town installs hand sanitizer stations, and more




USATODAY.com - Published





Postponed horse race reenacted in senior community

Residents of a senior living community in Maryland watched staff in inflatable costumes race through an obstacle course. The event was organized for residents after the annual Preakness Stakes horse..




USATODAY.com - Published




Coronavirus: All 50 US states move toward reopening

Many like Connecticut have started with a state-wide approach, with varying degrees of restrictions. In Maryland, for example, residents must stick to outdoor recreation, including golf courses,..




WorldNews - Published





Trump considering hosting G7 leaders in US after initially cancelling summit

President Donald Trump has said he is considering holding a meeting of G7 leaders in the US after all, because it would be a "great sign to all" of things returning to normal during the coronavirus..




WorldNews - Published





Maryland restaurant uses 'bumper tables' amid virus

Diners in a Maryland beach town are gathering at eateries again with a little help from inflatable inner tubes on wheels. The bumper tables allow people to keep six feet from each other at Fish Tales..




USATODAY.com - Published





Court rules U.S. environment agency must protect states from upwind air pollution

A federal appeals court on Tuesday ruled that the U.S. Environmental Protection Agency violated the law when it denied a request from Maryland and Delaware to tighten air pollution controls at power..




Reuters - Published





U.S. guitar maker PRS resumes hand-building instruments - at a safe distance

Maryland's decision to reopen non-essential businesses came just in time for high-end guitar maker PRS Guitars, which kept 374 workers on its payroll during an eight-week shutdown that has gouged a..




Reuters - Published





In patchwork restart, parts of New York and other U.S. states reopen

Less populated areas of New York, Virginia and Maryland took their first steps towards lifting lockdowns on Friday, part of a patchwork approach to the coronavirus pandemic that has been shaped by..




Reuters India - Published

Also reported by •Reuters


Former Alabama QB Taulia Tagovailoa, brother of Tua Tagovailoa, transferring to Maryland

Taulia Tagovailoa, the younger brother of recent top-five NFL draft pick Tua Tagovailoa, is transferring from Alabama to Maryland.




USATODAY.com - Published





Ivanka Trump touts new $3B federal food program

Ivanka Trump and U.S. Secretary of Agriculture Sonny Perdue toured a food service business in Maryland, where they touted a new $3 billion federal food purchase and distribution program. (May 15)  




USATODAY.com - Published





Parts of New York, other eastern U.S. states reopen in patchwork restart

Less populated areas of New York, Virginia and Maryland took their first steps towards lifting lockdowns on Friday, part of a patchwork approach to the coronavirus pandemic underscoring political..




Reuters - Published




U.S. states reopen in a patchwork underscoring political differences

Less populated areas of New York, Virginia and Maryland took their first steps towards lifting lockdowns on Friday, part of a patchwork approach to the coronavirus underscoring political divisions..




Reuters - Published




In time for Memorial Day: Ocean City, Maryland, lifts hotel, vacation rental coronavirus restrictions

Ocean City, Maryland, Mayor Rick Meehan announced that the town will repeal its lodging restrictions. The move follows the reopening of the beach.




USATODAY.com - Published





Appeals Court Allows Emoluments Suit Against Trump to Proceed

The court rejected the president's request to dismiss a case brought by the State of Maryland and the District of Columbia regarding his Washington hotel.




NYTimes.com - Published




Hogan gives go ahead for some outdoor activities

Maryland Gov. Larry Hogan says "some additional lower risk outdoor activities" will resume in time for Mother's day weekend amid the coronoavirus pandemic. (May 6)  




USATODAY.com - Published





From hospital, Ginsburg argues 'Obamacare' case

The Supreme Court heard a case involving Trump administration rules that allow more employers to opt-out of providing no-cost birth control. Justice Ruth Bader Ginsburg joined in from the MD hospital..




USATODAY.com - Published





Nurse cheered on by entire neighborhood

A neighborhood in Bethesda, Maryland applauded and cheered for their neighbor, Moira, who is a nurse at a local hospital.




USATODAY.com - Published





In time for Mother's Day? Ocean City, Maryland, announces plan to reopen beach, boardwalk

Ocean City, Maryland, announced plans to reopen its beach and boardwalk Mother's Day weekend that were closed to prevent spread of the coronavirus.




USATODAY.com - Published





Trump leaves White House grounds for first time since March 28

U.S. President Donald Trump, cooped up in the White House for weeks due to the coronavirus lockdown, flew to Camp David, Maryland, on Friday for a weekend away at the presidential retreat.




Reuters - Published