Typhoon
Tropical cyclone that forms in the northwestern Pacific Ocean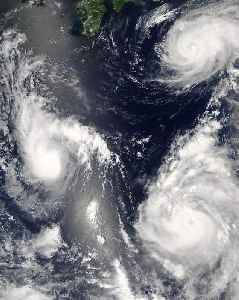 A typhoon is a mature tropical cyclone that develops between 180° and 100°E in the Northern Hemisphere. This region is referred to as the Northwestern Pacific Basin, and is the most active tropical cyclone basin on Earth, accounting for almost one-third of the world's annual tropical cyclones. For organizational purposes, the northern Pacific Ocean is divided into three regions: the eastern, central, and western. The Regional Specialized Meteorological Center (RSMC) for tropical cyclone forecasts is in Japan, with other tropical cyclone warning centers for the northwest Pacific in Hawaii, the Philippines and Hong Kong. While the RSMC names each system, the main name list itself is coordinated among 18 countries that have territories threatened by typhoons each year.


Typhoon death toll climbs in Japan with 8 still missing
Japanese government says it will spend $6.5 million on emergency response for evacuees
CBS News - Published
Typhoon floods over 1,000 homes in Japan as the death toll climbs
Thousands of troops were deployed across Japan to rescue people stranded in flooded homes as the death toll from a ferocious typhoon climbed.
USATODAY.com - Published
Singer's death exposes the dark side of K-pop
South Korean music star Sulli was suffering from severe depression before her suspected suicide. Her passing puts a focus on cyber bullying, which Sulli had been a vocal critic of. Francis Maguire..
Credit: Reuters Studio Duration: 01:38Published
Tokyo braces for Hagibis, worst typhoon to hit city in 60 years
Typhoon claims a life even before it makes landfall as authorities issue rain warning and ask a million people to leave.
Credit: Al Jazeera STUDIO Duration: 01:57Published
Typhoon hits Rugby World Cup: Eddie Jones 'disappointed' at cancelled England game
England head coach Eddie Jones says everyone is disappointed their World Cup match with France has been called off due to Typhoon Hagibis. He remained philosophical about the situation, with his side..
Credit: PA - Press Association STUDIO Duration: 00:35Published
Typhoon, Cyclone or Hurricane? Different Names for the Same Storms
Powerful tropical storms occur all around the world, but what they're called depends on where they form.
NYTimes.com - Published
Typhoon forces cancellation of England-France World Cup match
England's Rugby World Cup Pool C match against France is called off because of the approach of Typhoon Hagibis.
BBC News - Published
Typhoon heading for Kyushu left 32,000 Okinawa homes in dark
Powerful Typhoon No. 17 is heading toward the northern Kyushu region after pounding Okinawa Prefecture on Sept. 21 and leaving about 32,000 households without power. The storm is expected to approach..
WorldNews - Published
Typhoon lashes Japanese capital, one dead, power, transport disrupted
One of the strongest typhoons to hit Japan in recent years struck just east of the capital, Tokyo, on Monday, killing one woman, with record-breaking winds and stinging rain damaging buildings and..
Reuters - Published
Typhoon knocks out power in South Korea; North braces for storm
A powerful typhoon slammed into South Korea early on Saturday, killing at least one person and disrupting power to 57,000 households before turning toward North Korea, authorities said.
Reuters - Published
Typhoon shuts businesses, forces flight cancellations in southern Taiwan
Taiwan braced for typhoon Bailu on Saturday, shutting businesses and schools as airlines canceled hundreds of flights amid warnings of landslides, floods and high seas on the island.
Reuters - Published
Typhoon forces evacuations, flight cancellations in eastern China
Hundreds of flights were canceled and a million people were evacuated from their homes as the third-largest typhoon on record in China hit the east of the country, state-run China Central Television..
Reuters - Published
Britain Confirms It's Developing Drone Swarms, Joining Arms Race With Russia, U.S. And India
Britain's Royal Air Force has revealed that it is joining Russia, the United States and India in the race to develop drone swarm technology to be deployed alongside its F-35 and Typhoon squadrons,..
WorldNews - Published
10/22: CBSN AM
Caravan of migrants heads toward U.S.; Typhoon threatens Pacific Islands.
CBS News - Published
You Might Like