Andre Iguodala
American basketball player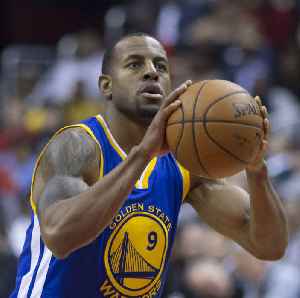 Andre Tyler Iguodala is an American professional basketball player for the Miami Heat of the National Basketball Association (NBA). The swingman was an NBA All-Star in 2012 and has been named to the NBA All-Defensive Team twice. He won three NBA championships with the Golden State Warriors and was named the NBA Finals Most Valuable Player (MVP) in 2015. He was also a member of the United States national team at the 2010 FIBA World Championship and 2012 Summer Olympics, winning the gold medal both times.


You Might Like
Andre Iguodala on NBA's return: "If we aren't playing, it's going to shut us up"
The vice president of National Basketball Players Association said players wanted to regroup and refocus following the shooting of Jacob Blake.
CBS News - Published
Andre Iguodala on the NBA's return following Jacob Blake's shooting
The NBA playoffs resume Saturday, following a three-day, player-led boycott of games. The "pause," as they've called it, came in the wake of Jacob Blake's shooting. They're returning to the court after..
CBS News - Published
Grizzlies' Dillon Brooks on Andre Iguodala: 'I can't wait 'til we find a way to trade him'
Dillon Brooks respects Andre Iguodala, but the Grizzlies player hopes the team finds a trade for the veteran who has never played a game for Memphis.
USATODAY.com - Published
Warriors land D'Angelo Russell in sign-and-trade with Nets, send Andre Iguodala to Grizzlies
The Warriors mitigated somewhat the loss of Kevin Durant by reaching a deal to acquire D'Angelo Russell from the Nets in a sign-and-trade.
USATODAY.com - Published
Andre Iguodala on free agency: 'Nobody's going to the Knicks, sorry'
Andre Iguodala didn't make friends in New York when asked about Kevin Durant and Klay Thompson in free agency: "Nobody's going to the Knicks, sorry."
USATODAY.com - Published
Warriors' Andre Iguodala left wide open for NBA Finals Game 2-clinching 3-pointer
Andre Iguodala was left wide open for the clinching 3-pointer in Game 2 of the NBA Finals. The Raptors deny disrespecting the Warriors' forward.
USATODAY.com - Published
NBA Finals series: Golden State Warriors finish strong against Toronto Raptors to even series
Klay Thompson scored 25 points and added five rebounds and five assists as the Golden State Warriors defeated the Toronto Raptors 109-104 Sunday night to tie the NBA Finals series at 1-1. The Raptors..
WorldNews - Published
The word from vets Iguodala and Livingston
Andre Iguodala and Shaun Livingston tell "60 Minutes" that once you play for the Warriors, you don't want to play for anybody else. Kevin Durant on what he tells younger teammates.
CBS News - Published