Norwich
City and non-metropolitan district in England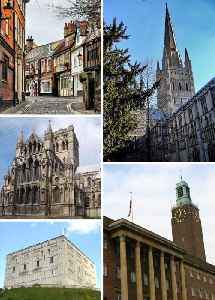 Norwich is a city in Norfolk, England, situated on the River Wensum in East Anglia, about 100 miles (160 km) north-east of London. A city since 1094, Norwich is the county town of Norfolk and unofficially seen as East Anglia's capital. From the late Middle Ages until the Industrial Revolution, Norwich was the largest city in England after London and one of the most important. The present-day population of the city is about 142,000.


Tottenham's Eric Dier given four-game ban for confronting fan after FA Cup loss

Tottenham defender Eric Dier has received a four-match ban and been fined £40,000 for climbing into the stands to confront a supporter after his side's FA Cup exit to Norwich.The England..
Credit: PA - Press Association STUDIO Duration: 01:13
Published
Arsenal v Norwich: Premier League match preview

Arsenal are preparing to take on Norwich in the Premier League in their first home match since the resumption of play after the coronavirus lockdown. Here is all you need to know about the game ahead.
Credit: PA - Press Association STUDIO Duration: 01:28
Published
Kate helps plant a hospice garden

The Duchess of Cambridge helped youngsters to plant a garden at a children's hospice near Norwich on Saturday. Using plants bought during a visit last week to Fakenham Garden Centre near her Norfolk..
Credit: PA - Press Association STUDIO Duration: 00:51
Published
You Might Like



York, Cardiff and Oxford are UK's most sustainable cities, according to study

Wolverhampton scored lowest behind Birmingham and Norwich




Independent - Published





Chelsea 1-0 Norwich: Olivier Giroud scores as Blues move clear in Champions League race

Olivier Giroud's header on the stroke of half-time gives Chelsea victory over relegated Norwich and puts them on course for a place in the Champions League.




BBC News - Published





Norwich restaurant drops Deliveroo over 'terrible' service

Gonzo's Tea Room says a rider delivered an order to a customer, despite dropping it on the floor.




BBC News - Published





Sunday's gossip: Chelsea's hopes of signing Havertz improve

Chelsea could be helped in Havertz chase as Bayern cool interest, Real Madrid want to sell Rodriguez, Tottenham keen on Aarons from Norwich, plus more.




BBC News - Published





Norwich City 0-1 Brighton & Hove Albion: Leandro Trossard hits winner at Carrow Road

Leandro Trossard's winner nudges Norwich City closer to relegation as Brighton all but ensure a fourth straight season in the Premier League with a rare away win.




BBC News - Published





Man Utd into FA Cup semis as Maguire goal beats 10-man Norwich

Harry Maguire scores deep into extra-time as Manchester United overcome valiant 10-man Norwich to reach the FA Cup semi-finals.




BBC News - Published





Maguire's extra-time winner sends Man Utd into FA Cup semis

Harry Maguire scores deep into extra-time as Manchester United overcome valiant 10-man Norwich to reach the FA Cup semi-finals.




BBC News - Published





Norwich stabbing: Gemma Cowey was 'devoted' mother

The family of Gemma Cowey, also known as Gemma Marjoram, say they are heartbroken at her death.




BBC News - Published





Norwich 0-3 Southampton: Danny Ings scores as Norwich suffer crushing defeat

Three second-half goals from Southampton condemn Norwich to their fourth defeat in five games and dent their Premier League survival hopes.




BBC News - Published




Player who tested positive for Covid-19 now negative - Norwich

The Norwich player who tested positive for coronavirus has now returned a negative sample, says the club's sporting director.




BBC News - Published





Norwich food bank given 'best before 1987' anchovies tin

"We couldn't quite believe it," said a volunteer, about the tinned fish that is 33 years out of date.




BBC News - Published





Norwich: Woman arrested after man's tower block death fall

The victim, aged in his 20s, suffered serious injuries and was pronounced dead at the scene.




BBC News - Published





Black Lives Matter Norwich graffiti painted over by council

The artwork supporting the anti-racism movement was covered with black paint following a complaint.




BBC News - Published





Alan Partridge to return with podcast from Norwich shed

The 18-part series will be recorded from the fictional Norwich-based broadcaster's shed.




BBC News - Published





Colman's Mustard factory in Norwich closing after 160 years

The Colman's factory in Norwich produced its final jar of the tangy condiment last year.




BBC News - Published





Scrap relegation if Premier League completed but Championship is not, say Norwich

Norwich say relegation from the Premier League should be scrapped if the top flight completes its season but the Championship does not.




BBC News - Published





How Norwich achieved lowest coronavirus death rates in England

Countless lives almost certainly saved because lockdown came before Covid-19 took hold in city - raising further questions about delay of UK-wide restrictions, finds Colin Drury in Norwich




Independent - Published





Coronavirus: Norwich Alan Partridge festival rescheduled

Despite some liquid planning, organisers are forced to reschedule the comedy character convention.




BBC News - Published





Eric Dier to be investigated by FA after altercation with Tottenham fans in stands

Eric Dier's altercation with a supporter following Tottenham Hotspur's FA Cup defeat to Norwich is being investigated by the Football Association. It is understood the England midfielder's..




WorldNews - Published





Norwich prison has 'deteriorated significantly' since 2016

Inspectors say "violence levels were high" and a fifth of inmates felt unsafe.




BBC News - Published





Norwich City 0-1 Liverpool: Reds' march on thanks to magnificent Mane

Liverpool have now won 17 consecutive Premier League games after substitute Sadio Mane sunk a game Norwich at Carrow Road. ......




WorldNews - Published





Liverpool beat Norwich to continue march towards title

Liverpool's unstoppable charge towards their first top-flight title in 30 years continues by edging a narrow victory over bottom-of-the-table Norwich.




BBC News - Published





Love Light festival celebrates 'love and belonging' in Norwich

The Love Light festival projects images onto historic city buildings and dogs in lit-up costumes.




BBC News - Published





Norwich NDR bat bridges 'are not working'

Ecologists say disturbance from a £205m road in Norwich may have driven the bats away.




BBC News - Published





Spurs claim first league win in 2020 against bottom side Norwich

Tottenham win their first Premier League game of 2020 by beating bottom-of-the-table Norwich at the Tottenham Hotspur Stadium.




BBC News - Published





Rashford double on 200th appearance sends Man Utd fifth

Marcus Rashford marks his 200th appearance for Manchester United with two goals as the hosts beat Norwich to go fifth.




BBC News - Published




Landmark hearing to decide if veganism is a 'philosophical or religious belief'

A landmark legal hearing begins today in Norwich, with a panel to decide if veganism is a "philosophical or religious belief" and thus protected in law. Jordi Casamitjana said he was sacked by the..




WorldNews - Published





Norwich fan arrested and banned for three years for throwing phone on to pitch

A Norwich fan has been arrested and given a three-year ban from Carrow Road for throwing a mobile phone on to the pitch during Saturday's 2-2 draw with Tottenham.




BBC News - Published





Spurs fight back twice to draw with bottom side Norwich

Harry Kane scores a late penalty to earn Tottenham a point at Carrow Road and deny Norwich a first Premier League win in seven matches.




BBC News - Published





General election 2019: What are the issues in Norwich?

The city voted Remain in 2016 but will other issues dominate as it heads to the polls this time?




BBC News - Published





Pugs of Norwich step out for 'Pug'o'ween' fun in Eaton Park

Dozens of dogs gather in a Norwich park for a fancy dress "Pug'o'ween".




BBC News - Published





'A beacon of hope' – Norwich council estate wins this year's Riba Stirling Prize for Britain's best new building

The eco-friendly Goldsmith Street development took 10 years to complete and is made up of 105 ultra low-energy homes




Independent - Published





Riba Stirling prize awarded to Norwich council estate

An eco-friendly council estate has scooped this year's prestigious Riba Stirling Prize for architecture.




BBC News - Published




Champions League: Shakhtar Donetsk 0-3 Man City

Man City bounce back from their shock Premier League defeat at Norwich by launching their Champions League campaign in style with victory at Shakhtar Donetsk.




BBC News - Published





Norwich pub landlord's anger over Good Beer Guide 'snub'

The Eaton Cottage's landlord put up a sign criticising Camra members who did not vote for his pub.




BBC News - Published





Hidden letter hints at Norwich boss's England past

Pre-war Norwich boss Jimmy 'AJ' Jewell is thought to have led the England team during World War Two.




BBC News - Published





William and Kate take budget flight from Norwich to Aberdeen

The Duke and Duchess of Cambridge boarded a Flybe jet at Norwich airport.




BBC News - Published





Norwich praised for its 'tranquillity' by Vietnam Airlines boss

The chief executive officer of Vietnam Airlines picked out Norwich as a destination to visit.




BBC News - Published





Premier League: Reasons to be excited for the new season

BBC Sport picks out five reasons to get excited about the new Premier League season which starts when Liverpool play Norwich at Anfield on Friday.




BBC News - Published





Tesco Norwich swallow chicks hatch after nets removed

The supermarket originally installed netting to protect the trolley area from the birds' droppings.




BBC News - Published





National Road Championships 2019: Ben Swift wins maiden British title

Ben Swift wins his first national road race title with victory at the British Championships in Norwich.




BBC News - Published




Man guilty of unprovoked stranger murder in Norwich

David Hastings was fatally stabbed 13 times in a random attack following a night out.




BBC News - Published





MOVIE REVIEW: Fighting with My Family

by Graham Pierrepoint - FIGHTING WITH MY FAMILY IMDb Dir: Stephen Merchant Starring Florence Pugh, Lena Headey, Nick Frost, Jack Lowden, Vince Vaughn, Dwayne Johnson 3.5 STARS (out of 5) Before..




One News Page Staff - Published