Solar System
Planetary system of the Sun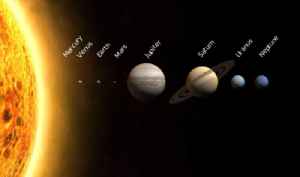 The Solar System is the gravitationally bound planetary system of the Sun and the objects that orbit it, either directly or indirectly. Of the objects that orbit the Sun directly, the largest are the eight planets, with the remainder being smaller objects, such as the five dwarf planets and small Solar System bodies. Of the objects that orbit the Sun indirectly—the moons—two are larger than the smallest planet, Mercury.


Distant object at edge of Solar System is an ancient fragment from 4.5 billion years ago
It's a rather uninspiring object, with no moons, rings or dust clouds in orbit around it; nor is there any evidence of an atmosphere.
USATODAY.com - Published
Search this site and the web:
You Might Like