Shannen Doherty
American actress, producer, and television director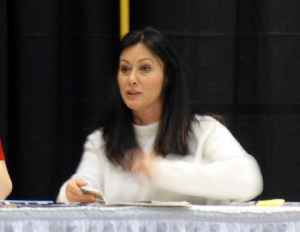 Shannen Maria Doherty is an American actress, producer, and television director. She is known for her roles as Jenny Wilder in Little House on the Prairie (1982–1983), Maggie Malene in Girls Just Want to Have Fun (1985), Kris Witherspoon in Our House (1986–1988), Heather Duke in Heathers (1988), Brenda Walsh in Beverly Hills, 90210 (1990–94), 90210 (2008-2009) and again in BH90210 (2019); and Prue Halliwell in Charmed (1998–2001).


You Might Like
Shannen Doherty talks 'stress,' struggles after stage 4 cancer announcement: 'I'll dig deep'
"Beverly Hills, 90210" alum Shannen Doherty expressed gratitude to fans for supporting her after announcing she has stage 4 cancer.
USATODAY.com - Published
Shannen Doherty's lawyer blasts cancer 'sympathy' claim; State Farm stands behind comment
Shannen Doherty's lawyer is criticizing State Farm after the insurance company called her cancer announcement a legal strategy to "garner sympathy."
USATODAY.com - Published
Rush Limbaugh and Shannen Doherty have advanced cancer. What does that mean? What is Stage IV?
Rush Limbaugh announced he had "advanced lung cancer" and Shannen Doherty said she was diagnosed with stage IV cancer. Here's what cancer stages mean.
USATODAY.com - Published
'90210' alum Tori Spelling, more stars send love to Shannen Doherty after cancer diagnosis
Stars are sending well-wishes to Shannen Doherty after the "Beverly Hills, 90210" alum revealed Tuesday a battle with stage 4 cancer.
USATODAY.com - Published
Shannen Doherty Has Stage 4 Cancer: "It's a Bitter Pill to Swallow"
Shannen Doherty has revealed that her cancer journey, tragically, is not yet over. In an interview on Tuesday morning with Good Morning America, the veteran actress said she has been diagnosed with..
WorldNews - Published
Also reported by •USATODAY.com
Shannen Doherty: 'My cancer came back'
The actress says the news was "a bitter pill to swallow".
BBC News - Published
Shannen Doherty on paying tribute to Luke Perry on 'Riverdale': 'Very, very hard and emotional'
Shannen Doherty, a friend and former co-star of Luke Perry, talks about joining an episode of "Riverdale" to pay tribute to the actor, who died in March.
USATODAY.com - Published
Tori Spelling denies rumors of a '90210' feud with Shannen Doherty: 'She was one of my best friends'
Ahead of this summer's "90210" reboot, Tori Spelling wants to set the record straight: there's no tension between her and co-star Shannen Doherty.
USATODAY.com - Published