J. K. Rowling
English novelist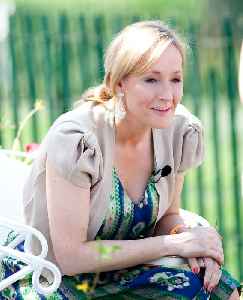 Joanne Rowling, better known by her pen name J. K. Rowling, is a British writer and philanthropist. She is best known for writing the Harry Potter fantasy series, which has won multiple awards and sold more than 500 million copies, becoming the best-selling book series in history. The books are the basis of a popular film series, over which Rowling had overall approval on the scripts and was a producer on the final films. She also writes crime fiction under the pen name Robert Galbraith.


Nixon Attacks JK Rowling

In June, JK Rowling released an essay and a series of tweets calling for limits on transitionary care for trans youth. Business Insider reports that Rowling also mocked gender-inclusive words. Cynthia..
Credit: Wochit News Duration: 00:33
Published
What Is J.K. Rowling's New Book About?

J.K. Rowling has written a new book under her pseudonym Robert Galbraith. The book is called "Troubled Blood." What's the book about? According to a review in "the Telegraph" "Troubled Blood" is the..
Credit: Wochit News Duration: 00:32
Published
You Might Like



Gigi Gorgeous Says J.K. Rowling's Dead to Her After More Anti-Trans Backlash

Gigi Gorgeous says 'Harry Potter' used to mean something to her, but on the heels of a new anti-trans controversy involving J.K. Rowling ... that's all changed. The popular trans influencer was leaving..




TMZ.com - Published





Jedward suggest fans use JK Rowling book as firewood as they wade into trans row

Jedward have waded into the JK Rowling transphobia row, suggesting their fans use her new book as firewood. The Harry Potter author has attracted strong criticism for comments on gender identity, but..




WorldNews - Published





Do J.K. Rowling's transphobic comments taint her new book, 'Troubled Blood'? For me, they do.

Reading J.K. Rowling's novel "Troubled Blood" after her transphobic comments is not




USATODAY.com - Published





JK Rowling returns human rights award to group that denounces her trans views

JK Rowling is returning the Ripple of Hope award given to her last year by the Robert F Kennedy Human Rights (RFKHR) organisation after its president, Kennedy's daughter, criticised her views on..




WorldNews - Published





JK Rowling returns award after Kerry Kennedy criticism

The author has given back a gong associated with the US Kennedy family, as the gender row continues.




BBC News - Published





How trans 'Harry Potter' fans are grappling with J.K. Rowling's legacy after her transphobic comments

J.K. Rowling has come under fire for comments about the transgender community. Here's how trans "Harry Potter" fans are dealing with the aftermath.




USATODAY.com - Published





Boris Johnson news – live: PM to pledge £3bn to protect NHS from second wave as Labour MP quits frontbench amid JK Rowling row

Follow the latest updates




Independent - Published





Lloyd Russell-Moyle: Labour MP resigns from frontbench amid JK Rowling trans row and Israel comments

A Labour MP forced to apologise twice in a month has resigned from Sir Keir Starmer's frontbench team.




Independent - Published





ShowBiz Minute: Depp, Rowling, Starr

ShowBiz Minute: Depp, Rowling, Starr  




USATODAY.com - Published




JK Rowling joins 150 public figures decrying 'cancel culture'

The letter, also signed by Malcolm Gladwell and Gloria Steinem, denounces "a vogue for public shaming".




BBC News - Published





Johnny Depp's libel trial against The Sun set to begin at High Court

Johnny Depp and his ex-wife Amber Heard are expected to meet at the High Court as the Hollywood star's libel case against The Sun over allegations of domestic violence kicks off on Tuesday. The..




WorldNews - Published





Harry Potter fan sites distance themselves from JK Rowling over transgender comments

Two of the biggest Harry Potter fan sites have distanced themselves from JK Rowling because of her beliefs on transgender issues. Websites The Leaky Cauldron and Mugglenet released a joint...




WorldNews - Published





Lloyd Russell-Moyle: Labour MP apologises after accusing JK Rowling of using her history of abuse in transgender row

A Labour MP has apologised "unreservedly" after accusing JK Rowling of using her history of sexual abuse as a justification for discriminating against transgender people.




Independent - Published





What JK Rowling should know about a transgender woman like me: Every day in public is risky

Trans people constantly adjust to the feelings of cisgender people. There aren't enough hours to fight every battle, enough rights to guarantee safety.




USATODAY.com - Published





JK Rowling: from magic to the heart of a Twitter storm

The author of the Harry Potter books now finds controversy raging around her that began with one tweet on gender rights A simple story with a happy ending, with evil unmasked and defeated, has great..




WorldNews - Published





Domestic abuse charities condemn The Sun for front page on JK Rowling's ex-husband

Newspaper regulator receives more than 500 complaints amid wave of criticism




Independent - Published





JK Rowling: Domestic Violence Charities Slam 'Stomach Churning' Sun Front Page

The Sun newspaper has been fiercely criticised for a "stomach churning" front page featuring an interview with JK Rowling's first husband under the headline "I slapped JK and I'm not..




WorldNews - Published





Paper faces backlash for headline on JK Rowling's ex

The Sun says its article, and headline "I slapped JK and I'm not sorry", weren't meant to glorify abuse.




BBC News - Published





ShowBiz Minute: Rowling, Wintour, Disney

JK Rowling responds to critics over her transgender comments; Anna Wintour apologizes for race-related "mistakes" at Vogue; Disney plans to reopen California theme parks in July. (June 11)  




USATODAY.com - Published




JK Rowling responds to trans tweets criticism

In the blog post on Wednesday, Rowling said she was motivated to address transgender issues through her Twitter account because of what she sees as an increasingly misogynistic society. "We're living..




WorldNews - Published

Also reported by •BBC News


JK Rowling defends transgender comments and reveals she survived sexual assault

JK Rowling has defended her comments on transgender issues in an essay posted to her website in which she says she may have sought to become a man had she been born 30 years later.




SBS - Published





JK Rowling defends transgender comments

JK Rowling has defended her comments on transgender issues in an essay posted to her website.




SBS - Published





What's a TERF and why is 'Harry Potter' author J.K. Rowling being called one?

"Harry Potter" author J.K. Rowling is again being called a TERF for tweets some transgender people and LGBTQ activists say are offensive and wrong.




USATODAY.com - Published




Daniel Radcliffe 'deeply sorry' for J.K. Rowling's transphobic tweets

"Harry Potter" actor Daniel Radcliffe has said he is "deeply sorry" for the "pain" J.K. Rowling's comments may have caused people, after she accused of being transphobic when she posted a controversial..




WorldNews - Published





Daniel Radcliffe hopes JK Rowling trans tweets don't 'taint' Harry Potter

The Harry Potter star said he was "compelled to say something" after Rowling was called transphobic.




BBC News - Published





JK Rowling's tweets on transgender people spark outrage

"Harry Potter" author J.K. Rowling is facing hefty backlash after she posted a series of tweets about transgender people. Rowling drew outrage Saturday on Twitter when she criticized an opinion..




WorldNews - Published





JK Rowling announces new children's book 'The Ickabog'

J.K. Rowling is publishing a free children's book for people to read during lockdown, but to be absolutely clear, it has nothing to do with Harry Potter. Titled The Ickabog, she wrote it many years..




WorldNews - Published





JK Rowling unveils The Ickabog, her first non-Harry Potter children's book

The Ickabog is her first non-Harry Potter children's story, and will be published in instalments.




BBC News - Published





Harry Potter's J.K. Rowling Magically Dispels Some Rumors About Making The Series

J.K. Rowling spent over a decade crafting the world of Harry Potter. In the years since it's become a worldwide phenomenon, she's been sharing behind-the-scenes details about the series' characters..




WorldNews - Published





Elon Musk admits to still owning Bitcoin

Elon Musk recently commented on J.K.Rowling's tweet about Bitcoin and how much he owns. Musk said that Bitcoin seems solid when compared to the unlimited money-printing done by the banks. He also..




WorldNews - Published





Coronavirus: JK Rowling donates £1m to two charities

The creator of Harry Potter says the money will go towards helping the homeless and domestic abuse victims.




BBC News - Published





Harry Potter: JK Rowling secretly buys childhood home

Renovation work is taking place on the cottage which inspired parts of the Harry Potter story.




BBC News - Published





Harry Pottering around at home? Rowling to rescue bored kids in lockdown

Harry Potter and the Philosopher's Stone will be available for free worldwide as an ebook and audiobook throughout April, as part of an initiative to help parents, carers and teachers entertain..




WorldNews - Published

Also reported by •Reuters


Mark Hamill apologises for liking JK Rowling's 'TERF' tweet: 'I didn't realise it had any transphobic connotation'

Hamill has apologised for liking the post (Picture: Getty) Star Wars legend Mark Hamill has apologised for JK Rowling's tweet defending Maya Forstater, insisting he didn't know it had 'any..




WorldNews - Published





Harry Potter: How one drag queen became 31 JK Rowling characters

Jaremi Carey, drag star Phi Phi O'Hara, spent October becoming some of JK Rowling's famous creations.




BBC News - Published





Harry Potter author JK Rowling launches campaign against dangerous 'voluntourism'

JK Rowling says she wants to raise awareness of exploitative charities that serve as a front to attract foreign donations.




SBS - Published





JK Rowling urges young people not to volunteer at orphanages – video

JK Rowling has called on students around the world not to volunteer at orphanages, pointing to emerging evidence that the 'orphanage business' drives family separation and child trafficking. Speaking..




WorldNews - Published





JK Rowling donates £15.3m to Edinburgh MS research centre

The gift will create new facilities at the clinic which is named after the author's mother.




BBC News - Published





Why A Cursed Child Movie Is Not Happening, Despite J.K. Rowling's Tease

That's it? That was the reaction of many Harry Potter fans after it looked like a major announcement might be coming from J.K. Rowling. The Harry Potter author and Fantastic Beasts screenwriter hadn't..




WorldNews - Published