Kazakhstan
Country in Central Asia with a smaller portion in Eastern Europe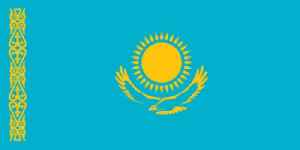 Kazakhstan, officially the Republic of Kazakhstan, is a transcontinental country mainly located in Central Asia with a smaller portion west of the Ural in Eastern Europe. It is the world's largest landlocked country, and the ninth-largest country in the world, with an area of 2,724,900 square kilometres (1,052,100 sq mi). Kazakhstan is the most dominant nation of Central Asia economically, generating 60% of the region's GDP, primarily through its oil and gas industry. It also has vast mineral resources.


Cats May Have Been Pets Far Longer Than We Thought

Cats may have been our pets for much longer than previously thought. A new study shows that felines may have been pets for Kazakh pastoralists along the Silk Road over 1,000 years ago. Tests on a cat..
Credit: Wochit News Duration: 00:32
Published
Pneumonia in Kazakhstan 'on our radar': WHO

Mike Ryan, head of the World Health Organization's emergencies program, said on Friday that an outbreak of pneumonia in Kazakhstan, reported to be highly lethal, was "certainly on our radar."
Credit: Reuters Studio Duration: 01:51
Published
You Might Like



Ole Gunnar Solskjaer urges Manchester United to make most of European situation

Ole Gunnar Solskjaer is looking to make the most of the strange Europa League situation as Manchester United kick off the mini tournament with a quarter-final against FC Copenhagen. Following trips to..




WorldNews - Published





Coronavirus: Kazakhstan denies 'unknown pneumonia' outbreak

The country faces accusations Covid-19 is being diagnosed as pneumonia to lower rates.




BBC News - Published





Chinese officials warn of 'unknown pneumonia' in Kazakhstan that is deadlier than coronavirus

(CNN)A new "unknown pneumonia" that is potentially deadlier than the novel coronavirus has reportedly killed more than 1,700 people this year in the Central Asian country of Kazakhstan, according to a..




WorldNews - Published





Kazakh ex-president recovers from COVID-19

ALMATY (Reuters) - Kazakhstan's former president, Nursultan Nazarbayev, has recovered from COVID-19 which he contracted in...




WorldNews - Published





Patokh Chodiev Cleared By Belgian Parliamentary Inquiry

Patokh Chodiev, the Kazakh billionaire, has been cleared of allegations that he may have inappropriately obtained Belgian citizenship and influenced the introduction of a new plea bargain law. A..




WorldNews - Published




Kazakhstan's ex-president is asymptomatic after positive coronavirus test - report

ALMATY (Reuters) - Kazakhstan's powerful former president Nursultan Nazarbayev is feeling well and showing no symptoms associated with coronavirus despite a positive test, his...




WorldNews - Published





Oil tops $42 as OPEC+ laggards pledge better compliance

LONDON — Oil rose to above $42 a barrel on Friday, adding to gains in the previous session, after OPEC producers and allies promised to meet supply cuts and signs of demand, hit by the coronavirus..




WorldNews - Published





PM wishes former Kazakhstan President speedy recovery from Covid-19

"My best wishes to first President of Kazakhstan - - Elbasy Nursultan Nazarbayev for early recovery and good health. We stand with our friend and strategic partner Kazakhstan in efforts to defeat the..




IndiaTimes - Published





Kazakhstan tightens COVID-19 restrictions, former president tests positive

Kazakhstan said on Thursday it would tighten coronavirus-related restrictions during the coming weekend and an aide said former President Nursultan Nazarbayev had tested positive for COVID-19.




Reuters - Published





Kazakhstan's Nazarbayev contracts COVID-19

Kazakhstan's influential former president Nursultan Nazarbayev has self-isolated after testing positive for COVID-19, his spokesman Aidos Ukibay wrote on Twitter.




Reuters - Published





Kazakhstan to tighten COVID-19 restrictions as outbreak worsens

Kazakhstan will close shopping malls, markets and parks in major cities on June 20-21 and make additional hospital beds available for COVID-19 patients, the Central Asian nation's government said on..




Reuters - Published





Coronavirus hits Kazakh elite, capital city rings alarm

The speaker of Kazakhstan's lower house of parliament has self-isolated after contracting the new coronavirus, authorities said on Wednesday as they raised the alarm about a fresh surge in COVID-19..




Reuters - Published





Kazakh lower house speaker tests positive for COVID-19

The speaker of the lower house of Kazakhstan's parliament has self-isolated after testing positive for the novel coronavirus, the legislature said on Wednesday.




Reuters - Published





Kazakhstan tightens restrictions in biggest city on fears of coronavirus second wave

Kazakhstan ordered some entertainment venues in its biggest city Almaty to close on Monday and shopping malls, restaurants and government offices there to work shorter hours, following a spike in..




Reuters - Published





Kazakhstan locks down several towns after spike in COVID-19 cases

Kazakhstan has locked down several towns and villages and tightened restrictions in one of its provinces following a spike in fresh COVID-19 cases, authorities said on Thursday, a month after ending a..




Reuters - Published





Kazakh president's spokesman hospitalized with COVID-19

Kazakh President Kassym-Jomart Tokayev's spokesman has been hospitalized after testing positive for COVID-19, he wrote on his Facebook page on Saturday, adding that the president's health was not at..




Reuters - Published





Kazakh police detain dozens of anti-government protesters

The demonstrators rally in the city of Almaty demanding resignation of president and redistribution of wealth. ......




WorldNews - Published

Also reported by •Reuters


Kazakhstan to ease lockdown next week

Kazakhstan will take down police checkpoints between its regions next week and reopen kindergartens and gyms as it moves to ease its coronavirus lockdown, the government said on Friday.




Reuters - Published





Rare snow leopards spotted near Kazakh city amid lockdown

Several snow leopards, including a mother and her cub, have been spotted near the Kazakh city of Almaty wandering through a usually popular hiking destination that is now mostly off limits due to the..




Reuters - Published





Kazakhstan, Turkey may resume flights in late June

Kazakh and Turkish airlines may resume passenger flights between the two countries in late June, Kazakhstan's Ministry of Industry and Infrastructural Development has said, if the novel coronavirus..




Reuters - Published





Kazakhstan to reopen mosques, hotels, restaurants, passenger trains

Kazakhstan will reopen places of worship, hotels, and small cafes and restaurants from May 18, the government said on Wednesday, two months after the Central Asian nation began a coronavirus lockdown.




Reuters - Published





Kazakhstan ends state of emergency; provinces to oversee lifting of lockdown

Kazakhstan allowed a coronavirus state of emergency to lapse on Monday, authorising cities and provinces to begin lifting lockdown measures depending on their success in curbing the spread of the..




Reuters - Published





Kazakhstan keeps lockdown in place as state of emergency ends

Kazakhstan is keeping its provinces and major cites locked down, the authorities said on Monday, and will reopen businesses gradually after a state of emergency introduced in March due to the novel..




Reuters - Published





Kazakhstan says spread of coronavirus has slowed

The spread of the novel coronavirus in Kazakhstan has slowed in recent days, the Central Asian nation's government said on Wednesday, indicating it could exit a state of emergency next week.




Reuters - Published




Ashimbayev elected Kazakhstan's Senate speaker in reshuffle

President Kassym-Jomart Tokayev's deputy chief of staff on Monday became speaker of Kazakhstan's upper house, the Senate, a key position that means he is first in line to take over the presidency if..




Reuters - Published





Daughter of former Kazakh leader leaves key Senate post

The daughter of Kazakhstan's powerful former president has left her position as speaker of the Senate, a role that led some observers to tip her as a possible candidate for the presidency.




Reuters - Published




Uzbekistan, Kazakhstan evacuate thousands over flood

Uzbekistan and Kazakhstan have evacuated tens of thousands of people from the Syr Darya river basin after a reservoir dam on the Uzbek side burst, flooding large areas on both sides of the border, the..




Reuters - Published





CPC oil producers eye boost to flows via Russia from May

Kazakh oil producers, which export crude via the Caspian pipeline consortium (CPC), are seeking to divert flows to Russia's Transneft from May in an attempt to minimize losses as CPC Blend margins and..




Reuters - Published





Kazakh activist released after being held for spreading false information

A nationalist politician in Kazakhstan who has criticised the government was released on Monday after two days detention on accusations of spreading false information during the coronavirus emergency,..




Reuters - Published





India, Kazakhstan strategic partners; solidarity during challenging times strengthens bond: PM Narendra Modi

"Thank you President Tokayev @TokayevKZ for your warm words. India and Kazakhstan are strategic partners and cooperation and demonstration of solidarity during such challenging times further..




IndiaTimes - Published





Tajikistan says migrants returning from Russia, Kazakhstan

Many of the Tajik migrants whose remittances make up a bulk of the nation's cash inflows have had to return home over the past few months as the countries where they worked lurched towards recession,..




Reuters - Published





Kazakhstan summons Chinese ambassador in protest over article

Kazakhstan's foreign ministry summoned the Chinese ambassador on Tuesday to protest over an article saying the country was keen to become part of China, the ministry said. ......




WorldNews - Published

Also reported by •Reuters


Watch church services on TV, order Easter eggs by phone, Kazakh Christians told

Kazakhstan's Orthodox Christians should watch Easter services on television and order eggs and other festive foods by phone as churches remain closed due to the coronavirus outbreak, the country's top..




Reuters - Published





Kazakhstan confirms 10 new cases of coronavirus

(MENAFN - Trend News Agency) 10 new cases of coronavirus infection have been registered in Kazakhstan including 1 case in Kyzylorda region, 7 cases... ......




WorldNews - Published





Kazakhstan confirms global deal to cut oil output by 9.7 million bpd

Kazakhastan's Energy Ministry said on Sunday it confirmed reports that the OPEC+ group of countries had agreed to cut the global oil output by 9.7 million barrels per day for two months starting on May..




Reuters - Published





Coronavirus spreads at major Kazakh oilfield's worker camp

Twelve people have tested positive for the novel coronavirus at one of the worker camps located next to the giant Tengiz oilfield in Kazakhstan, its operator Tengizchevroil said on Saturday.




Reuters - Published





Kazakhstan to extend coronavirus state of emergency to end of April

Kazakhstan will extend a state of emergency declared over the coronavirus outbreak until the end of April, but will allow some businesses to reopen after a two-week shutdown, President Kassym-Jomart..




Reuters - Published




Ex-Kazakh president's grandson wins UK case over purchase of London mansion

London's High Court removed anti-graft orders against the grandson of the former president of Kazakhstan on Wednesday, dealing a blow to powers that British crime fighters use to target dirty money.




Reuters - Published





Kazakh politician wins legal challenge against unexplained wealth orders over £80m London properties

High Court finds evidence that luxury homes were used to launder money was 'unreliable'




Independent - Published





Kazakh president orders more spending to offset impact of coronavirus

Kazakh President Kassym-Jomart Tokayev ordered the government on Tuesday to increase state pensions and welfare payouts by 10%, provide more tax breaks for small businesses and boost spending on..




Reuters - Published





Coronavirus: Centre assures HC safety of Indian students stranded in Kazakhstan




IndiaTimes - Published




Kazakhstan to shut down most businesses in major cities for a week

Kazakhstan on Friday ordered most companies in its capital Nur-Sultan and biggest city Almaty to suspend work between March 30 and April 5, the government said, as part of measures to prevent the..




Reuters - Published





Kazakhstan orders residents of major cities to stay home

Kazakhstan will bar the residents of its two biggest cities, Almaty and Nur-Sultan, from leaving their homes except for work or to buy food or medicines, starting from March 28, the Central Asian..




Reuters - Published





Kazakhstan says foils Islamic State bomb attack

Kazakhstan's National Security Committee has detained a man suspected of planning a bomb attack in the capital, Nur-Sultan, on behalf of Islamic State, the security body said on Thursday.




Reuters - Published





Kazakhstan imports fresh coronavirus cases from Russia, Kyrgyzstan

Kazakhstan's tally of coronavirus infections rose to 79 on Wednesday, boosted by new cases in its southernmost and northernmost provinces, despite authorities' efforts to confine the disease to two..




Reuters - Published





OneWeb increases mega-constellation to 74 satellites

The London-based start-up expands its network with a Soyuz launch from Baikonur in Kazakhstan




BBC News - Published





Central Asia tightens restrictions as coronavirus spreads

Authorities in Kazakhstan, Uzbekistan and Turkmenistan have announced fresh restrictions aimed at preventing the spread of the coronavirus as the number of cases in Central Asia snowballed.




Reuters - Published