New Orleans
Largest city in Louisiana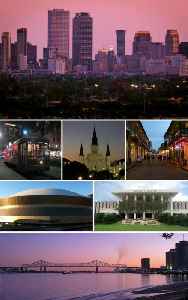 New Orleans is a consolidated city-parish located along the Mississippi River in the southeastern region of the U.S. state of Louisiana. With an estimated population of 393,292 in 2017, it is the most populous city in Louisiana. A major port, New Orleans is considered an economic and commercial hub for the broader Gulf Coast region of the United States.


The Dish: Chef Isaac Toups
Isaac Toups was born in Cajun country to a food-loving family that's lived in Louisiana for more than 300 years. From barbecues and fish frys to shrimp and crawfish boils, his early years were filled..
CBS News - Published
No Title
Once considered the brewing capital of the South, New Orleans is starting to see an influx of microbreweries popping up around the city.
USATODAY.com - Published
New Orleans' Fancy Most Iconic Bars
A writer for Business Insider, recently wrote about great iconic New Orleans bars. They made it clear that they actually had way more fun dive bars, but if someone wanted a more upscale bar are in..
Credit: Wochit News Duration: 00:31Published
Trump Wildly Inflates Puerto Rico's Disaster Recovery Funds
President Trump said Puerto Rico received $91 billion to recover from Hurricane Maria, but the real number is less than half of that.
Credit: Newsy Studio Duration: 02:32Published
Don Lemon Is Getting Hitched!
CNN anchor Don Lemon is engaged! According to HuffPost, Lemon announced on Instagram he's marrying real estate agent Tim Malone. The pair have been connected for at least two years. They memorably..
Credit: Wochit News Duration: 00:34Published
Suspicious Fires Destroy Three Baptist Churches In Louisiana
According to a report by Reuters, on Saturday, federal and state officials in Louisiana are investigating a series of suspicious fires that destroyed three predominantly black churches in ten days in..
Credit: Wochit News Duration: 00:41Published
Thicker Than Water
In natural disasters, people often focus on the major cities hit hardest -- New Orleans, Houston, Miami -- but what of the small towns in between? The CBSN Originals documentary, "Thicker Than Water,"..
CBS News - Published
LEADING OFF: Cano exits after grounder, JD Martinez out
LEADING OFF: Cano exits after running out grounder, JD Martinez ailing, Nola pitching better
USATODAY.com - Published
Abortion rights supporters protest in New Orleans
Abortion rights supporters protest in New Orleans as lawmakers move to make abortions illegal in Louisiana. (May 23)
USATODAY.com - Published
Pope pays tribute to French-Spanish nun killed in Central African Republic
A French-Spanish nun has been brutally murdered in a village in the Central African Republic where she taught sewing to young girls, the Vatican has said. The 77-year old was found beheaded early..
WorldNews - Published
Man arrested for alleged extortion attempt against Chiefs' Tyrann Mathieu, per report
A New Orleans man allegedly tried to extort more than $1 million from Kansas City Chiefs safety Tyrann Mathieu.
USATODAY.com - Published
New African lion exhibit opens in New Orleans
A new exhibit of African lions is opening at the Audubon Zoo in New Orleans. Visitors will have an opportunity to see critically endangered lions. (May 17)
USATODAY.com - Published
You Might Like