Arkansas
State of the United States of America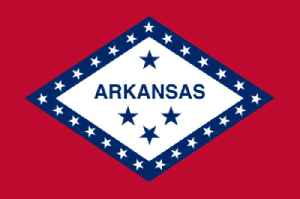 Arkansas is a state in the southern region of the United States, home to over 3 million people as of 2018. Its name is of Siouan derivation from the language of the Osage denoting their related kin, the Quapaw Indians. The state's diverse geography ranges from the mountainous regions of the Ozark and the Ouachita Mountains, which make up the U.S. Interior Highlands, to the densely forested land in the south known as the Arkansas Timberlands, to the eastern lowlands along the Mississippi River and the Arkansas Delta.


U.S. Capitol will be getting a Johnny Cash statue
Johnny Cash may soon be immortalized in marble in our nation's capital. Each U.S. state gets two representatives in the National Statuary Hall. This month, Arkansas's governor signed a bill that will..
CBS News - Published
Powerful storms sweep through southern US, kill 8 people, including three children; dozens sustain injuries
Nearly 90,000 customers were without electricity in Texas, Mississippi, Louisiana, Arkansas, and Georgia in US as of midday Sunday
Firstpost - Published
Tornado hits small Texas town, seven reported hurt
At least seven people were hurt, Robertson County EMS' Adam Gallagher told reporters, and the small east Texas town of Franklin sustained major damage on Saturday when a tornado touched down amid..
Credit: Reuters Studio Duration: 00:40Published
Judge Blocks Medicaid Work Requirements in Ark., Ky.
The judge blocked the Trump administration's approval of requests from Arkansas and Kentucky to impose work requirements on Medicaid.
Credit: Newsy Studio Duration: 01:05Published
Trump's Budget Includes New Funding To Fight HIV
LGBTQ rights advocates welcome President Trump's plan to eradicate HIV, but urge the administration and Congress to put more funding into the plan.
Credit: Newsy Studio Duration: 02:32Published
Watch: Arkansas Senator Storms Out Over 'Stand Your Ground' Bill: 'You Can't Silence Me'
Arkansas State Senator Stephanie Flowers (D-Pine Bluff) stormed out after a heated debate over a controversial "Stand Your Ground" bill: "You can't silence me."
Credit: Newsweek Duration: 01:41Published
Mo. Bill Would Ban Most Abortions if Roe v. Wade Overturned
If Roe v. Wade stands, the law would still ban most abortions as soon as a fetal heartbeat is detected.
Credit: Newsy Studio Duration: 01:23Published
Serious threat of strong, long-lasting tornadoes in southern U.S.
The worst of the storms will be found Saturday afternoon over east Texas moving into Louisiana, Arkansas and Mississippi
CBS News - Published
Nevada quickly hires Alford to replace Musselman
Nevada moved quickly to replace one big-name coach with another. Announces hiring of Steve Alford to replace Eric Musselman, who left for Arkansas
USATODAY.com - Published
Search this site and the web:
You Might Like