Arkansas
State of the United States of America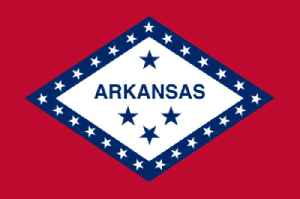 Arkansas is a state in the southern region of the United States, home to over 3 million people as of 2018. Its name is of Siouan derivation from the language of the Osage denoting their related kin, the Quapaw Indians. The state's diverse geography ranges from the mountainous regions of the Ozark and the Ouachita Mountains, which make up the U.S. Interior Highlands, to the densely forested land in the south known as the Arkansas Timberlands, to the eastern lowlands along the Mississippi River and the Arkansas Delta.


Garden mannequins, forest giants, flamethrowers: News from around our 50 states
Taking a stand against cauliflower rice in Arkansas, cleaning up one huge ink blot in Georgia, and more
USATODAY.com - Published
Arkansas Senate approves Down syndrome abortion ban
The bill prohibits doctors from performing abortions if they know the procedure is being sought solely because of the diagnosis
CBS News - Published
Trump's Budget Includes New Funding To Fight HIV
LGBTQ rights advocates welcome President Trump's plan to eradicate HIV, but urge the administration and Congress to put more funding into the plan.
Credit: Newsy Studio Duration: 02:32Published
Watch: Arkansas Senator Storms Out Over 'Stand Your Ground' Bill: 'You Can't Silence Me'
Arkansas State Senator Stephanie Flowers (D-Pine Bluff) stormed out after a heated debate over a controversial "Stand Your Ground" bill: "You can't silence me."
Credit: Newsweek Duration: 01:41Published
Mo. Bill Would Ban Most Abortions if Roe v. Wade Overturned
If Roe v. Wade stands, the law would still ban most abortions as soon as a fetal heartbeat is detected.
Credit: Newsy Studio Duration: 01:23Published
Explore USA with Cheap Flight Deals From VaccationTravel
The United States of America is a blessed nation with abundant diversity and ethnicity, it is filled with culture and wealth and is a "Land of Opportunity" having various opportunities available..
WorldNews - Published
Search this site and the web:
You Might Like