Stone cross
Christian monument made of stone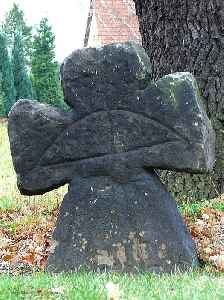 Stone crosses in Central Europe are usually bulky Christian monuments, some 80–120 cm (31–47 in) high and 40–60 cm (16–24 in) wide, that were almost always hewn from a single block of stone, usually granite, sandstone, limestone or basalt. They are amongst the oldest open-air monuments. A larger variant of the stone cross, with elements of a wayside shrine is called a shaft cross (Schaftkreuz).


Germany to return Portuguese Stone Cross to Namibia
The German Historical Museum agrees to return the 500-year-old monument to the former German colony.
BBC News - Published
Search this site and the web:
You Might Like