Pheu Thai Party
Political party of Thailand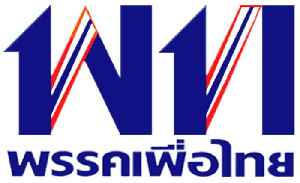 The Pheu Thai Party is the third incarnation of a Thai political party founded by former prime minister Thaksin Shinawatra. The Pheu Thai Party was founded on 20 September 2008, as an anticipated replacement for the People's Power Party (PPP), which Constitutional Court of Thailand dissolved less than three months later after finding party members guilty of electoral fraud. The People's Power Party was a replacement for Thaksin's original Thai Rak Thai Party (TRT) which the Constitutional Court dissolved in May 2007 for violation of electoral laws.


Thai opposition says 'not too late' as pro-junta talks stall after election
Thailand's main opposition Pheu Thai party on Wednesday urged other parties that contested a March election to reject a coalition offer by a pro-army party seeking to keep the ruling junta chief as..
Reuters - Published
Thai election: Opposition Pheu Thai Party wins most seats
It has taken over a month for Thailand to release the results of the 24 March election.
BBC News - Published
Thailand's pro-army party wins elections amid arrests over spreading of 'fake news'
Even as unofficial results of the Election Commission showed that Thailand's pro-army Palang Pracharat Party won the general elections — the first since a military coup in 2014 — controversy..
WorldNews - Published
Thailand's opposition forms alliance, claims lower house majority
Thailand's Pheu Thai party said on Wednesday it has formed a "democratic front" with other parties after a disputed election, and claimed that the alliance's 255 seats gave it a majority in the lower..
Reuters - Published
Thailand's Thaksin-linked party leads pro-junta party, but many seats undecided
Thailand's opposition Pheu Thai party won 138 seats in the House of Representatives and a pro-army party 96 seats, but the winners of 150 of the lower house seats are still unclear, according to the..
Reuters - Published
Thailand's Thaksin-linked party says aims to form coalition government
The Pheu Thai party linked to Thailand's self-exiled former leader Thaksin Shinawatra said on Monday that it had opened negotiations with other anti-junta parties to try to form a government, though..
Reuters - Published
You Might Like