Austin Butler
American actor, singer and model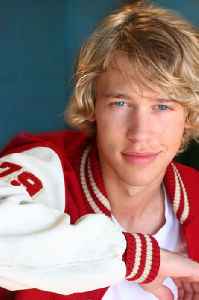 Austin Robert Butler is an American actor and singer. He is known for his roles as James "Wilke" Wilkerson in the television series Switched at Birth, Jordan Gallagher on Ruby & The Rockits, Sebastian Kydd in The Carrie Diaries, Tex Watson in Once Upon a Time in Hollywood and Wil Ohmsford in The Shannara Chronicles.


MOVIE REVIEW: Once Upon a Time in Hollywood
by Graham Pierrepoint - ONCE UPON A TIME IN HOLLYWOOD IMDb Dir: Quentin Tarantino Starring Leonardo DiCaprio, Brad Pitt, Margot Robbie, Emile Hirsch, Margaret Qualley, Timothy Olyphant, Austin..
One News Page Staff - Published
ShowBiz Minute: R. Kelly, Emmys, Elvis
R. Kelly is expected to appear in a Chicago federal courtroom Tuesday; Emmy nominations to be announced; Austin Butler to star as Elvis in Baz Luhrmann-helmed biopic. (July 16)  
USATODAY.com - Published
Austin Butler's casting as Elvis Presley makes girlfriend Vanessa Hudgens curse joyfully
Newbie Austin Butler will play Elvis Presley opposite Tom Hanks' Colonel Tom Parker in Baz Luhrmann's new movie about the king of rock 'n' roll.
USATODAY.com - Published
Austin Butler to play Elvis Presley in forthcoming biopic
Butler was one of five actors being considered for the iconic role
CBS News - Published
Vanessa Hudgens rocks the Daisy Dukes while grabbing lunch with boyfriend Austin Butler
As Los Angeles starts to heat up after a rainy and gloomy 'winter,' Vanessa Hudgens is breaking out the Daisy Dukes. The 30 year old brunette beauty...
WorldNews - Published
Holy Cross pulls away from cold-shooting Army, 56-42
Jacob Grandison and Austin Butler each scored 14 points and Holy Cross limited Army to just 14 field goals en route to a 56-42 Patriot League victory
USATODAY.com - Published
Grandison, Butler lead Holy Cross past Navy 69-64
Jacob Grandison and Austin Butler scored 22 points apiece and Holy Cross knocked off Navy 69-64
USATODAY.com - Published
You Might Like