Donald Glover
American actor, musician, comedian and producer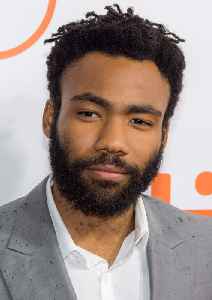 Donald McKinley Glover Jr. is an American actor, singer, rapper, comedian, writer, producer, and director. He performs music under the stage name Childish Gambino and occasionally as a DJ under the name mcDJ.


Donald Glover is a dad of three

Actor and rapper Donald Glover quietly became a dad-of-three during the coronavirus lockdown.
Credit: Cover Video STUDIO Duration: 00:49
Published
Barry Jenkins Signs On For Lion King Sequel

CNN reports that Oscar-winner Barry Jenkins has signed on to direct a sequel of the "The Lion King." The live-action "Lion King" was a success, grossing an estimated $1.66 billion worldwide, according..
Credit: Wochit News Duration: 00:26
Published
You Might Like
Moonlight director Barry Jenkins is helming the next live-action Lion King
Walt Disney Pictures Oscar winner Barry Jenkins has agreed to direct the next installment in the Lion King story, according to an exclusive in Deadline. Jenkins is taking over for Jon Favreau, whose..
The Verge - Published
'Community' is back in session for cast script reading to support COVID-19 relief efforts
The "Community" cast, including Donald Glover, is reuniting for a remote, online table read and Q&A to raise money for COVID-19 food relief efforts.
USATODAY.com - Published
Arab designs make a cameo on Beyonce's 2019 'Bey-cap'
DUBAI: On Dec. 31, multi Grammy award-winning artist Beyonce dropped what she calls a 2019 'Bey-cap' on her Instagram in celebration of the New Year. The clip is filled with personal footage..
WorldNews - Published
Lupita Nyong'o, Kerry Washington shine at the 2019 Britannia Awards
It was a starry affair Friday night at the Britannia Awards. Lupita Nyong'o, Phoebe Waller-Bridge and Donald Glover were all in attendance.
USATODAY.com - Published
Austin City Limits 2019: Billie Eilish, Lizzo, 21 Savage, Rosalia, Guns N' Roses and others
Austin City Limits 2019 takes place Oct. 4-6 and 11-13. Among those on the bill: Billie Eilish, Childish Gambino, Lizzo and Guns N' Roses.
USATODAY.com - Published
Lollapalooza 2019: Best photos from music fest
Lollapalooza 2019 runs Aug. 1-4 in Chicago's Grant Park and features headliners including Childish Gambino, Twenty One Pilots and Ariana Grande.
USATODAY.com - Published
MOVIE REVIEW: The Lion King
by Graham Pierrepoint - THE LION KING IMDb Dir: Jon Favreau Starring Donald Glover, Seth Rogen, Chiwetel Ejiofor, Alfre Woodard, Billy Eichner, John Kani, John Oliver, Beyonce Knowles-Carter, James..
One News Page Staff - Published
Stream the 'Lion King' soundtrack, with Beyoncé and Donald Glover's 'Can You Feel the Love Tonight'
Out Thursday, the official "Lion King" soundtrack arrives a week before the movie's official release on July 19.
USATODAY.com - Published
Beyonce dazzles at 'Lion King' premiere
Beyonce, Donald Glover, Michelle Williams, Kelly Rowland, Tiffany Haddish and more sparkle in metallics and prints at "The Lion King" world premiere in Los Angeles. (July 10)  
USATODAY.com - Published
Stars are safari-chic at 'The Lion King' premiere in Hollywood
"The Lion King" live-action film is almost here! On Tuesday night, stars debuted their imagining of the Disney classic, in which Beyonce voices Nala and Donald Glover takes over as Simba. Who walked..
USATODAY.com - Published
Beyonce is finally getting her 'big break' in The Lion King jokes her co-star Seth Rogen
Beyonce and Donald are getting a big break (Picture: Disney, Rex) Seth Rogen and Billy Eichner couldn't be more thrilled to star alongside Beyonce and Donald Glover in Disney's The Lion King –..
WorldNews - Published
Beyoncé and Donald Glover sing in "The Lion King" trailer
Fans of the highly-anticipated film certainly felt the love with the release of its new trailer
CBS News - Published
Beyoncé, Donald Glover sing 'Can You Feel the Love Tonight,' and it's as great as we hoped
Beyoncé shared a teaser clip Sunday for her wildly anticipated duet with Donald Glover on "Can You Feel the Love Tonight" ahead of "The Lion King."
USATODAY.com - Published