Salmonella
Genus of prokaryotes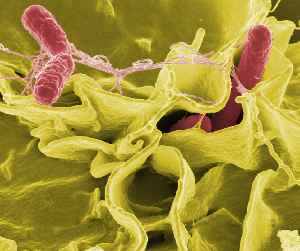 Salmonella is a genus of rod-shaped (bacillus) Gram-negative bacteria of the family Enterobacteriaceae. The two species of Salmonella are Salmonella enterica and Salmonella bongori. S. enterica is the type species and is further divided into six subspecies that include over 2,600 serotypes.


Salmonella alert: Backyard chickens have caused 21-state outbreak, CDC says
Salmonella-linked to backyard poultry has sickened 52 people in 21 states, the CDC has announced.
USATODAY.com - Published
Search this site and the web:
You Might Like