Salmonella
Genus of prokaryotes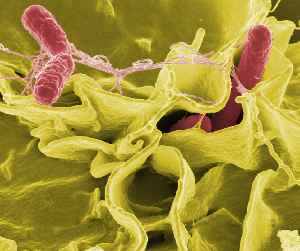 Salmonella is a genus of rod-shaped (bacillus) Gram-negative bacteria of the family Enterobacteriaceae. The two species of Salmonella are Salmonella enterica and Salmonella bongori. S. enterica is the type species and is further divided into six subspecies that include over 2,600 serotypes. Salmonella was named after Daniel Elmer Salmon (1850–1914), an American veterinary surgeon.


You Might Like
Salads sold at Walmart, Kroger, H-E-B with recalled onions included in new USDA public health alert
Some Walmart, Kroger and H-E-B salads are part of a new health alert because they contain recalled onions that maybe contaminated with Salmonella.
USATODAY.com - Published
Red Onions Linked to Salmonella Outbreak, Officials Say
More than 500 cases and at least 75 hospitalizations have been reported in the United States and Canada, the health authorities said.
NYTimes.com - Published
1 dead, 10 sickened after multistate Salmonella outbreak linked to ground beef
A multistate salmonella outbreak caused one death and sickened 10 people in August and September. The outbreak is linked to ground beef.
USATODAY.com - Published
Salmonella linked to dog treats that sickened 154 apparently over
Food safety regulators drop warnings against the dog treats, save for the recalled products, after four-year outbreak ends
CBS News - Published
Salmonella link prompts nationwide recall of Core Powerfoods frozen meals
At least 46 people around Australia, including 15 from NSW, have fallen ill after eating the frozen meals. 
The Age - Published
Salmonella linked to dog treats sickens 143 people in 35 states
Food safety regulators warn that the tainted pet products can make both owners and their pets seriously ill
CBS News - Published
Salmonella tied to backyard flocks surpasses 1,000 cases
Raising chickens at home is the top cause of infection blamed for 1,003 illnesses in 49 states, including two deaths
CBS News - Published
Popular Pig Ear Dog Treat Leads To Salmonella Outbreaks Across 48 States With Two Deaths
The Centers For Disease Control and Prevention said two people are dead and another 768 are ill due to nationwide Salmonella outbreaks linked to popular dog treats and backyard poultry on Thursday,..
WorldNews - Published
Two dead, 768 ill amid Salmonella outbreak affecting 48 states, CDC says
The CDC reports two separate outbreaks – one linked to contact with poultry in backyard flocks and one linked to contact with pig ear dog treats.
USATODAY.com - Published