Kabul
Metropolis and municipality in Afghanistan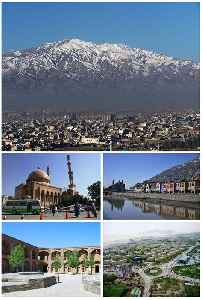 Kabul is the capital and largest city of Afghanistan, located in the eastern section of the country. It is also a municipality, forming part of the greater Kabul Province. According to estimates in 2015, the population of Kabul is 4.635 million, which includes all the major ethnic groups of Afghanistan. Rapid urbanization had made Kabul the world's 75th largest city.


Kabul's expanding foreigner 'bubble' trades safety for isolation
By Abdul Qadir Sediqi, Rod Nickel and Rupam Jain KABUL, Afghanistan (Reuters) - Kabul's green zone is a place where diplomats fly in cheesecake from New York and cases of wine from Europe, but many of..
Firstpost - Published
Also reported by •Reuters
Kabul summons diplomat over remarks by Pakistan's Khan
KABUL (Reuters) - Afghanistan summoned a senior Pakistani diplomat on Saturday to account for remarks by Prime Minister Imran Khan speculating about a new government in Kabul following a possible peace..
Firstpost - Published
Also reported by •Reuters
11 killed in mortar attack on Shia gathering in Kabul
Mortars were fired on Thursday at a commemoration on the death anniversary of a leader of the ethnic Hazara minority.
Credit: Al Jazeera STUDIO Duration: 02:48Published
Rocket attack at former Afghan president Karzai rally
A live camera crew at a Kabul political rally records fleeing crowds and confusion as multiple rocket strikes landed nearby. At least one person was killed and several wounded. Rough Cut (no reporter..
Credit: Reuters Studio Duration: 01:29Published
Rocker PJ Harvey travels to Afghanistan to inspire her music in new documentary
The singer gets inspiration for a new album by meeting local people in Kabul, Kosovo and Washington D.C., in documentary "A Dog Called Money". Rough cut (no reporter narration).
Credit: Reuters Studio Duration: 01:07Published
Afghan president offers Taliban local office
Ashraf Ghani said he was willing to 'sacrifice my head' for peace in Afghanistan. Rough cut (no reporter narration)
Credit: Reuters Studio Duration: 00:44Published
U.S Peace Envoy Visits Kabul to Consult President On Talks With Taliban
According to Reuters, U.S. special envoy Zalmay Khalilzad arrived in Kabul on Sunday to try to secure cooperation from Afghanistan's president after breakthroughs in peace negotiations with Taliban..
Credit: Wochit News Duration: 00:35Published
Left out of peace talks, U.S. allies reassess Afghan support
At a dinner party in Kabul's high-security "green zone" in March, a senior European diplomat poured himself a glass of red wine and pulled up a photograph on his iPhone.
Reuters - Published
U.S.-Afghan tensions erupt over Kabul's exclusion from peace talks
By Jonathan Landay WASHINGTON (Reuters) - The United States and Afghanistan clashed publicly on Thursday over U.S.
Firstpost - Published
Also reported by •Reuters
Senior Afghan official publicly criticizes U.S. negotiator on visit to Washington
A senior Afghan official on Thursday accused the U.S. peace negotiator of "delegitimizing" the Afghan government in an unusually public attack reflecting Kabul's mounting alarm over its exclusion from..
Reuters - Published
Kidnapping and killing of six-year-old girl enrages Afghans
KABUL, Afghanistan (Reuters) - Enraged Afghans took to social media on Wednesday to demand severe punishment for the kidnapping and killing of a six-year-old girl in the capital Kabul.
Firstpost - Published
Also reported by •Reuters
Taliban pile pressure on Afghan government forces in west
KABUL, March 12 (Reuters) - Taliban fighters have stepped up pressure on Afghan forces in the western province of Badghis, killing 20 soldiers and capturing 20, an official said on Tuesday, as the..
WorldNews - Published
You Might Like