Kabul
Capital of Afghanistan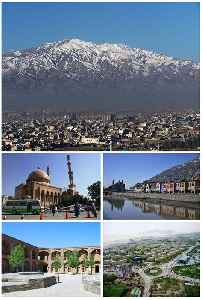 Kabul is the capital and largest city of Afghanistan, located in the eastern section of the country. It is also a municipality, forming part of the greater Kabul Province, and divided into 22 districts. According to estimates in 2020, the population of Kabul is 4.222 million, which includes all the major ethnic groups of Afghanistan. Afghanistan's only city with a population of over 1 million, Kabul serves as its political, cultural and economical center. Rapid urbanization has made Kabul the world's 75th largest city.


Afghanistan: Gunmen storm hospital compound in Kabul

Afghan forces have evacuated dozens and ended the siege at the hospital, killing the three gunmen, officials said.
Credit: Al Jazeera STUDIO Duration: 02:18
Published
Deadly blast hits Kabul mosque during Friday prayers

At least four people, including prayer leader, killed and many others wounded, says Afghanistan's interior ministry.
Credit: Al Jazeera STUDIO Duration: 01:30
Published
Afghans say Taliban behind bloodshed, reject U.S. blame of Islamic State

Afghan officials on Friday blamed the Taliban for a bloody attack on a maternity hospital in the capital, Kabul, this week, rejecting a U.S. assertion that it was carried out by Islamic State..
Credit: Reuters Studio Duration: 01:53
Published
U.S. says Islamic State responsible for Kabul hospital attack

The United States has blamed Islamic State militants - not the Taliban - for a gruesome hospital attack in Afghanistan this week that killed two newborn babies. Joe Davies reports.
Credit: Reuters Studio Duration: 01:46
Published
Newborns among dead in Kabul hospital attack

Gunmen attacked a hospital in the Afghan capital, Kabul, on Tuesday where the international humanitarian organization Doctors Without Borders runs a maternity clinic. At least sixteen people, including..
Credit: Reuters Studio Duration: 01:01
Published
You Might Like



Watchdog Urges Kabul To Observe Media Law After Journalists Arrested, Harassed

Reporters Without Borders (RSF) has condemned the recent arrests of two journalists in Afghanistan and the "harassment" to which the Pajhwok Afghan News agency is being subjected by the..




WorldNews - Published





Two Afghan human rights workers killed in blast in Kabul

KABUL - A bomb attached to a vehicle killed two members of Afghanistan's independent human rights commission in Kabul on Saturday, the group said, as violence in the country rises despite a..




WorldNews - Published





Doctors Without Borders to close Kabul maternity clinic after attack

Doctors Without Borders said on Monday it would close its maternity ward in Kabul due to fears of further attacks after three gunmen last month opened fire at the clinic, killing 24 people including..




Reuters - Published





18 people killed in separate attacks in Afghanistan

KABUL, Afghanistan: Two separate attacks in Afghanistan have killed at least 18 people amid a wave of violence across the country, local Afghan officials said on Saturday. A local police chief in..




WorldNews - Published





Four killed, eight wounded in blast at Kabul mosque during Friday prayers

A blast in a Kabul mosque during Friday prayers killed at least four people and wounded eight, Afghanistan's interior ministry said on Friday, at a time when the country is attempting to move towards..




Reuters India - Published

Also reported by •Reuters


At Least Four Killed, Many Injured In Kabul Mosque Blast

An explosion in a Kabul mosque during Friday Prayers killed at least four people and wounded many more, Afghanistan's Interior Ministry said on June 12. "Explosives...




WorldNews - Published





Four killed and "many injured" in blast in Kabul mosque: Ministry of Interior

A blast in a Kabul mosque during Friday prayers killed at least four people and wounded many more, Afghanistan's interior ministry said on Friday.




Reuters - Published

Also reported by •Reuters India


Taliban say they are readying for talks with Kabul leaders

3 minutes ago ISLAMABAD — The Taliban have started putting together their agenda for negotiations with the political leadership in Kabul, Taliban officials said, a significant first step toward talks..




WorldNews - Published





Taliban roadside bombing kills 11 in northeastern Afghanistan

KABUL – A roadside bomb in Afghanistan's northeastern Badakhshan province killed 11 local police officers, officials said on Saturday. A local police commander, along with his 10 men, was rushing..




WorldNews - Published





First US air strikes on Taliban since ceasefire

KABUL: The US launched its first air strikes against the Taliban since a rare ceasefire between the militants and Afghan forces, the US military said on Friday. The two assaults took place on Thursday..




WorldNews - Published





Vande Bharat Mission: Ariana Afghan Airlines evacuates 3rd batch of stranded Indian citizens from Kabul




IndiaTimes - Published





Afghans condemn killing of prominent cleric in mosque blast

Afghan leaders and ordinary citizens condemned on Wednesday the killing of a prominent cleric in a bomb attack at a mosque in the heavily fortified diplomatic quarter of the capital, Kabul.




Reuters - Published





Suicide bomber injures at least three in Kabul mosque compound

A suicide bomber blew himself up inside a large mosque compound near a high-security diplomatic district in Kabul on Tuesday, government officials said, adding that at least three people were injured..




Reuters - Published





Loud explosion heard in diplomatic district of Kabul: police

A loud explosion was heard on Tuesday in the Wazir Akbar Khan area of Kabul, which is home to many embassies and foreign representative offices, setting off alarms, Reuters journalists and the Kabul..




Reuters - Published





Islamic State kills Afghan journalist, technician in bus blast

Islamic State claimed responsibility for Saturday's bomb explosion that killed an Afghan journalist and a technician in minibus carrying employees of a local television station in Kabul.




Reuters - Published





Afghan journalist, technician at state-run channel killed in blast

A journalist and a technician were killed and at least seven people were wounded when a private bus carrying employees of an Afghan television station was bombed in Kabul on Saturday, the channel's..




Reuters - Published




Afghan government says Taliban attack on checkpoint kills 14

KABUL, Afghanistan (AP) — Taliban fighters attacked an army checkpoint in eastern Afghanistan, killing 14 military personnel, the Defense Ministry said Friday. The Taliban took responsibility for..




WorldNews - Published





Ex-Afghan spy chief: Qatar eroding peace efforts

KABUL: The advent of an abrupt troop withdrawal from Afghanistan as part of US President Donald Trump's re-election campaign could leave the country with heightened conflict and the region in chaos,..




WorldNews - Published





Afghan forces killed in first 'Taliban attack' since ceasefire end

Seven members of the Afghan security forces were killed Thursday in an attack officials blamed on the Taliban, the first deadly assault since the end of a three-day ceasefire. The temporary truce ended..




WorldNews - Published





Backstory: In Afghanistan, covering the death of Hope

In the morning, the gunmen burst into the maternity ward of a hospital in Kabul disguised as police. They killed 24 people, including 16 women and two newborn babies.




Reuters India - Published





Afghan president vows to speed up release of Taliban prisoners

KABUL --- Afghan President Ashraf Ghani vowed Sunday to speed up the release of Taliban prisoners after welcoming a surprise offer by the insurgents of a...




WorldNews - Published





Afghans throng markets ahead of Muslim holiday despite virus fears

Kabul's markets were teeming on Friday in the countdown to the Muslim holiday of Eid al-Fitr as Afghans disregarded government safety guidelines to contain rising coronavirus infections across the..




Reuters - Published





U.S. envoy in Afghan peace shuttle demands reduction in violence

The U.S. special envoy for Afghanistan has demanded that all sides reduce violence, he said on Thursday, after shuttling from Kabul to the Gulf to push a peace effort that looks increasingly..




Reuters - Published





U.S. envoy to press Taliban, Afghan officials on peace talks

A senior U.S. envoy left for Doha and Kabul on Sunday to press Taliban and Afghan government officials to open peace talks that the United States hopes will allow it to withdraw from Afghanistan, the..




Reuters India - Published

Also reported by •Reuters


Taliban accuses India of playing 'negative' role by supporting Kabul govt




IndiaTimes - Published





Brutal Afghan attacks highlight limitations of US-Taliban deal

Two brutal attacks this week laid bare major weaknesses of the US-Taliban troop withdrawal pact: nothing in it obliges the Taliban to prevent such massacres and the Afghan government's ability to..




WorldNews - Published





'Pure Hell': Afghan Babies Born Into War Lose Their Mothers Just Days Later

KABUL, Afghanistan -- Eleven babies were crying in their incubators at a children's hospital in the Afghan capital, Kabul. The infants were born just a few days ago into Afghanistan's...




WorldNews - Published





Afghans say Taliban behind bloodshed, reject U.S. blame of Islamic State

Afghan officials on Friday blamed the Taliban for a bloody attack on a maternity hospital in the capital, Kabul, this week, rejecting a U.S. assertion that it was carried out by Islamic State..




Reuters - Published





'May Allah remove the virus': Pandemic a grim addition to Afghanistan's woes

Delkhah Sultani scrubs laundry outside her home in Kabul as her young daughter watches on. She says she once got paid around $3 a day to wash clothes for other households but since the coronavirus..




Reuters - Published

Also reported by •Reuters India


U.S. says Islamic State conducted attack on Kabul hospital

The United States has assessed that Islamic State Khorasan conducted two attacks in Afghanistan this week, including on a hospital in Kabul in which two newborn babies were killed, U.S. Special..




Reuters - Published




Truck bomb in eastern Afghan city kills five, 14 injured

A truck packed with explosives blew up near a court in the eastern Afghan city of Gardez on Thursday, killing at least five people, two days after gunmen attacked a maternity ward in the capital Kabul,..




Reuters India - Published

Also reported by •Reuters


Attacks deal Trump's long-shot Afghan peace push a fresh blow

U.S. President Donald Trump's stalled plans to bring peace to Afghanistan have suffered a new setback with a decision by Kabul to resume offensive operations against the Taliban following two attacks..




Reuters - Published





Afghan attack: Kabul clinic cares for babies after attack

A children's hospital in the Afghan capital takes in 19 babies who survived a horrific attack.




BBC News - Published





Maternity ward massacre shakes Afghanistan and its peace process

After struggling to get pregnant for years, Zainab, 27, gave birth to a baby boy on Tuesday morning at a small hospital in the southwestern corner of Kabul. She was overjoyed and named the boy Omid,..




Reuters India - Published

Also reported by •Reuters


Afghan attack: US secretary of state condemns shooting at Kabul maternity ward

Mike Pompeo says the Kabul attack which killed two babies and 12 mothers and nurses was "sheer evil".




BBC News - Published





Newborns among 16 dead in Kabul hospital attack; 24 killed in funeral bombing

Gunmen disguised as police attacked a hospital in the Afghan capital, Kabul, on Tuesday, killing 16 people including two newborn babies from a maternity clinic run by the international humanitarian..




Reuters India - Published

Also reported by •Reuters


Gunmen attack Afghan hospital where MSF aid group runs a clinic

Gunmen attacked a hospital in the Afghan capital, Kabul, on Tuesday where the international humanitarian organisation Doctors Without Borders runs a maternity clinic, officials said.




Reuters India - Published

Also reported by •Reuters


Gunmen attack Doctors Without Borders clinic in Kabul: interior ministry source

Gunmen attacked a Doctors Without Borders medical clinic in the western part of the Afghan capital of Kabul, a Ministry of Interior source said on Tuesday.




Reuters - Published