Nashville, Tennessee
State capital and consolidated city-county in Tennessee, United States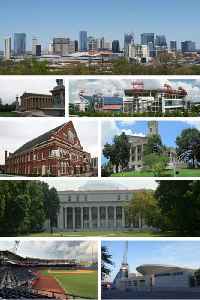 Nashville is the capital and most populous city of the U.S. state of Tennessee. The city is the county seat of Davidson County and is located on the Cumberland River. The city's population ranks 24th in the U.S. According to 2017 estimates from the U.S. Census Bureau, the total consolidated city-county population stood at 691,243. The "balance" population, which excludes semi-independent municipalities within Davidson County, was 667,560 in 2017.


Nashville gets its chance to step up for NFL draft
Nashville gets its chance to step up for NFL draft
USATODAY.com - Published
2019 NFL draft: Complete order for all seven rounds
Here is the complete order for the 2019 NFL draft, which will be held April 25-27 in Nashville.
USATODAY.com - Published
British diver who helped Thai cave boys is rescued himself
A British diver who disappeared while diving in a rural part of Tennessee was rescued on Wednesday (April 17). Edward Baran reports.
Credit: Reuters Studio Duration: 01:12Published
Taylor Swift sends superfan get well card after car crash
A Taylor Swift superfan said she was brought to tears by a handwritten note from the singer wishing her a speedy recovery after she was involved in a car crash. Lindsay Sizemore Kentucky, a 23-year-old..
Credit: PA - Press Association STUDIO Duration: 01:05Published
Police seek ATV driver who dragged Nashville officer
Authorities are looking for the ATV driver who dragged a police officer aliong a street in downtown Nashville Saturday during a mellee caused by riders of around 100 dirt bikes, motorcycles and ATVs...
Credit: Reuters Studio Duration: 01:08Published
$8.5 Billion Will Be Bet On 'March Madness'
NEW YORK (Reuters) - About 47 million people - one in five American adults - are expected to bet a combined $8.5 billion on "March Madness," the annual men's college basketball tournament, a new..
Credit: Wochit News Duration: 00:36Published
Coverage will offer different perspectives on NFL draft
All three days of this year's NFL draft in Nashville will be carried on ESPN, ABC and NFL Network
USATODAY.com - Published
Musicians encourage tipping during NFL Draft
The hard-working honk tonk musicians on Nashville's Broadway want NFL Draft visitors to remember to tip the band. (April 24)
USATODAY.com - Published
Nashville preps for its biggest party yet with 2019 NFL Draft
The Music City is set to host a rowdy NFL Draft from Thursday until Saturday
CBS News - Published
4th & Monday: This is the only NFL draft coverage you need
The long road to NFL draft day finally is winding down toward its ultimate destination for the big event in Nashville starting on Thursday.
USATODAY.com - Published
Tim McGraw, Mike Vrabel prep for NFL Draft
Country music star Tim McGraw and Tennessee Titans Head Coach Mike Vrabel are gearing up for a busy sports week in Nashville, Tennessee, as the Music City prepares to host the NFL Draft. (April 22)
USATODAY.com - Published
Country star, Titans coach talk about NFL draft in Nashville
Country music star Tim McGraw watched as Philadelphia hosted the NFL draft in 2017 with more than 250,000 people on hand and immediately had a vision of how to make the three-day event even better
USATODAY.com - Published
Hunka hunka burning rubber: Nashville bike route looks like Elvis playing a guitar
The Nashville-themed "Strava art" is part of a fun movement by athletes to create GPS pictures with their running, cycling and hiking routes.
USATODAY.com - Published
You Might Like