Easter Bunny
Folkloric figure and symbol of Easter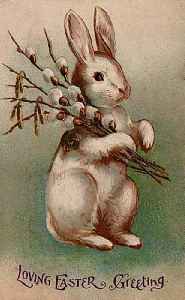 The Easter Bunny is a folkloric figure and symbol of Easter, depicted as a rabbit bringing Easter eggs. Originating among German Lutherans, the "Easter Hare" originally played the role of a judge, evaluating whether children were good or disobedient in behavior at the start of the season of Eastertide. The Easter Bunny is sometimes depicted with clothes. In legend, the creature carries colored eggs in his basket, candy, and sometimes also toys to the homes of children, and as such shows similarities to Santa Claus or the Christkind, as they both bring gifts to children on the night before their respective holidays. The custom was first mentioned in Georg Franck von Franckenau's De ovis paschalibus in 1682, referring to a German tradition of an Easter Hare bringing Easter eggs for the children.


Americans celebrate socially distant Easter

U.S. church leaders peppered their Easter homilies with references to the coronavirus on Sunday, in masses held online, on television and even in parking lots to people sheltering in cars to maintain..
Credit: Reuters Studio Duration: 02:00
Published
New Zealand PM calls the Easter Bunny 'essential worker'

New Zealand prime minister, Jacinda Ardern assures children that both the Easter Bunny and Tooth Fairy are essential workers during the COVID-19 pandemic
Credit: Reuters - Viral Video Duration: 00:45
Published
New Zealand PM declares Easter Bunny and Tooth Fairy essential workers

New Zealand Prime Minister Jacinda Ardern has said the Tooth Fairy and Easter Bunny are considered essential workers. In a message to the children of New Zealand ahead of the Easter weekend, she..
Credit: PA - Press Association STUDIO Duration: 00:47
Published
You Might Like
Search this site and the web: