Mohammed bin Salman
Saudi crown prince and minister of defence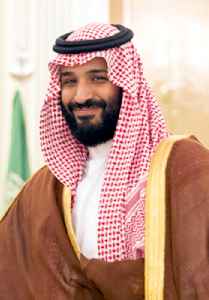 Mohammed bin Salman bin Abdulaziz Al Saud, colloquially known as MBS, is the Crown Prince of Saudi Arabia. He is currently serving as the country's deputy prime minister and is also Chairman of the Council for Economic and Development Affairs, Chairman of the Council of Political and Security Affairs, and Minister of Defence – the world's youngest at the time of his appointment. He has been described as the power behind the throne of his father, King Salman. He was appointed crown prince in June 2017 following King Salman's decision to remove Muhammad bin Nayef from all positions, making Mohammed bin Salman heir-designate to the throne.


Honeymoon over? Biden win would reset Saudi ties

Saudi Arabia's de facto ruler, Mohammed bin Salman, has enjoyed close ties, some would say a free pass, with Donald Trump in the White House. Joe Biden has promised that if he becomes U.S. president,..
Credit: Reuters - Politics Duration: 01:44
Published
Fiancee of slain journalist Khashoggi sues Saudi crown prince

The fiancee of murdered Saudi journalist Jamal Khashoggi has filed a lawsuit against Saudi Crown Prince Mohammed bin Salman (MBS) over the death of her husband to be.
Credit: Al Jazeera STUDIO Duration: 03:55
Published
You Might Like



Jamal Khashoggi's fiancee sues Saudi crown prince in US over journalist's murder

The fiancée of murdered Saudi critic Jamal Khashoggi and a Washington-based organization accused Saudi Crown Prince Mohammed bin Salman of ordering the killing in a lawsuit filed in a U.S. court on..




WorldNews - Published




Jamal Khashoggi murder: Family of slain Saudi journalist sues Crown Prince

The family of slain Saudi journalist Jamal Khashoggi has filed a United States federal lawsuit accusing Saudi Crown Prince Mohammed bin Salman of personally ordering Khashoggi's brutal execution in..




New Zealand Herald - Published





Fiancée Sues Saudi Crown Prince Over Khashoggi Killing

The fiancée of the slain Washington Post journalist sued Prince Mohammed bin Salman in an attempt to learn more about the 2018 killing.




NYTimes.com - Published





Jamal Khashoggi: Journalist's fiancee sues Saudi crown prince

Hatice Cengiz files a lawsuit against Mohammed bin Salman over the journalist's murder in Istanbul.




BBC News - Published





"Blood and Oil" coauthors on bin Salman and the future of Saudi Arabia

On "Intelligence Matters," Mike Morell speaks with Wall Street Journal's Bradley Hope and Justin Scheck.




CBS News - Published





Two Years After Khashoggi's Murder, Why is America Still an Accomplice to MBS's Crimes?

Washington Post journalist Jamal Khashoggi was brutally murdered on October 2, 2018 by agents of Saudi Arabia's despotic government, and the CIA concluded they killed him on direct orders from Saudi..




WorldNews - Published





Mohammad bin Salman denies ordering Khashoggi murder, but says he takes responsibility for it

Saudi Arabia's crown prince also discusses the impact of a September attack on Saudi oil facilities, and responds to allegations that a female Saudi activist has been tortured in prison. Norah..




CBS News - Published





Saudi Arabia jails eight over Khashoggi murder, fiancee decries trial

A Saudi Arabian court on Monday jailed eight people for between seven and 20 years for the 2018 murder of Saudi journalist Jamal Khashoggi, state media reported, four months after his family forgave..




WorldNews - Published





Saudi strongman 'encouraged' Russia intervention in Syria, lawsuit claims

In the summer of 2015 Mohammed bin Salman, then Saudi defence minister and third in line to the throne, turned his country's foreign policy on its head and gave a covert green light for Russia's..




WorldNews - Published





Revealed: Saudi's MBS pushed Russia to intervene in Syria conflict, despite supporting opposition

Saudi Crown Prince Muhammed Bin Salman reportedly encouraged Russian President Vladimir Putin to militarily intervene in the Syrian conflict, official documents related to a former Saudi intelligence..




WorldNews - Published





Saudi crown prince accused of sending hit squad to Canada

Mohammed bin Salman has been accused of sending a hit-squad to kill a former Saudi official.




BBC News - Published





Khashoggi murder: Turkish trial of 20 Saudis opens

Two ex-aides of Crown Prince Mohammed bin Salman are among 20 on trial in absentia for the killing.




BBC News - Published





Saudi Crown Prince and Nigerian President discuss ways to stabilise oil market

Saudi Arabia held a call with fellow OPEC member Nigeria as the organisation strives to deliver production cuts aimed at bolstering global crude markets. Saudi Crown Prince Mohammed bin Salman and..




WorldNews - Published





Saudi prince, Vladimir Putin pledge coordination ahead of OPEC+ meeting

Russia and Saudi Arabia agreed to closely coordinate on the OPEC+ output cuts deal, two weeks ahead of a crucial meeting of the group. The talks between President Vladimir Putin and Saudi Crown Prince..




WorldNews - Published





HRW: Riyadh must free children of ex-Saudi official in exile, overhaul justice system

Human Rights Watch (HRW) has called for the immediate release of two adult children of a former Saudi intelligence officer, who has been lying low abroad since the rise of Crown Prince Mohammed bin..




WorldNews - Published





Sons of murdered Saudi journalist Khashoggi say 'forgive' killers

Shares The sons of murdered Saudi journalist Jamal Khashoggi said Friday they "forgive" the killers of their father, an announcement analysts said effectively grants clemency to five convicted people..




WorldNews - Published





Saudi Arabia Says It Will Stop Executing Children. But Read the Small Print | Opinion

On Sunday, April 26, the Kingdom's Human Rights Commission announced that, by royal decree, people convicted of childhood offences will no longer be subject to the death penalty. This was reported..




WorldNews - Published





'The end of an era': oil price collapse may force Saudis to rein in arms spending

Saudi Arabia may be forced to forego new weapons contracts and delay already-agreed weapons purchases as a financial crisis grips the kingdom, experts predict. The expected delay of new weapons deals..




WorldNews - Published





Fiancee of murdered Saudi journalist asks Newcastle fans to resist takeover

Newcastle United fans are urged to "unite to protect" the club from a takeover by a fund controlled by Saudi Arabia's Crown Prince Mohammed bin Salman.




BBC News - Published





Newcastle United fans urged to resist Saudi Arabia fund takeover

Newcastle United fans are urged to "unite to protect" the club from a takeover by a fund controlled by Saudi Arabia's Crown Prince Mohammed bin Salman.




BBC News - Published





Russia's Putin, Saudi crown prince discuss OPEC+: Kremlin

Russian President Vladimir Putin and Saudi Crown Prince Mohammed bin Salman discussed a planned OPEC+ reduction of oil output, the Kremlin said.




Reuters - Published





Trump Says Saudis, Russia Will Cut Production After MBS Call

(Bloomberg) — President Donald Trump said he expects Saudi Arabia and Russia to cut oil production by about 10 million barrels after he spoke by phone with Crown Prince Mohammed Bin Salman on..




WorldNews - Published





Turkey charges 20 Saudis over Khashoggi murder

Turkey has charged 20 suspects including two former aides to Saudi Crown Prince Mohammed bin Salman over the 2018 murder of Riyadh critic Jamal Khashoggi, prosecutors have said. Prosecutors accuse..




WorldNews - Published





Istanbul prosecutor indicts Saudi suspects for Khashoggi killing

Istanbul prosecutors said on Wednesday they had prepared an indictment against a close aide to Saudi Arabia's Crown Prince Mohammed bin Salman and a former deputy head of general intelligence over the..




Reuters - Published





On PM nudge, G-20 may hold virtual summit next week

Saudi Crown Prince Mohammed bin Salman is planning to convene a video-conference of G-20 heads of state next week to discuss and evolve common strategies to combat coronavirus currently sweeping..




IndiaTimes - Published





India, Saudi discuss Covid-19 fight

PM Narendra Modi had a telephone conversation on Tuesday with Saudi Crown Prince Mohammed bin Salman and discussed the global situation regarding the Covid-19 pandemic.




IndiaTimes - Published





Saudi crown prince, UK's PM discuss cutting coronavirus economic impact

Saudi Arabia's Crown Prince Mohammad Bin Salman and British Prime Minister Boris Johnson discussed how to reduce the economic consequences of coronavirus, Saudi-owned Al Arabiya television said on..




Reuters - Published




White House says Trump, Saudi crown prince discussed energy markets

U.S. President Donald Trump spoke with Saudi Arabia's Crown Prince Mohammed bin Salman in a call on Monday to discuss global energy markets, among other issues, the White House said on Tuesday without..




Reuters - Published





Will Trump and Saudi Crown Prince MBS' Relationship Survive Plunging Oil Prices, Alleged Coup Plot?

He has become known as the crown prince of propaganda. Armed with a series of very expensive strategy documents authored by the Boston Consulting Group and branded as his Vision 2030, Saudi Arabia's..




WorldNews - Published





Saudi Arabia detains three senior members of royal familyi

The move echoes the arrest of dozens of elites ordered by Crown Prince Mohammed bin Salman in 2017.




BBC News - Published





U.S. Secretary of State Pompeo to visit Saudi Arabia until Friday

U.S. Secretary of State Mike Pompeo will meet with King Salman, Crown Prince Mohammad bin Salman and Foreign Minister Faisal bin Farhan during a three-day visit to Saudi Arabia starting on Wednesday,..




Reuters - Published





Saudi minister denies any plans for crown prince to meet Israeli PM

Saudi Arabia's foreign minister on Thursday denied media reports of a possible meeting between Crown Prince Mohammed bin Salman and Israeli Prime Minister Benjamin Netanyahu, amid speculation about..




Reuters - Published





Jeff Bezos hack: UN experts demand probe of Saudi crown prince

The call comes after reports Mohammed bin Salman's phone was used to hack Amazon boss Jeff Bezos.




BBC News - Published





Saudi prince may have been involved in Bezos phone hacking: U.N. experts

Saudi Crown Prince Mohammed bin Salman may have been involved in a plot to hack the phone of Amazon's billionaire boss Jeff Bezos, United Nations experts said on Wednesday.




Reuters - Published





Saudi dismisses link to Amazon owner Jeff Bezos' phone hack

The Saudi embassy in Washington has dismissed suggestions the kingdom hacked the phone of Washington Post owner Jeff Bezos, as media reports linked the security breach to a WhatsApp message from an..




WorldNews - Published





Iraqi PM and Saudi Crown Prince discuss ramifications of events in Iraq

Iraqi Prime Minister Adel Abdul Mahdi discussed the situation in his country and in the wider region with Saudi Crown Prince Mohammed bin Salman on Saturday, his office said.




Reuters - Published




Saudi Crown Prince discussed measures for reducing tension in region in call with Pompeo: state news agency

Saudi Crown Prince Mohammed bin Salman discussed measures for reducing tension in the region in a call with U.S. Secretary of State Mike Pompeo on events in Iraq on Friday, according to the state news..




Reuters - Published




Udupi man held in Saudia Arabia for insulting post on Prince Salman




IndiaTimes - Published





Saudis hail 'fortune-telling' prince for Aramco price prediction

Saudis took to Twitter to celebrate Aramco's valuation hitting $2 trillion on Thursday, with one posting praising de-facto leader Crown Prince Mohammed bin Salman as a fortune teller.




Reuters - Published





Saudi Aramco hits Crown Prince's $2 trillion goal despite valuation doubts

Saudi Aramco hit the $2 trillion target sought by de-facto Saudi leader Crown Prince Mohammed bin Salman on Thursday as its shares racked up a second day of gains, despite some scepticism about the..




Reuters - Published




Saudi Aramco shares briefly hit $2 trillion before easing

Saudi Aramco's shares opened up 10% in their second trading session on Thursday, briefly sending the state-owned oil company's market value above the $2 trillion target sought by Saudi leader Crown..




Reuters - Published





Timeline: Saudi Aramco's winding road to an IPO

Saudi Aramco shares surged the maximum permitted 10% above their initial public offering (IPO) price on their Riyadh stock market debut on Wednesday, closing in on the $2 trillion valuation long sought..




Reuters - Published





Boost for Saudi Arabia as Aramco shares surge 10% on debut

Saudi Aramco shares surged the maximum permitted 10% above their initial public offering (IPO) price on their Riyadh stock market debut on Wednesday, closing in on the $2 trillion valuation long sought..




Reuters - Published





Saudi Aramco shares jump 10% on stock market debut

Saudi Aramco shares opened up 10% on their Riyadh stock market debut on Wednesday, closing in on the $2 trillion valuation long sought by Saudi Crown Prince Mohammed bin Salman.




Reuters - Published





Saudi prince's ambitions hinge on triumphant Aramco sale

RIYADH, Saudi Arabia (AP) — Saudi Arabia is expected to set a new record for the largest stock flotation in history on Wednesday with the sale of part of Aramco, the state-owned oil company valued at..




WorldNews - Published





Trump, Saudi crown prince vow to cooperate on Florida base shooting probe

U.S. President Donald Trump and Saudi Crown Prince Mohammed bin Salman on Sunday discussed last week's Florida naval base shooting and vowed to work together on the investigation of the attack, which..




Reuters - Published