Charles de Gaulle
18th President of the French Republic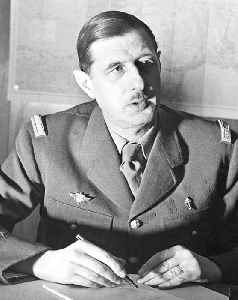 Charles André Joseph Marie de Gaulle was a French army officer and statesman who led the French Resistance against Nazi Germany in World War II and chaired the Provisional Government of the French Republic from 1944 to 1946 in order to establish democracy in France. In 1958, he came out of retirement when appointed President of the Council of Ministers by President René Coty. He was asked to rewrite the Constitution of France and founded the Fifth Republic after approval by referendum. He was elected President of France later that year, a position he was reelected to in 1965 and held until his resignation in 1969. He was the dominant figure of France during the Cold War era, and his memory continues to influence French politics.


Paris, city of light and love: Notre-Dame might recover but you will not
"Paris! Paris violated! Paris broken! Paris martyred!" Those words were uttered, not this week but by general Charles de Gaulle when he entered a liberated Paris on August 25, 1944. German snipers..
WorldNews - Published
Search this site and the web:
You Might Like