Paris Saint-Germain F.C.
Association football club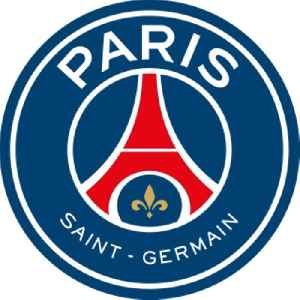 Paris Saint-Germain Football Club, commonly referred to as Paris Saint-Germain, Paris SG, or simply PSG, is a French professional football club based in Paris. Founded in 1970, the club has traditionally worn red and blue kits. PSG has played its home matches in the 47,929-capacity Parc des Princes in the 16th arrondissement of Paris since 1974. The club plays in the highest tier of French football, Ligue 1.


PSG win appeal to shut down Uefa's investigation into FFP
Paris Saint-Germain have won their appeal to dismiss Uefa's investigation into the club's financial affairs, after the Court of Arbirtration for Sport (Cas) ruled the initial case was "final and...
WorldNews - Published
PSG scores legal win over UEFA in financial monitoring case
Paris Saint-Germain has won an initial legal battle with UEFA over the monitoring of its spending on player transfers and wages
USATODAY.com - Published
Liverpool result at Bayern won't affect Premier League bid - Klopp
SHOWS: MUNICH, GERMANY (MARCH 12, 2019) (REUTERS - ACCESS ALL) 1. (SOUNDBITE) (English) LIVERPOOL COACH JUERGEN KLOPP, SAYING: "I really don't think that any other coach or any other manager in the
Credit: Reuters - Sports Duration: 01:21Published
Barca must learn from PSG, Real capitulations - Valverde
Barcelona coach Ernesto Valverde says the Champions League eliminations of Real Madrid and Paris St Germain will act as a warning to his side when they face Olympique Lyonnais.
Credit: Reuters - Sports Duration: 00:38Published
Woodward's Solskjaer decision just got a lot easier
As Ole Gunnar Solksjaer continues to exceed expectations in his position as interim Manchester United manager, his appointment into a permanent role seems inevitable.
Credit: Reuters - Sports Duration: 01:38Published
Solksjaer says game plan was perfect as Man United shock PSG
Manchester United manager Ole Gunnar Solksjaer says his tactical approach went to plan as his team snatched a stoppage time goal to progress in the Champions League.
Credit: Reuters - Sports Duration: 00:48Published
Tuchel rues missed chances as PSG crash out of Champions League
PSG coach Thomas Tuchel says his side were more deserving of a place in the quarter-finals after a stoppage time Manchester United penalty knocks the French giants out.
Credit: Reuters - Sports Duration: 00:31Published
PSG's Cavani faces late fitness test for United clash
PSG's Cavani battling to be fit for United clash
Credit: Reuters - Sports Duration: 01:07Published
Away form gives depleted United confidence - Solskjaer
Solskjaer says never 'Mission Impossible' for Manchester United
Credit: Reuters - Sports Duration: 01:14Published
Barca wary of Lyon's talents; French side look to limit Messi
Barcelona coach Ernesto Valverde and player Sergio Busquets both revealed their side are wary of Lyon's attacking talents, whilst the French side made clear they would look to limit the influence of..
Credit: Reuters - Sports Duration: 01:25Published
DiCaprio: Khabib Nurmagomedov Almost Landed On Me' At UFC 229
Leonardo DiCaprio had a close call at UFC 229, the actor reportedly told Russian fighter Khabib Nurmagomedov. In an interview with Russian channel Match TV, Nurmagomedov said he and DiCaprio watched..
Credit: Wochit News Duration: 00:54Published
French police accused of stealing PSG jerseys during Yellow Vest lootings
France 24 - Published
PSG see off rivals Marseille 3-1 as Di Maia stars in 'le Classique'
Angel Di Maria scored twice as Paris Saint-Germain eased to a 3-1 victory over Marseille on Sunday to extend their long unbeaten run against their arch rivals and move 20 points clear at the Ligue 1..
France 24 - Published
'Le Classique', French football's fallen icon
Le Classique, the match between PSG and Marseille, was once a clash of two strong forces, akin to Spain's Clasico pitting Real Madrid against Barcelona. But in light of PSG's hegemony over Ligue 1,..
France 24 - Published
PSG without Cavani, Draxler, Neymar against Marseille
Runaway leader Paris Saint-Germain will be without striker Edinson Cavani and winger Julian Draxler against Marseille on Sunday
USATODAY.com - Published
Hard to say who holds most influence at PSG after tense week
It was the managerial equivalent of missing an open goal. With a golden opportunity to address what's going wrong at Paris Saint-Germain coach Thomas Tuchel instead protected the players who let him..
USATODAY.com - Published
UEFA to investigate Neymar's VAR criticism after PSG defeat
Paris St Germain forward Neymar will be investigated by UEFA for lashing out at the video assistant referee (VAR) system after their Champions League exit to Manchester United last week, European..
WorldNews - Published
You Might Like