Paris Saint-Germain F.C.
French professional football club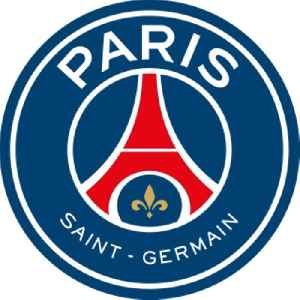 Paris Saint-Germain Football Club, commonly referred to as Paris Saint-Germain, Paris SG, or simply Paris or PSG, is a French professional football club based in Paris. They compete in Ligue 1, the top division of French football. PSG are one of France's most successful clubs, having won more than 40 competitive honours, including nine league titles and one major European trophy. Their home ground is the Parc des Princes.


You Might Like



Man Utd trying to drive down £36.6m Telles fee - Thursday's gossip

Manchester United trying to drive down Telles fee, Liverpool to use Mane in Koulibaly bid, PSG want Rudiger on loan, plus more.




BBC News - Published





PSG's Di Maria gets four-game ban for role in bad-tempered loss to Marseille

Paris St-Germain winger Angel Di Maria is banned for four matches for his role in a bad-tempered match against Marseille on 13 September.




BBC News - Published





Swiss prosecutors seek prison for Al-Khelaifi, Valcke in corruption trial

LAUSANNE: on Tuesday called for Paris Saint-Germain president Nasser and former FIFA number two to face prison for alleged corruption in the allocation of World Cup TV rights. The prosecution called..




WorldNews - Published





Dele Alli: Paris St-Germain target Tottenham and England forward

Paris St-Germain are interested in signing Tottenham's out-of-favour England forward Dele Alli.




BBC News - Published





Nice 0-3: Paris St-Germain: Kylian Mbappe scores on return in PSG win

France striker Kylian Mbappe scores on his comeback to the team as Paris St-Germain beat Nice in Ligue 1.




BBC News - Published





Draxler's late goal earns PSG first win of Ligue 1 season

Julian Draxler scores an injury-time winner to end Paris St-Germain's losing start to the Ligue 1 season against Metz, despite the absence of the suspended Neymar.




BBC News - Published





Neymar banned for two games; LFP to investigate his racism accusation

Paris St-Germain forward Neymar is banned for two games after being sent off against Marseille - but French football authorities will investigate his accusation of racial abuse.




BBC News - Published





Brazilian government backs Neymar in racism row

Brazil's government sent its support to Neymar on Tuesday after he was red-carded for a fight in a Ligue 1 match in France, condemning the "racism" that triggered the brawl. The Paris Saint-Germain..




WorldNews - Published





PSG offer 'strong support' to Neymar after racism allegation

Paris St-Germain say they will "strongly support" Neymar after he claimed to have been racially abused in their match against Marseille.




BBC News - Published





TV rights trial of PSG chief Khelaifi and ex-FIFA official Valcke opens

Paris Saint-Germain president Nasser Al-Khelaifi and FIFA's former secretary general Jerome Valcke went on trial on Monday accused of corruption in the attribution of football broadcasting...




WorldNews - Published





Soccer-Thauvin strikes as Marseille grab rare win at PSG

PARIS — Olympique Marseille earned a smash-and-grab 1-0 win at Ligue 1 champions Paris St Germain after forward Florian Thauvin struck in the 31st minute of a pulsating though ill-tempered match at..




WorldNews - Published





Neymar among five sent off as Marseille beat PSG in Paris

Neymar is one of five players sent off after an injury-time brawl as Marseille beat Paris St-Germain in an action-packed Ligue 1 game.




BBC News - Published





Lens 1-0 PSG: Ligue 1 champions suffer opening defeat

A depleted Paris St-Germain side begin their Ligue 1 campaign with a surprise loss against newly promoted Lens.




BBC News - Published





Thursday's gossip: Barca and PSG want Arsenal's Bellerin

Barcelona and PSG target Arsenal's Hector Bellerin, Real Madrid to pay half of wages to help Gareth Bale leave, plus more.




BBC News - Published





Mbappe tests positive for coronavirus with PSG's Ligue 1 opener now in doubt

Paris St-Germain forward Kylian Mbappe will miss France's Nations League match against Croatia on Tuesday after testing positive for coronavirus.




BBC News - Published





Reports: Neymar named among Paris St-Germain players to test COVID-19 positive

Dubai: Brazil superstar Neymar, the world's most expensive player, is among three Paris St-Germain players who have tested positive for coronavirus. The French Ligue 1 champions and losing Uefa..




WorldNews - Published





Neymar Reportedly Tests Positive for COVID-19 After Ibiza Yacht Vacation

Neymar -- one of the most famous athletes in the world -- has reportedly tested positive for COVID-19 after a holiday in Ibiza. Neymar's pro soccer club Paris Saint-Germain confirmed Wednesday that 3..




TMZ.com - Published





Three PSG players test positive for coronavirus

Three Paris St-Germain players have tested positive for coronavirus, the Ligue 1 club says.




BBC News - Published





PSG bid for Bellerin but face competition - Wednesday's gossip

Everton agree James deal, PSG bid for Bellerin, Chelsea put price tag on Kante, Leicester agree Castagne move, plus more.




BBC News - Published





PSG in touch again and Juve explore Ronaldo link-up - what's the latest on Messi transfer?

Europe's elite clubs are circling - Guillem Balague provides the latest on Lionel Messi's potential Barcelona departure.




BBC News - Published





'Messi favours Man City over PSG' - Saturday's football gossip

PSG told Messi wants to join Man City, Donnarumma interests Chelsea, Barca want Wijnaldum, plus more.




BBC News - Published





Paris masks up as European leaders warn virus fight getting tougher

Paris: Masks became compulsory outdoors all over Paris on Friday as France joined a growing global battle against new virus outbreaks, while Germany warned the crisis will be "more difficult" in..




WorldNews - Published





England's Parris sent off but Lyon reach ninth Womens' Champions League final

Wendie Renard secures Lyon a record ninth appearance in the Women's Champions League final with a 1-0 win over Paris St-Germain.




BBC News - Published




Man Utd and PSG competing to sign Messi - Wednesday's football gossip

PSG and Manchester United could sign Lionel Messi, Thiago Silva is set for a Chelsea medical, plus more.




BBC News - Published





Paris St-Germain's Ligue 1 opening game against Lens postponed

Paris St-Germain will have another 12 days to prepare for the 2020-21 season as the authorities agree to rearrange their opening Ligue 1 game.




BBC News - Published





French police make 148 arrests after riots following PSG loss

French police made 148 arrests following riots in the capital after Paris St-Germain's 1-0 defeat by Bayern Munich in the Champions League final.




BBC News - Published





83 arrests, cars ablaze as angry PSG fans clash with police

French CRS riot police officers stand ready next to firefighters putting out a fire near the Champs-Elysees in Paris on August 23, 2020, as PSG supporters gather after the UEFA Champions League final..




WorldNews - Published





Messi would be 'welcome' at PSG, says Tuchel

Paris St Germain manager says would be welcome at the club if he ever decided to leave Barcelona but he does not expect the Argentine forward to do so. Messi, who joined Barcelona aged 13, has scored a..




WorldNews - Published





'Messi is Mr Barcelona' - PSG boss Tuchel expects Messi to stay

Paris St-Germain boss Thomas Tuchel says Lionel Messi is "very welcome" at the club - but expects him to remain at Barcelona.




BBC News - Published





Bayern Munich beats Paris Saint-Germain to win the Champions League

(CNN)Bayern Munich clinched its sixth European title after beating Paris Saint-Germain 1-0 in the Champions League final on Sunday. Victory for the German champion secures a lucrative treble after it..




WorldNews - Published





Bayern win Champions League after Coman header edges out PSG

Bayern Munich are crowned European champions for a sixth time as they beat Paris St-Germain in the Champions League final.




BBC News - Published





'The best team v the best player' - what could decide Champions League final?

BBC Radio 5 Live's European football experts discuss who will win the 2020 Champions League final between Paris St-Germain and Bayern Munich.




BBC News - Published





PSG knock Arsenal out of Women's Champions League

Signe Bruun's late winner gives Paris St-Germain victory over Arsenal in the Women's Champions League quarter-finals.




BBC News - Published





Paris Saint-Germain shirts to be banned in Marseille for Champions League final

Marseille are PSG's fierce rivals and disturbances are feared for the Champions League final.




BBC News - Published





Liverpool's Wijnaldum a top target for Barca - gossip

Koeman wants Wijnaldum at Barca, PSG monitoring Man Utd's Dalot, Deeney wants to stay at Watford, plus more.




BBC News - Published





Lyon 0-3 Bayern Munich: Bayern breeze through to final showdown with PSG

Bayern Munich's relentless march through this season's Champions League continues as they brush aside Lyon to book a final showdown with Paris St-Germain.




BBC News - Published





Paris St Germain book place in first Champions League final with RB Leipzig rout

Paris St Germain are one win away from Champions League glory after claiming an emphatic 3-0 win over RB Leipzig in the semi-final in Lisbon. The French side have been chasing success in the premier..




WorldNews - Published





Is Neymar winning over the doubters as PSG reach Champions League final?

Neymar was superb against RB Leipzig in the Champions League semi-finals, but it was his selflessness that most impressed the pundits.




BBC News - Published





Classy PSG beat Leipzig to reach first Champions League final

Paris St-Germain are through to their first Champions League final courtesy of a deserved 3-0 victory over RB Leipzig




BBC News - Published





Can Neymar finally lead Paris St-Germain to European glory?

We have been here before but there is a feeling this could finally be Paris St-Germain's Champions League year. So what has changed?




BBC News - Published





Mbappe could start as PSG target first Champions League final

By Simon Evans LISBON - Paris St Germain striker Kylian Mbappe could start Tuesday's Champions League semi-final against RB Leipzig, as the French club target their first appearance in a Champions..




WorldNews - Published





Champions League: RB Leipzig vs. Paris Saint-Germain liveblog

In only their second Champions League campaign, RB Leipzig could become the seventh German club to reach a Champions League final if they beat Paris Saint-Germain on Tuesday. DW's liveblog has the..




WorldNews - Published





Two late goals help PSG oust Atalanta in Champions League quarters

LISBON, Aug. 12 (Xinhua) -- With two stunning goals in injury time, Paris Saint-Germain rallied to beat Atalanta 2-1 here on Wednesday, roaring into the UEFA Champions League semifinals for the first..




WorldNews - Published





PSG shatter Atalanta with two stoppage-time goals to reach semi-finals

Paris St-Germain reach the semi-finals of the Champions League for the first time in 25 years with two stoppage-time goals.




BBC News - Published





Matuidi leaves Juventus ahead of expected Inter Miami move

Blaise Matuidi has left Juventus ahead of an expected move to MLS side Inter Miami. Matuidi joined Juve from Ligue 1 giants Paris Saint-Germain in 2017, with the 2018 World...




WorldNews - Published





Champions League: How Atalanta took Europe by storm before facing PSG

As they prepare to take on PSG in the Champions League, BBC Sport finds out how Atalanta have become a force in Italy and on the continent.




BBC News - Published





'Unfeasible' to re-sign Neymar during Covid-19 pandemic, says Barca president

It is "unfeasible" for Barcelona to re-sign Neymar from Paris St-Germain in the current economic climate, says the club's president Josep Maria Bartomeu.




BBC News - Published





Sunday's gossip column: Chelsea want Burnley's Pope

Chelsea step up Pope bid, Inter must pay £15m for Sanchez, PSG set to battle Liverpool for Thiago, plus more.




BBC News - Published





PSG's Mbappe to miss Champions League quarter-final with ankle injury

Paris St-Germain forward Kylian Mbappe will miss the Champions League quarter-final with Atalanta on 12 August after injury rules him out for three weeks.




BBC News - Published





Mbappe a major Champions League doubt for PSG with 'serious ankle sprain'

Kylian Mbappe will be in a race against time for Paris St-Germain's Champions League push after suffering what the club say was a "serious right ankle sprain" in last...




WorldNews - Published