Knesset
Unicameral national legislature of Israel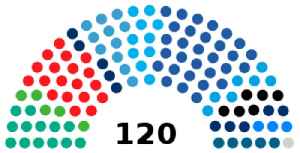 The Knesset is the unicameral national legislature of Israel. As the legislative branch of the Israeli government, the Knesset passes all laws, elects the President and Prime Minister, approves the cabinet, and supervises the work of the government. In addition, the Knesset elects the State Comptroller. It also has the power to waive the immunity of its members, remove the President and the State Comptroller from office, dissolve the government in a constructive vote of no confidence, and to dissolve itself and call new elections. The Prime Minister may also dissolve the Knesset. However, until an election is completed, the Knesset maintains authority in its current composition. The Knesset is located in Givat Ram, Western Jerusalem. The Knesset was elected on 2 March 2020.


You Might Like
Israel swears in unity government after long political crisis
On Sunday, Mr Netanyahu presented his new government in Israel's parliament, the Knesset. "The public wants a unity government, and that's what the public is getting today," he said at the start of the..
WorldNews - Published
'There's been no change': Jaded Israelis head to polls for third time in a year, as polarised as ever
It is Groundhog Day in Israel. For the third time in less than a year, the country is holding a general election. Despite the colossal expenditure of funds and fierce mudslinging on many sides, all the..
WorldNews - Published
Benjamin Netanyahu requested immunity in Parliament
Israeli Prime Minister Benjamin Netanyahu, accused of corruption in a number of situations and vying for the legislative elections in March, demanded this Wednesday, January 1, an ask for resistance..
WorldNews - Published
Israel's Netanyahu shores up base but obstacles remain
By JOSEPH KRAUSS JERUSALEM (AP) — Israeli Prime Minister Benjamin Netanyahu shored up his base with a landslide primary victory announced early Friday, but he will need a big win in national..
WorldNews - Published
Israel's Government: What Happens Now?
With the expiration of the mandate given to Benny Gantz to form a government, and after Binyamin Netanyahu previously failed to form one, Israel's election saga enters its third stage – a 21-day..
WorldNews - Published
Israel's Netanyahu Left Teetering After Close Election
Israeli Prime Minister Benjamin Netanyahu speaks to supporters in Tel Aviv, Sept. 18, 2019. Photo: Reuters / Ronen Zvulun. Israel's election was too close to call on Wednesday, with a partial vote..
WorldNews - Published
Israeli exit polls show Netanyahu losing election: reports
In a surprising turn of events, exit polls in Israel show Prime Minister Benjamin Netanyahu losing the election. The prime minister's voting block failed to reach a 61 seats majority in the Knesset...
WorldNews - Published
Netanyahu Fails To Get Postponement Of Corruption Hearing, Reports Say
Israel's attorney general on Thursday rejected Prime Minister Benjamin Netanyahu's request to postpone a court hearing over corruption allegations against him, media reports said, the French news..
WorldNews - Published