Harry Maguire
English association football player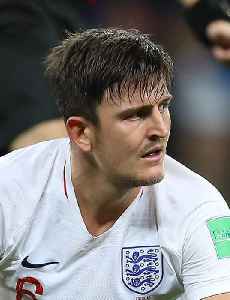 Jacob Harry Maguire is an English professional footballer who plays as a centre-back for Premier League club Manchester United, whom he captains, and the England national team.


Man United without Cavani and Maguire for PSG trip

Manchester United will be without Edinson Cavani and Harry Maguire for their Champions League opener against PSG, with Bruno Fernandes captaining the side.
Credit: Reuters - Sports Duration: 02:02
Published
Gareth Southgate backs Harry Maguire after red card

Gareth Southgate threw his support behind Harry Maguire after the out-of-sortsdefender's costly sending off in England's shock Nations League loss toDenmark. Three days on from impressively coming..
Credit: PA - Press Association STUDIO Duration: 00:47
Published
Solskjaer counting on Maguire to 'focus on football' after Mykonos incident

Manchester United boss Ole Gunnar Solskjaer hopes that Harry Maguire's arrestand pending appeal in the Greek courts following an incident in Mykonos doesnot distract the club's captain.
Credit: PA - Press Association STUDIO Duration: 00:50
Published
Gareth Southgate hints at Maguire's return in October

England manager Gareth Southgate speaks to the press as his team prepares toface Iceland in the Nations League. The manager said Harry Maguire would beconsidered for future games in October.
Credit: PA - Press Association STUDIO Duration: 00:44
Published
Harry Maguire: I feared for my life during Greek arrest

Harry Maguire says he feared for his life during an incident on the Greekisland of Mykonos which saw the Manchester United captain arrested by police.He made the comment in an interview with Dan Roan..
Credit: PA - Press Association STUDIO Duration: 00:39
Published
You Might Like



Champions League: Bruno Fernandes to lead Manchester United against PSG in absence of Harry Maguire

Paris: Harry Maguire did not travel with the Manchester United squad for Tuesday's Champions League Group H opener away to Paris Saint-Germain as manager Ole Gunnar Solskjaer confirmed Bruno Fernandes..




WorldNews - Published





Man Utd's season starts now - Solskjaer after comeback win

Ole Gunnar Solskjaer says Manchester United's season starts now after "inspirational" captain Harry Maguire led a comeback win at Newcastle.




BBC News - Published





Harry Maguire: Manchester United defender will bounce back from England red card, says Ole Gunnar Solskjaer

Manchester United manager Ole Gunnar Solskjaer says captain Harry Maguire will "bounce back" from his recent poor spell of form and England red card.




BBC News - Published




Harry Maguire: Manchester United defender may benefit from rest, says Rio Ferdinand

Manchester United centre-back Harry Maguire could benefit by being rested by his club, says ex-Red Devils defender Rio Ferdinand.




BBC News - Published




Maguire to remain Man Utd captain after suspended sentence

Harry Maguire will remain Manchester United captain after being given a suspended prison sentence on the Greek island of Syros, manager Ole Gunnar Solskjaer has confirmed.




BBC News - Published





Southgate open to Maguire returning for England in October

England manager Gareth Southgate says he will be "absolutely be looking" to reintroduce Harry Maguire to the international fold in October.




BBC News - Published




Harry Maguire: England boss Gareth Southgate open to defender's return

England manager Gareth Southgate says he will be "absolutely be looking" to reintroduce Harry Maguire to the international fold in October.




BBC News - Published





Harry Maguire: I feared for my life during arrest in Greece

Manchester United's Harry Maguire says he feared for his life when Greek police arrested him last week.




BBC News - Published





I thought I was being kidnapped during arrest - Maguire

Manchester United's Harry Maguire says he feared for his life when Greek police arrested him last week.




BBC News - Published





Harry Maguire: Why his Greek trial went so fast

Greek justice threw the book at Harry Maguire, and fast, but the case throws up a number of questions.




BBC News - Published





Harry Maguire: Man Utd defender likely to remain as captain

Harry Maguire is likely to remain as Manchester United captain for the upcoming season.




BBC News - Published




Harry Maguire: Manchester United captain still has time 'to say sorry', says prosecution lawyer

Harry Maguire's lack of apology for his offences on the Greek island of Mykonos is "shocking" and "unsportsmanlike", says one of the prosecution lawyers.




BBC News - Published





Maguire's lack of apology 'shocking' but he still has time 'to say sorry' - prosecution lawyer

Harry Maguire's lack of apology for his offences on the Greek island of Mykonos is "shocking" and "unsportsmanlike", says one of the prosecution lawyers.




BBC News - Published





Harry Maguire Avoids Jail After Guilty Verdict In Greek Court

England and Manchester United footballer Harry Maguire has been found guilty of aggravated assault, resisting arrest, and attempts of bribery in Greece. Maguire has said in a statement he will launch..




WorldNews - Published





Maguire accused of bribery by Greek police

Manchester United captain Harry Maguire asked police who had arrested him on the Greek island of Mykonos 'Do you know who I am?' and offered to give them money, his trial has heard.




BBC News - Published




England call-ups for Harry Maguire, Phil Foden, Mason Greenwood and Kalvin Phillips

Harry Maguire is included in England's squad for next month's Nations League while there are first call-ups for Phil Foden, Mason Greenwood and Kalvin Phillips.




BBC News - Published




Harry Maguire: Manchester United captain's trial to take place in Greece on Tuesday

The trial of Manchester United captain Harry Maguire is set to begin on the Greek island of Syros on Tuesday morning.




BBC News - Published




England boss Southgate faces Maguire selection dilemma

Manager Gareth Southgate picks his first England squad of 2020 on Tuesday. Will Harry Maguire be in it?




BBC News - Published





Harry Maguire: Will he make England squad?

Manager Gareth Southgate picks his first England squad of 2020 on Tuesday. Will Harry Maguire be in it?




BBC News - Published





Maguire to fly home after not guilty plea in Mykonos court

Manchester United captain Harry Maguire pleads not guilty and is released from police custody following his arrest on the island of Mykonos.




BBC News - Published





Harry Maguire: Manchester United captain pleads not guilty and is released from custody

Manchester United captain Harry Maguire pleads not guilty and is released from police custody following his arrest on the island of Mykonos.




BBC News - Published





Harry Maguire: Manchester United captain arrested following incident in Mykonos

Manchester United captain Harry Maguire has been arrested following an incident on the island of Mykonos on Thursday night.




BBC News - Published





Maguire 'co-operating with Greek authorities', say Man Utd

Manchester United say captain Harry Maguire is "fully co-operating with the Greek authorities" following an "alleged incident" on the island of Mykonos on Thursday night.




BBC News - Published





'Getting to semi-finals isn't acceptable' - Maguire says Man Utd 'have fallen short'

Harry Maguire says Manchester United "have to take it to the next step" after losing the Europa League semi-final to Sevilla.




BBC News - Published





Man Utd into FA Cup semis as Maguire goal beats 10-man Norwich

Harry Maguire scores deep into extra-time as Manchester United overcome valiant 10-man Norwich to reach the FA Cup semi-finals.




BBC News - Published





Maguire's extra-time winner sends Man Utd into FA Cup semis

Harry Maguire scores deep into extra-time as Manchester United overcome valiant 10-man Norwich to reach the FA Cup semi-finals.




BBC News - Published





Harry Maguire made Manchester United captain to succeed Ashley Young

Harry Maguire is named as the new Manchester United captain just five months after he joined the club from Leicester City.




BBC News - Published





Man Utd's Maguire ruled out with hip injury

Manchester United defender Harry Maguire is set for an extended period out after suffering a hip injury.




BBC News - Published





Smalling and Jones left in shade as Solskjaer's shows faith in Lindelof

Manchester United coach Ole Gunnar Solskjaer wants Victor Lindelof to partner Harry Maguire all season at the heart of his defence, casting a shadow over the long-term futures of England defenders Phil..




WorldNews - Published





United and City to battle for Dortmund's Sancho

We round up the front and back pages across Europe, as Saturday sees the transfer rumour mill crank into gear once again. The Premier League window may have already closed, but Manchester United and..




WorldNews - Published





Man Utd 4-0 Chelsea: Marcus Rashford hits brace in emphatic win

First the good bits. Four goals, two in the space of 95 seconds, the third an expression of world class in the pass and the finish, saw Manchester United end the first weekend of the season ahead of..




WorldNews - Published





Garth Crooks' team of the week: Maguire, Pogba, Sterling, Kane

Which Premier League player should win the Ballon d'Or? Who could be on Bayern Munich's radar? Find out in Garth Crooks' team of the week.




BBC News - Published





De Laurentiis says Maguire worth €25m as Napoli president quotes €250m for Koulibaly

Aurelio De Laurentiis discussed the transfer market and Harry Maguire's world-record move to Manchester United. Napoli president Aurelio De Laurentiis said Manchester United signing Harry Maguire is..




WorldNews - Published





Harry Maguire joins Manchester United as world's most expensive defender

Harry Maguire has become the most expensive defender in world football after Manchester United confirmed his £80m transfer from Leicester. The England international has signed a six-year contract at..




WorldNews - Published

Also reported by •BBC News


Harry Maguire: Man Utd sign Leicester defender for world record £80m

Manchester United sign England international Harry Maguire from Leicester City for £80m - a world record fee for a defender.




BBC News - Published




Harry Maguire: Manchester City could not afford defender, says Pep Guardiola

Manchester City wanted to sign Harry Maguire from Leicester, but could not afford him, says City boss Pep Guardiola.




BBC News - Published





Harry Maguire: Is Manchester United target worth £80m?

Harry Maguire is on the verge of joining Manchester United, but is he worth £80m? BBC Sport looks at the stats and speaks to those who know him well.




BBC News - Published





Manchester United transfer news: Ole Gunnar Solskjaer expecting more new faces after deal agreed for ...

Ole Gunnar Solskjaer expects Manchester United to complete "one or two" deals before next week's transfer deadline after agreeing a fee with Leicester City for England centre-back Harry Maguire...




WorldNews - Published





Is Maguire worth £80m? What do the stats (and his former coaches) say?

Harry Maguire is on the verge of joining Manchester United, but is he worth £80m? BBC Sport looks at the stats and speaks to those who know him well.




BBC News - Published





Harry Maguire: Man Utd agree £80m deal for Leicester defender

Manchester United reach an agreement to sign England centre-back Harry Maguire from Leicester for world record fee.




BBC News - Published




Manchester United submit '�80million take it or leave it bid for Harry Maguire'

Man Utd have stepped up their chase for Harry Maguire by making another bid for the Leicester defender and more transfer rumours. ......




WorldNews - Published





Rooney: Maguire would be a good Manchester United signing

Manchester City have also been linked with the England defender, but Wayne Rooney wants to see Harry Maguire at Manchester United. Harry Maguire would be a good signing for Manchester United if they..




WorldNews - Published





Pogba, Neymar, Maguire & what's going on at Arsenal? Transfer news with David Ornstein

BBC Sport journalist David Ornstein brings us the latest transfer gossip, including the latest on Paul Pogba's future at Manchester United and Neymar's potential return to Barcelona.




BBC News - Published





Maguire valuation not met, says Leicester boss Rodgers

Leicester boss Brendan Rodgers says the club's valuation of Harry Maguire has not been met, following Manchester United's £70m bid.




BBC News - Published