Barack Obama
44th president of the United States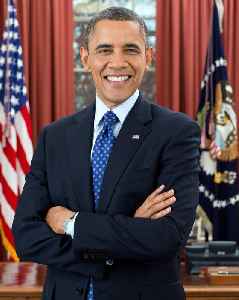 Barack Hussein Obama II is an American politician and attorney who served as the 44th president of the United States from 2009 to 2017. A member of the Democratic Party, Barack Obama was the first African-American president of the United States. He previously served as a U.S. senator from Illinois from 2005 to 2008 and an Illinois state senator from 1997 to 2004.


Last 4 US Presidents agreed on importance of relationship with India: EAM Jaishankar

Union Minister for External Affairs, S Jaishankar attended 'India Global Week 2020' through video conferencing where he spoke on India-US relationship. He said, "Think back at last 4 US presidents-..
Credit: ANI Duration: 01:37
Published
New Revelation Hurts Core Biden Argument

During the 2009 swine flu pandemic, the Obama administration suddenly told states to shut down their testing, without providing much in the way of explanation. And, Joe Biden's top advisor at the time..
Credit: Wochit News Duration: 00:32
Published
SCOTUS Guts Obamacare Contraception Mandate

The Supreme Court sided with employers who refuse to provide no-cost birth control to women as part of their health insurance. Business Insider said this is a historic victory for the Trump..
Credit: Wochit News Duration: 00:26
Published
Biden Campaign Gets New Fonts

c/o the Biden campaign Former Vice President Joe Biden's campaign is introducing a new set of fonts, Decimal and Mercury, to be used "across campaign content like graphics, video, and more." The..
Credit: Wochit News Duration: 00:33
Published
Al Sharpton Shares That Obama Has Called George Floyd's Family

Former President Barack Obama has brought "solace" to George Floyd's family. Obama and Floyd's family had an emotional 25-minute phone call recently, reports Business Insider. Al Sharpton spoke with..
Credit: Wochit News Duration: 00:39
Published
Sacha Baron Cohen Makes Secret Appearance at Conservative Rally in Washington | THR News

Organizers of the event have suggested the comedian disguised himself as a lead singer who encouraged the crowd to sing along to lyrics such as "Obama what we gotta do, inject him with the Wuhan flu"..
Credit: The Hollywood Reporter Duration: 01:44
Published
Prince Harry and Meghan to hit the speakers' circuit

Prince Harry and his wife Meghan Markle will be available for speaking engagements after signing with an agency that works with former U.S. President Obama. Edward Baran reports.
Credit: Reuters Studio Duration: 01:00
Published
Obama Criticizes Trump During Fundraiser

Former President Barack Obama criticized President Donald Trump at a virtual grassroots fundraiser. Obama criticized his "shambolic, disorganized, mean-spirited approach to governance." According..
Credit: Wochit News Duration: 00:32
Published
Donald Trump's Most Memorable Campaign Rally Moments

From personal attacks to Democrats and journalists to throwing out protesters, "is there any place more fun to be than a Trump rally?" As the US President prepares for his rally in Tulsa, the..
Credit: ODN Duration: 03:45
Published
Trump will try again after Supreme Court DACA decision

President Donald Trump on Friday said his administration will make a filing on "Dreamer" immigrants in the United States, without providing details, to address the Supreme Court's ruling that said he..
Credit: Reuters Studio Duration: 01:39
Published
Supreme Court Blocks Trump From Ending DACA

Chief Justice John Roberts joined liberal justices to preserve the Obama-era program in a 5-4 decision.
Credit: Cover Video STUDIO Duration: 01:17
Published
'This way is the American way': Pelosi on DACA ruling

U.S House Speaker Nancy Pelosi on Thursday celebrated the Supreme Court's decision to block President Donald Trump's bid to end a program that protects hundreds of thousands of immigrants from..
Credit: Reuters Studio Duration: 01:13
Published
'This is just the beginning' -Schumer celebrates DACA ruling

U.S. Senate Minority Leader Chuck Schumer on Thursday celebrated outside the Supreme Court in Washington D.C. with others following the court's decision to block President Donald Trump's bid to end a..
Credit: Reuters Studio Duration: 01:46
Published
Biden: Trump Has No Plan For Economy Except To Hang An 'Open For Business' Sign

Democratic presidential candidate Joe Biden will discuss plans to safely reopen a US economy ravaged by the coronavirus pandemic. Reuters reports Biden will speak on the issue when he visits the..
Credit: Wochit News Duration: 00:34
Published
Larry Kudlow Says 'Systemic Racism' Doesn't Exist

National Economic Council Director and President Donald Trump's economic advisor Larry Kudlow said systemic racism doesn't exist. He said it doesn't exist because former President Barack Obama..
Credit: Wochit News Duration: 00:32
Published
U.S. health agency reverses Obamacare transgender protections

The U.S. Department of Health and Human Services issued a rule on Friday that would lift anti-discrimination protections under Obamacare for transgender people and women seeking abortions, drawing..
Credit: Reuters - Politics Duration: 01:14
Published
U.S. Senate panel approves subpoena power in Trump-Russia probe

A divided Senate Judiciary Committee approved sweeping subpoena power on Thursday for a politically charged congressional probe of an FBI investigation into Republican President Donald Trump's 2016..
Credit: Reuters Studio Duration: 01:48
Published
GOP Senate's subpoena power 'unprecedented': Feinstein

Democratic Senator Dianne Feinstein, who is the ranking member of the Senate Judiciary Committee, on Thursday urged her colleagues on a Senate panel to vote against a resolution granting subpoena..
Credit: Reuters Studio Duration: 01:06
Published
Taylor Swift Urges People To Vote

Taylor Swift spoke out about the Black Lives Matter movement, urging people to register to vote. She said: "In order for policies to change, we need to elect people who will fight against police..
Credit: Wochit News Duration: 00:32
Published
Obama Urges US Mayors To Look Over Police Policies

Former President Barack Obama spoke out about the protests taking over several U.S. cities. He urged every American mayor to review their police department's use-of-force policies. Obama said these..
Credit: Wochit News Duration: 00:32
Published
Drew Brees Apologizes After Controversial Comments, Meghan Markle Gives Emotional Address to Former High School & Obama Delivers

Drew Brees is apologizing after LeBron James was among the pro athletes to react to the New Orleans Saints quarterback's controversial comments, Meghan Markle speaks out on George Floyd and Obama..
Credit: The Hollywood Reporter Duration: 02:34
Published
You Might Like



Trump defends frequent golfing, saying 'my exercise is playing'

(CNN)President Donald Trump on Sunday defended what he described as his "exercise" regimen, tweeting a justification for his frequent golf outings and claiming them as sufficient physical activity. "My..




WorldNews - Published





Trump warns Biden embraces socialism or 'worse'

President Donald Trump is criticizing former President Barack Obama's efforts to lift some sanctions against Cuba and warns that the presumptive Democratic nominee, Joe Biden, would even embrace..




USATODAY.com - Published





Democratic presidential candidate Biden proposes 'Buy American' campaign

Democratic Party presidential candidate Joe Biden has proposed sweeping new uses of the state's regulatory and spending power to bolster US manufacturing and technology firms. The former..




WorldNews - Published





What unites young people against Obama and Trump

The push to bring down memorials has renewed criticisms of "cancel culture" from current and past presidents.




BBC News - Published





America Disrupted: US on edge as election nears

America Disrupted: It is in places like Saginaw County, Michigan -- which narrowly flipped from voting for Barack Obama to voting for Donald Trump -- where clarity about a divided America's future is..




USATODAY.com - Published




North Korea is just like China after all

I'm not interested Even the brightest policy minds – minds animated by the best of intentions – make mistakes. The past decade has been particularly unkind to the idea of bringing change to..




WorldNews - Published





Russia Denies Paying Bounties, but Some Say the U.S. Had It Coming

MOSCOW — Three years into a grinding war in eastern Ukraine, the Trump administration, in a sharp break with Obama-era policy, proposed providing the Ukrainian army with potent American weapons,..




WorldNews - Published





Trump Claims Obama-Era Program to End Housing Discrimination Has Had 'Devastating Impact' on Suburbs

Proponents of the policy saw the move as an attempt to shore up the president's sagging support among white suburban voters by stoking racial division.




NYTimes.com - Published





Fact check: Charles Krauthammer did not accuse Obama of forming 'shadow government'

Conservative intellectual and Pulitzer-winning columnist Charles Krauthammer didn't write widely shared column warning the U.S. is a "perfect target."




USATODAY.com - Published





Fact check: Barack Obama mentioned Juneteenth multiple times while president

A social media post claims Barack Obama "never mentioned" Juneteenth while he was president. That is false.




USATODAY.com - Published





How the Trump Campaign Is Drawing Obama Out of Retirement

More than three years after his exit, the 44th president of the United States is back on a political battlefield he longed to leave.




NYTimes.com - Published





Biden Still Wants to Close Guantánamo Prison

The Obama administration ran into a wall of political opposition when it tried. The former vice president rarely brings up the topic and has yet to draw up a strategy but says he shares the goal.




NYTimes.com - Published





Fact check: Obama didn't want to make 'I'd Like to Teach the World To Sing' the national anthem

A claim about President Barack Obama wanting to change the national anthem has been debunked several times since 2008.




USATODAY.com - Published





Harry and Meghan sign with same agency as Obama and Clinton

Former Prince Harry and Meghan Markle have signed with an 'A-list' American agency, to deliver speeches on issues from racial justice to mental health and the environment. The couple,...




WorldNews - Published





With a jab at Trump, House Speaker Nancy Pelosi unveils new 'Obamacare' bill

WASHINGTON: Flicking a dismissive jab at President Donald Trump, House Speaker Nancy Pelosi unveiled a plan Wednesday to expand "Obamacare," even as Trump's administration is about to file arguments..




WorldNews - Published





Obama Urges Democrats: 'Whatever You've Done So Far Is Not Enough'

In his first event with Joe Biden of the 2020 campaign, the former president warned Democrats not to get complacent ahead of the November election.




NYTimes.com - Published





Trump accuses Obama of 'treason' without evidence

Donald Trump has accused Barack Obama of "treason" without providing any evidence to support the...




WorldNews - Published





Barack Obama plans to discuss 'turbulent moment' in US history in first virtual fundraiser with ...

(CNN)President Barack Obama will appear with Joe Biden at his first virtual fundraiser Tuesday night, which has received contributions from some 120,000 people and raised over $4 million as of Tuesday..




WorldNews - Published





Donald Trump to issue executive order limiting temporary work visas

Trump's executive order comes days after the Supreme Court ruled the administration erred in its effort to halt the DACA program created by Obama.




USATODAY.com - Published





Joe Biden needs his Joe Biden. Here's a look at the women who could be on his vice presidential shortlist

The nominee has openly talked about some candidates he's considering and said he has sought advice on the decision from former President Barack Obama.




USATODAY.com - Published





Trump Says Administration Will Try Again to End DACA

Responding to Thursday's Supreme Court decision, the president said he will follow the rules set out by the justices to challenge the Obama-era program protecting young immigrants from deportation.




NYTimes.com - Published




Arizona DACA recipients applaud Supreme Court ruling

Young immigrants in Phoenix, Arizona expressed some relief Thursday that the U.S. Supreme Court has kept alive, for now, the Obama-era program that allows immigrants brought here as children to work..




USATODAY.com - Published





'We won': DACA recipients overwhelmed by surprise Supreme Court victory over Trump

The Supreme Court handed a victory to 650K DACA recipients, a rare win over a Trump administration that tried to end the Obama-era program.




USATODAY.com - Published




Trump's bid to end Obama-era immigration policy ruled unlawful

US Supreme Court rules against the president's bid to end Obama-era programme that protects children.




BBC News - Published





Supreme Court ruling upholds DACA program for young, undocumented immigrants

The program, created by President Barack Obama in 2012, allows nearly 700,000 immigrants to live and work in the U.S. without fear of deportation.




USATODAY.com - Published





Trump Falsely Claims Obama 'Never Even Tried' to Address Police Misconduct

The president has reversed or limited efforts at reform that his predecessor enacted.




NYTimes.com - Published





Turn police reform ideas into law and officers into guardians: 62 Obama-era US attorneys

For too long, our vision of public safety has perpetuated policing that endangers Black and brown people rather than protecting and serving them.




USATODAY.com - Published





Obama to hold joint fundraiser with Biden next week

The Independent employs over 100 journalists around the world to bring you news you can trust. Please consider a contribution or subscription. Two months after endorsing Joe Biden in a lengthy video..




WorldNews - Published





To the Class of 2020: From Trump, the Obamas, Lady Gaga and other graduation speakers

Amid George Floyd protests, the coronavirus pandemic and a recession, the Class of 2020 won't be defined by what's lost but by how you respond.




USATODAY.com - Published





Trump administration erases transgender civil rights protection in health care

The Trump administration has announced it is eliminating an Obama-era regulation prohibiting discrimination in health care against transgender patients.




SBS - Published





Republicans Secure More Subpoena Power in Push to Discredit Russia Inquiry

Republicans on the Senate Judiciary Committee authorized their chairman to subpoena dozens of F.B.I. and former Obama administration officials, including a top aide to Joseph R. Biden Jr.




NYTimes.com - Published





Trump administration ends ban on killing Alaska bear cubs, wolf pups

The Trump administration on Tuesday overturned an Obama-era rule that barred hunters in Alaska national preserves from baiting bear traps or killing denning bear cubs and wolf pups or other practices..




Reuters - Published





Trump Administration Revives Banned Hunting Techniques in Alaska

The move reverses an Obama-era ban on hunting methods like baiting bears with doughnuts and shooting swimming caribou.




NYTimes.com - Published





The Obamas, Beyonce and other stars salute young protesters in YouTube graduation ceremony

You Tube's "Dear Class of 2020" virtual graduation headed by Barack and Michelle Obama filled in for ceremonies canceled by the coronavirus pandemic.




USATODAY.com - Published





Fact check: ABC News execs, Obama did not ban American flag lapel pins

A longtime rumor that ABC News banned patriotic symbols on air, along with the claim that President Barack Obama prohibited flag lapel pins, is false.




USATODAY.com - Published





Young Protesters Say Voting Isn't Enough. Will They Do It Anyway?

"Don't boo — vote," has been Barack Obama's mantra. Now, Democrats want to adapt it: Protest, then vote.




NYTimes.com - Published




With Broad Subpoena Power, Republicans Seek to Undercut Russia Inquiry

Republicans on two Senate committees moved to give their chairmen power to subpoena dozens of Obama administration and F.B.I. officials for the election-year inquiry.




NYTimes.com - Published





Hecky Powell, Barbecue Master and Civic Leader, Dies at 71

From his restaurant in Evanston, Ill., he fed hungry students and the Chicago Bulls, and counseled high schoolers, mayors, a governor and a young Barack Obama.




NYTimes.com - Published





George Floyd live updates: Memorial in Minneapolis on Thursday; Barack Obama pushes police reform; Mattis blasts Trump

George Floyd memorial service to be held in Minneapolis Thursday. Obama pushes police reform. Richmond statues to be removed. Latest on Floyd's death.




USATODAY.com - Published




Barack Obama: I want you to know that you matter

The ex-US president has been giving his first video address since unrest over the death of George Floyd.




BBC News - Published





Obama calls for widespread policing reforms after protests

Former US president Barack Obama on Wednesday urged every American mayor to review and reform their police department's policies on use of force in consultation with their communities. The country's..




WorldNews - Published





Obama calls on all U.S. mayors to pursue policing reforms in wake of protests

In his first live remarks on the unrest gripping dozens of U.S. cities, former President Barack Obama on Wednesday urged every American mayor to review their police department's use-of-force policies..




Reuters - Published




Obama Will Address George Floyd Protests in Online Town Hall

The former president, taking pains not to upstage Joe Biden, plans to echo essays he published recently urging protesters to channel their rage into political action and to embrace police reforms.




NYTimes.com - Published





Obama hosts town hall discussion of 're-imagining policing' after George Floyd's death

Former President Barack Obama, who is expected to give brief opening remarks, has been emphasizing the need to turn protests into policy.




USATODAY.com - Published





Pope Francis Calls Unrest in U.S. 'Disturbing'

The pope was the latest leader to speak out about social unrest in the United States after the death of George Floyd. Former Presidents George W. Bush and Barack Obama have also commented.




NYTimes.com - Published





2020 US Elections: Michelle Obama And The Obama Factor

Former vice president and presumptive Democrat nominee, Joe Biden is expected to announce his running mate for the 2020 US Elections sometime later in the summer. But contrary to popular opinion,..




WorldNews - Published





Former U.S. President Obama condemns violence at protests

Former U.S. President Barack Obama on Monday condemned the use of violence at nationwide protests over racial inequities and excessive police force, while praising the actions of peaceful protesters..




Reuters India - Published

Also reported by •Reuters