Augmented reality
View of the real world with computer-generated supplementary features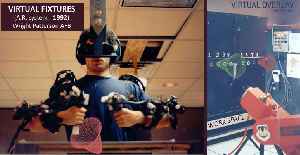 Augmented reality (AR) is an interactive experience of a real-world environment where the objects that reside in the real world are enhanced by computer-generated perceptual information, sometimes across multiple sensory modalities, including visual, auditory, haptic, somatosensory and olfactory. AR can be defined as a system that fulfills three basic features: a combination of real and virtual worlds, real-time interaction, and accurate 3D registration of virtual and real objects. The overlaid sensory information can be constructive, or destructive. This experience is seamlessly interwoven with the physical world such that it is perceived as an immersive aspect of the real environment. In this way, augmented reality alters one's ongoing perception of a real-world environment, whereas virtual reality completely replaces the user's real-world environment with a simulated one. Augmented reality is related to two largely synonymous terms: mixed reality and computer-mediated reality.


Mark Zuckerberg Is Not a Fan of AR Glasses So Far

Zuckerberg doesn't think any currently-released Augmented Reality glasses have been particularly "compelling" since they are either thick frames or resemble an "Apple Watch on your face".
Credit: Cover Video STUDIO Duration: 01:03
Published
You Might Like
Facebook Connect 7: the 5 biggest announcements
Photo by Amelia Holowaty Krales / The Verge Facebook packed its Connect virtual and augmented reality conference into a single day this year, and it announced a lot of news during its two-hour..
The Verge - Published
Connect 7: All the news from Facebook and Oculus' big VR / AR event
A virtual conference for virtual reality
The Verge - Published
Facebook's first AR glasses will be Ray-Bans, coming next year
Facebook says its first pair of consumer augmented reality glasses will be releasing next year, CEO Mark Zuckerberg announced during the opening keynote of its all-virtual Facebook Connect..
The Verge - Published
How to watch Connect, Facebook and Oculus' big AR/VR event
Oculus The seventh annual Facebook Connect virtual and augmented reality conference, formerly known as Oculus Connect, is being streamed online today. Facebook is expected to announce a new Oculus..
The Verge - Published
Here's how to view the Android 11 statue in AR
Google has officially announced Android 11, and the new operating system is already rolling out to Pixel phones. In honor of the release, Google has created a statue that you can view in augmented..
The Verge - Published
Apple hid an AR Easter egg in its September event announcement
Apple has officially announced its upcoming "Time Flies" event for September 15th, and the company hid a neat augmented reality Easter egg in the event announcement that uses Apple's ARKit to..
The Verge - Published
Facebook wants its AR glasses to give wearers superhearing
Facebook A new Facebook experiment shows how sound could play a major role in augmented reality. Chief scientist Michael Abrash and his team at FRL Research (formerly Facebook Reality Labs) released..
The Verge - Published
Apple TV Plus is reportedly getting augmented reality companion content
Apple is planning to add augmented reality content as a companion to its TV Plus streaming service next year, according to a new report from Bloomberg. The AR content could be characters or objects..
The Verge - Published
Oculus Connect is now 'Facebook Connect,' and it's happening September 16th
Photo by Amelia Holowaty Krales / The Verge Facebook's annual Oculus Connect conference will be held online-only on September 16th — and it's being rebranded as Facebook Connect, part of the..
The Verge - Published
The most immersive Face AR technology for brands and developers.
Banuba is a computer vision lab specialising in Face AR development. We create augmented reality SDKs which bring the most immersive face filters, 3D masks, facial animation and AR beauty features to..
WorldNews - Published
How to Create a Winning AR Experience
Augmented reality, AR, technology has been providing consumers with "virtual try-on" experiences for a wide variety of products since the early 2010s. During this past decade, AR has revolutionized..
WorldNews - Published
Two years later, Apple's AR/VR headset plans reportedly pushed back two years
/ An image from a patent Apple filed back in 2008 shows exactly what Apple's VR/AR headset will look like, 100%, with no changes if/when it launches over 15 years later. Right around this date in 2017,..
WorldNews - Published
AR goggles: FORM is sorta like Google Glass, but for swimming
While companies like Google, Microsoft offer AR headsets for professional and industrial environments, companies like FORM and Solo focus on fitness.
USATODAY.com - Published