Ministry of Defence (India)
Indian government ministry responsible for military and national defence matters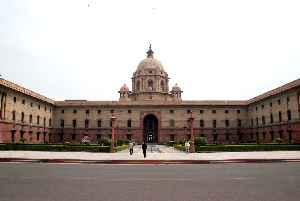 The Ministry of Defence is charged with coordinating and supervising all agencies and functions of the government relating directly to national security and the Indian armed forces. The Ministry has the largest budget among the federal departments of India and currently maintains fifth in military expenditure, among countries of the world.


Sudan protesters move to protect Khartoum sit-in
By Khalid Abdelaziz KHARTOUM, April 15 (Reuters) - Sudanese protesters moved to block an attempt on Monday to break up a sit-in outside the Defence Ministry, where demonstrators have been pushing for a..
WorldNews - Published
Reliance-Rafale link conjectural: Ministry of Defence
Ministry refutes French media claim of tit-for-tat deal
DNA - Published
Protesters demand civilian government as Bashir is ousted
Celebrations erupted outside the Sudanese defence ministry after Vice President and Defence Minister Awad Mohamed Ahmed Ibn Auf announced that Sudanese President Omar al-Bashir was deposed. Edward..
Credit: Reuters Studio Duration: 01:50Published
Sudan's Bashir ousted by military and placed under arrest
President Omar al-Bashir, who ruled Sudan with an iron fist for 30 years, was on Thursday overthrown in a coup by the armed forces which announced a two-year period of military rule to be followed by..
Credit: Reuters Studio Duration: 02:11Published
Sudanese army 'standing' with protesters - witness
Footage has emerged appearing to show Sudanese soldiers protecting demonstrators as thousands of anti-government protesters gathered outside the Defence Ministry in central Khartoum. Edward Baran..
Credit: Reuters Studio Duration: 00:57Published
India Won't Prove Militants Were Killed
MUZAFFARABAD, Pakistan/SRINAGAR, India (Reuters) - A top Indian minister said on Saturday the government would not share proof that "a very large number" of militants were killed in air strikes..
Credit: Wochit News Duration: 00:43Published
Sudanese security forces in fresh attempt to clear protesters outside Defence Ministry: witnesses
Sudanese security forces, firing shots into the air, launched a new attempt on Tuesday to disperse anti-government protesters camping outside the defense ministry, witnesses said.
Reuters - Published
Heavy gunfire heard at protest in Sudan's capital: live TV
Heavy gunfire was heard at a protest outside the Defence Ministry in Sudan's capital Khartoum on Tuesday, live broadcast by al-Hadath TV showed, and activists said in a statement that security forces..
Reuters - Published
Search this site and the web:
You Might Like