Brazilians
Nationality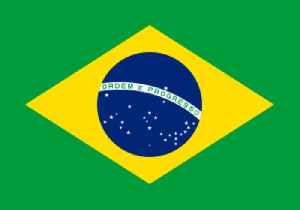 Brazilians are citizens of Brazil. A Brazilian can also be a person born abroad to a Brazilian parent or legal guardian as well as a persons who acquired Brazilian citizenship. Brazil is a multiethnic society, which means that it is home to people of many different ethnic origins. As a result, majority of Brazilians do not equate their nationality with their ethnicity, usually embracing and espousing both simultaneously.


Toned and trim: Brazilians prioritize exercise

As virus cases continue to rise in Brazil, some residents are determined to keep up with their workout routines even if it means a little adjustment. Francis Maguire reports.
Credit: Reuters Studio Duration: 01:11
Published
You Might Like



Jair Bolsonaro's Positive Test Will Only Escalate His Coronavirus Culture War

The virus he has sloughed off has killed more than 65,000 Brazilians. And even after he tested positive, Bolsonaro treated it as no big deal. ......




WorldNews - Published





Coronavirus: EU could bar American travellers at it moves to reopen borders

European Union countries rushing to revive their economies and reopen their borders after months of coronavirus restrictions are prepared to block Americans from entering because the United States has..




WorldNews - Published





Bolsonaro supporter vandalises Brazil beach memorial to coronavirus victims

A beach memorial to Brazil's coronavirus victims has been vandalised by a supporter of the country's far-right president Jair Bolsonaro. Brazilians critical of their government's response to the..




WorldNews - Published





Graves dug in Rio beach to protest handling of COVID-19 pandemic

Brazilians critical of their government's ambiguous response to a surging coronavirus pandemic dug 100 graves and stuck black crosses in the sand of Rio's Copacabana beach on Thursday in a tribute to..




Reuters - Published





Most Brazilians want tougher lockdowns even as economic cost mounts

Most Brazilians support stricter social distancing measures to control the coronavirus, according to a poll published on Wednesday, even as the full economic toll began to emerge with data showing the..




Reuters - Published





Brazil poll shows 60% support tougher lockdowns to combat coronavirus

Most Brazilians support stricter social distancing measures, according to a survey by pollster Datafolha published on Wednesday, to combat the novel coronavirus pandemic.




Reuters - Published





Bolsonaro follows Trump on virus, and then some

Shares Brazilian President Jair Bolsonaro, who is often compared to his US counterpart, Donald Trump, has followed in his footsteps on the coronavirus crisis -- and gone even further. Known for their..




WorldNews - Published





U.S. travel ban on Brazilians follows established benchmark: Bolsonaro advisor

An advisor to Brazilian President Jair Bolsonaro said on Sunday the U.S. restrictions on travel from Brazil had followed previously established benchmarks, playing down the slight from U.S. President..




Reuters - Published





Rio pet delivery brings companionship to Brazilians in isolation

Three-year-old Sansa, a black dog with a white spot on her belly, spent nearly a year in a Rio de Janeiro animal shelter before the coronavirus pandemic restricted visitors, making her odds of being..




Reuters - Published





Poll shows more Brazilians spurn Bolsonaro's COVID-19 response

Support for Brazilian President Jair Bolsonaro has dropped as criticism grows of his handling of the coronavirus pandemic, according to a poll released on Tuesday, driving home his political isolation..




Reuters - Published





Bolsonaro allows Brazilians to go to the gym as coronavirus cases surge

Brazilian President Jair Bolsonaro on Monday declared gyms and hair salons as essential services that can stay open through the new coronavirus outbreak, easing measures to control the disease despite..




Reuters - Published





Lockdown honeymoon for Russian-Brazilian couple - and Cherry the dog

When Brazilian IT worker Helios and Russian saleswoman Luiza tied the knot in St Petersburg in mid-March, their plan was to emigrate to Texas, where he was due to start a new job in May.




Reuters - Published





Brazilians divided on impeachment of President Bolsonaro: poll

Brazilians are split on impeaching President Jair Bolsonaro despite a majority believing accusations by the former justice minister that Bolsonaro tried to interfere with the federal police's work for..




Reuters - Published





Coronavirus crisis heaps hardship on Brazilian migrants in Portugal

Brazilians who make up Portugal's biggest migrant community mainly came to Europe in search of a better life, but the coronavirus crisis has wiped out incomes and jobs for many - and even pushed some..




Reuters - Published





Hundreds of Brazilians stranded by coronavirus head home from Southeast Asia

Brazilian nationals Julio de Oliveira and his wife Thamyres only wanted to enjoy a few days on a Thai beach last month, but the coronavirus outbreak turned their holiday upside down.




Reuters - Published





Most Brazilians do not want Bolsonaro to resign despite criticism of his coronavirus response -poll

Most Brazilians do not favor President Jair Bolsonaro resigning despite mounting criticism of his handling of the coronavirus outbreak, according to a poll published by newspaper Folha de S.Paulo on..




Reuters - Published

Also reported by •WorldNews


Coronavirus: Bolsonaro calls for day of fasting and prayer to 'free Brazil from evil' epidemic

Brazilian president Jair Bolsonaro has said he will declare this Sunday to be a day of prayer and fasting in response to the coronavirus outbreak, encouraging citizens to call on God to "free Brazil..




WorldNews - Published





Brazilians scorn Bolsonaro's coronavirus efforts, back health officials: polls

Brazilians are increasingly against President Jair Bolsonaro's handling of the coronavirus outbreak, and overwhelmingly support governors and health officials he has attacked for advocating social..




Reuters - Published




One Brazilian minister shines as coronavirus clobbers Bolsonaro

As criticism has grown over President Jair Bolsonaro's handling of the coronavirus pandemic, many Brazilians are turning to another voice for guidance and reassurance.




Reuters - Published





Brazil bars foreigners as Bolsonaro urges end to social distancing

Brazil on Friday barred all non-resident foreigners from entering the country via its airports to slow the spread of the coronavirus, but President Jair Bolsonaro urged Brazilians to return to work..




Reuters - Published




Bolsonaro urges Brazilians back to work, dismisses coronavirus 'hysteria'

As Brazil's largest city went into lockdown, President Jair Bolsonaro on Tuesday took aim at the "hysteria" over the coronavirus and urged that life must continue and jobs be preserved.




Reuters - Published





Brazilians evacuated from China amid coronavirus land in Brazil

The 34 Brazilians evacuated from the Chinese city of Wuhan, the epicenter of the coronavirus outbreak, landed in Brazil on Sunday, where they will begin 18 days of quarantine.




Reuters - Published




Brazil to declare emergency, quarantine people returning from coronavirus-hit Wuhan

Alarmed by the growing risks of a new coronavirus, Brazil has decided to repatriate Brazilians from Wuhan, China, and will declare a national health emergency, Health Minister Luiz Henrique Mandetta..




Reuters - Published





Brazilians sent to Mexico by U.S. say they don't understand why

Bewildered, sad and disappointed, Brazilians migrants sent from the United States to Mexico this week were left wondering how they had ended up in another country whose language they do not understand.




Reuters - Published




Brazil green lights U.S. deportation of more Brazilians by plane

The U.S. government will deport a planeload of Brazilians on Friday, the second such chartered flight since October to return an increasing number of migrants trying to enter the United States..




Reuters - Published





U.S. to start global entry program for Brazilian frequent travelers

The U.S. government will launch a "global entry" program for Brazilians traveling to the United States to allow expedited clearance for pre-approved, low-risk travelers upon arrival, the Brazilian..




Reuters - Published





Brazil federal police investigate Greek ship in connection with oil spill

Brazil's federal police on Friday announced a potential breakthrough in the investigation into the causes of a mysterious oil spill that has baffled authorities and Brazilians for about two months.




Reuters - Published





Brazilians unite to clean beaches after massive oil spill decimates coast

Brazilians have been critical of the government's response — or lack thereof — to the environmental crisis




CBS News - Published





Rainforest Mafias: How Violence and Impunity Fuel Deforestation in Brazil's Amazon

Brazilians who defend the Amazon are facing threats and attacks from criminal networks engaged in illegal logging. The situation is only getting worse under President Bolsonaro, whose assault on the..




WorldNews - Published





Disapproval of Bolsonaro presidency jumps after Amazon crisis: poll

Brazilians saying that President Jair Bolsonaro is doing a "bad or terrible" job rose to 38% from 33% previously, in the first major poll since the government faced global outcry over its handling of..




Reuters - Published





Amazon fires scorch Bolsonaro's reputation abroad, but not in Brazil

President Jair Bolsonaro has drawn sharp criticism on the international stage from European leaders and environmental groups for his handling of wildfires raging in the Amazon, but at home few..




Reuters - Published




AP Top Stories August 28

Here's the latest for Wednesday August 28th: Tropical Storm Dorian approaching Puerto Rico; Oxycontin settlement reportedly discussed; Brazilians concerned about respiratory illnesses from Amazon..




USATODAY.com - Published




According to a poll, most Brazilians think Neymar is 'innocent'

Most Brazilians believe Neymar did not rape a woman who has accused him of sexual assault, a poll showed Friday, with more than 60 percent of respondents declaring him innocent. The injured star..




WorldNews - Published