Jammu and Kashmir (state)
Former state administered by India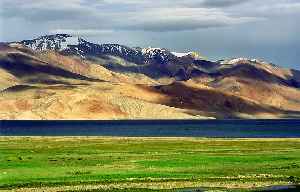 Jammu and Kashmir was a region formerly administered by India as a state from 1954 to 2019, constituting the southern and southeastern portion of the larger Kashmir region, which has been the subject of a dispute between India, Pakistan and China since the mid-20th century. The underlying region of this state were parts of the former princely state of Jammu and Kashmir, whose western districts, now known as Azad Kashmir, and northern territories, now known as Gilgit-Baltistan, are administered by Pakistan. The Aksai Chin region in the east, bordering Tibet, has been under Chinese control since 1962.


Terrorist killed in encounter in J and K's Samboora

An unidentified terrorist was killed in an encounter with security forces in Samboora area of Jammu and Kashmir on September 27. Police and security forces are still on the job. Further details shall..
Credit: ANI Duration: 01:27
Published
CRPF organizes fitness camp for sportspersons in Srinagar

Central Reserve Police Force (CRPF) has organized a fitness camp for sportspersons in Srinagar. The camp has been organized in the amid COVID-19 pandemic with precautions, to get sportspersons back in..
Credit: ANI Duration: 03:40
Published
'Lies, misinformation, malice': India slams Pak PM Imran Khan's UNGA speech

India hit back at Pakistan for raking up Jammu and Kashmir in the UN General Assembly. Slamming Pakistan Prime Minister Imran Khan, India said that Jammu and Kashmir is its 'integral and inalienable'..
Credit: HT Digital Content Duration: 05:11
Published
UNGA75: India exercises its Right to Reply for third time in response to Pakistan

Hours after Pakistan Prime Minister Imran Khan raised the Kashmir issue in the 75th United Nations General Assembly (UNGA) on September 25, India promptly responded to Khan's comments and requested the..
Credit: ANI Duration: 03:47
Published
J-K Police induct hi-tech Command Vehicle to combat terrorism

Jammu and Kashmir police has inducted a special Command Vehicle for anti-terrorist operations. "The vehicle is specially designed for operations sides, like encounters and disasters management. It has..
Credit: ANI Duration: 03:01
Published
Pak exploits Kashmiri youth as pawns in its proxy war, says EFSAS director

Since the late 1980s Pakistan's military establishment has used youth from Jammu and Kashmir to join its various terrorist proxies like Hizbul Mujahideen, Lashkar-e-Taibah and Jaish-e-Mohammed, said..
Credit: ANI Duration: 01:35
Published
2 LeT terrorists killed in encounter at J-K's Anantnag

2 Lashkar-e-Taiba terrorists killed in J-K's Anantnag encounter on September 25. Incriminating material, including arms and ammunition, were recovered. The area has been cordoned off and search..
Credit: ANI Duration: 01:04
Published
J-K terrorist attack: Mortal remains of slain soldier Badole brought to Nagpur

The mortal remains of slain soldier CRPF Assistant Sub Inspector Naresh Umrao Badole brought to his residence in Nagpur on September 25. Badole sustained severe injuries in terrorist attack in Jammu..
Credit: ANI Duration: 01:13
Published
UN must declare BRI projects between Pakistan and China as illegal, asks activist

A political activist from Pakistan occupied Kashmir (PoK) has demanded the United Nations to declared Belt and Road Initiative projects between China and Pakistan as illegal. Dr Amjad Ayub Mirza, while..
Credit: ANI Duration: 01:42
Published
Budgam terrorist attack: Wreath laying ceremony of CRPF jawan held in Srinagar

Wreath laying ceremony of Central Reserve Police Force (CRPF) ASI Nu Badole was performed on September 24 in Srinagar with full honours. The CRPF personnel succumbed to injuries he received during..
Credit: ANI Duration: 01:46
Published
J&K: CRPF officer killed in terror attack; terrorists steal his weapon

A CRPF officer was killed in attack by terrorists in Jammu and Kashmir's Budgam. Assistant Sub Inspector N C Badoley belonged to CRPF's 117 battalion. The terrorists attacked the CRPF party in..
Credit: HT Digital Content Duration: 01:15
Published
Shopian encounter: Indian Army initiates action against troops in Kashmir

Indian military begins disciplinary proceedings against several soldiers in Kashmir over killings of three young men.
Credit: Al Jazeera STUDIO Duration: 03:19
Published
CRPF personnel succumbs to injuries during terrorist attack in JandK

At least one jawan of the Central Reserve Police Force (CRPF) has lost his life in the terrorists attack at Chadoora area of Budgam district in Jammu and Kashmir. The search operation is underway.
Credit: ANI Duration: 01:10
Published
Communal harmony still prevails in J-K's Mattan village

The symbol of communal harmony between different sects is still alive in South Kashmir's Mattan village. In the three localities of Seer Hamdan, Srigufwara, and Mattan village of Anantnag district,..
Credit: ANI Duration: 05:06
Published
Arms and ammunition dropped by Pakistani drones in J&K's Akhnoor: Forces

Security forces recovered cache of arms and ammunition in J&K's Akhnoor. Forces said the ammunition was dropped by a Pakistani drone across LOC. An official confirmed that the arms and ammunition..
Credit: HT Digital Content Duration: 02:03
Published
You Might Like



President gives assent to Jammu and Kashmir Official Languages Bill

A new law that provides for inclusion of Kashmiri, Dogri and Hindi in the list of official languages in Jammu and Kashmir, in addition to Urdu and English, has been notified after President Ram Nath..




IndiaTimes - Published





J&K: Encounter breaks out in Pulwama; 2-3 terrorists believed to be trapped

IGP Kashmir confirmed the exchange of fire between the terrorists and security forces.




DNA - Published




J&K: Two terrorists killed in encounter in Pulwama

IGP Kashmir confirmed the exchange of fire between the terrorists and security forces.




DNA - Published





Encounter underway between terrorists and security forces in J&K's Pulwama




IndiaTimes - Published




CAG report highlights failure of J&K govt in proper implementation of MGNREGA in 2016-17

The Comptroller and Auditor General of India has highlighted the failure of the previous PDP-BJP government in the proper implementation of the Mahatma Gandhi National Rural Employment Guarantee Act..




IndiaTimes - Published





India-Pak troops exchange fire along International Border in J&K's Samba

Indian and Pakistani troops exchanged fire for nearly 30 minutes after the Border Security Force (BSF) picked up suspicious movement along the International Border in Samba district of Jammu and..




IndiaTimes - Published





India slams Pakistan PM at UNGA for terror export

After Pakistan PM Imran Khan again raised the Kashmir issue at UNGA, India slammed Pakistan saying terrorism was its only crowning glory. Exercising its Right of Reply, the Indian mission also accused..




IndiaTimes - Published





J&K: Lashkar-e-Taiba terror associate arrested in Handwara; arms and ammunition recovered

Jammu and Kashmir: Handwara Police on Saturday arrested a terrorist associate affiliated to the Lashkar-e-Taiba (LeT) and recovered arms and ammunitions.




DNA - Published





Earthquake of 4.5 magnitude hits Jammu and Kashmir

A medium-intensity earthquake hit Jammu and Kashmir on Saturday, but there were no reports of any damage or loss of life, officials said. The earthquake of 4.5 magnitude occurred at 12:02 pm at a depth..




IndiaTimes - Published





Pakistan shells forward areas along LoC in Jammu and Kashmir's Rajouri




IndiaTimes - Published




India slams Pakistan for raking up J&K in UNGA, says Islamabad peddled 'litany of vicious falsehood'




IndiaTimes - Published





DNA samples of 3 men killed in Shopian encounter match with families from Rajouri: J&K Police

The DNA samples of three men who were killed in an alleged fake encounter with the Army in Jammu and Kashmir's Shopian district in July have matched with their families from Rajouri, a senior police..




IndiaTimes - Published





Two LeT terrorists eliminated in J&K's Anantnag district

The gunfight between the terrorists and the security forces broke out in the Sirhama area on Thursday evening after security forces cordoned off the area and launched a search operation




DNA - Published





Terrorist, CRPF ASI killed in separate incidents in Kashmir




IndiaTimes - Published





J&K: Encounter breaks out between security forces and terrorists in Anantnag, second such incident of the day

Kashmir zone IGP confirmed the exchange of fire.




DNA - Published





J&K: Advocate shot dead by terrorists in Srinagar

Unidentified terrorists shot dead an advocate in Hawal area of the Srinagar on Thursday, police said. The ultras fired upon advocate Babar Qadri at his Hawal residence around 6:25 pm from close range..




IndiaTimes - Published





One terrorist killed by security forces in Jammu and Kashmir's Pulwama




IndiaTimes - Published




J&K: Terrorists attack CRPF patrol party in Budgam, ASI martyred

The martyred ASI was attacked by the terrorists and his service rifle was also looted by them before they fled from the scene.




DNA - Published





From stone pelter in Kashmir to professional footballer: Story of Afshan Ashiq, participating in PM's Fit India Dialogue

This female footballer from Jammu and Kashmir is among the top sportsperson and athletes along with Virat Kohli, actor Milind Soman and dietician Rujuta Diwekar who are part of this Fit India dialogue..




DNA - Published





J&K: Terrorists kill BDC chairman of Khag in Budgam

The BDC officer was shot dead by the terrorists at around 7:45 PM.




DNA - Published




Mehbooba Mufti's daughter moves SC seeking to amend plea against continued detention of her mother

Iltija Mufti, the daughter of former Jammu and Kashmir chief minister Mehbooba Mufti, has approached the Supreme Court seeking to modify her petition challenging the detention of her mother under the..




IndiaTimes - Published





Parliament passes Jammu and Kashmir Official Languages Bill, these 5 languages are now 'official' in J&K

The Jammu and Kashmir Official Languages Bill 2020 was passed by a voice vote in the Rajya Sabha on Wednesday.




DNA - Published





India slams Turkish President Erdogan's Kashmir remarks at UNGA

T S Tirumurti, India's permanent...




WorldNews - Published





Turkish President Erdogan's remarks on J&K at UN 'completely unacceptable': India

"We have seen remarks by President of Turkey on Indian UT (Union Territory) of Jammu & Kashmir. They constitute gross interference in India's internal affairs and are completely unacceptable. Turkey..




IndiaTimes - Published





'Learn to respect sovereignty of nations': India slams Turkey after Erdogan rakes Kashmir at UNGA

India has strongly reacted to Turkish President Recep Tayyip Erdo?an raking Kashmir during his united nations general assembly speech.




DNA - Published





At UN, India slams Pakistan on terror as it rakes up J&K issue

Following another attempt by Pak to raise the Kashmir issue at the UN, India described Pakistan as a country recognised globally as the epicentre of terrorism. Pakistan's foreign minister had said..




IndiaTimes - Published





Weapons air-dropped from drone recovered in J&K's Akhnoor




IndiaTimes - Published





Jammu & Kashmir: Mild earthquake jolts Srinagar




IndiaTimes - Published




J-K: Security forces recover drone dropped arms, ammo from Akhnoor sector, initial probe suggests JeM hand

Two consignments of arms and ammunition, which had been drone dropped by terrorists, have been recovered in the Akhnoor sector of Jammu and Kashmir, police said on Tuesday.




DNA - Published





NIA carries out raids in Jammu and Kashmir in connection with case related to arrested DSP Devender Singh




IndiaTimes - Published





'Globally recognised centre of terrorism': India slams Pakistan at UN

Hours after Pakistan raked Kashmir at the United Nations (UN), India slammed Pakistan and highlighted its role in supporting and aiding terrorism.




DNA - Published





NIA raids several locations in Jammu and Kashmir in ex-DSP Davinder Singh case




IndiaTimes - Published





India slams Pakistan for raising J&K issue at UN, says it hails terrorists as 'martyrs'

India on Monday hit back at Pakistan for raising the issue of Jammu and Kashmir during the high-level meeting to commemorate 75 years of United Nations (UN), saying Islamabad is globally recognised as..




IndiaTimes - Published





Schools reopen in Jammu on 'voluntary basis', students remain elusive amid COVID-19

Schools in Jammu and Kashmir reopened on Monday, as per the J&K administration's orders, on a voluntary basis requiring the consent of the parents for students to attend the schools amid the COVID-19..




DNA - Published





Terror incidents, stone pelting, loss of lives significantly reduced in Jammu & Kashmir from August 5, 2019: MHA




IndiaTimes - Published





Terrorists attack CRPF battalion in Jammu and Kashmir's Nowgam




IndiaTimes - Published





J&K: Pakistan violates ceasefire at Poonch, Indian army gives befitting reply

Indian Army gave a befitting reply.




DNA - Published





Need to hold talks with Pak over border skirmishes: Farooq Abdullah

Abdullah further said that people in Jammu & Kashmir have no access to 4G facility, and there is no progress taking place in J&K.




DNA - Published





Arrested Al Qaeda terrorists had plans to travel to Kashmir for weapons delivery

Al Qaeda terrorists, who were nabbed early Saturday by NIA teams from Kerala and West Bengal, had plans to travel to Jammu and Kashmir for weapons delivery along with home-made explosives for their..




DNA - Published





J&K: India deploys 3,000 additional troops along LoC to combat Pakistan's infiltration

With Pakistan Army trying hard to push terrorists across the Line of Control (LoC), the Indian Army has deployed additional 3,000 troops in Jammu and Kashmir to plug any such infiltration attempts.




DNA - Published





Lt Governor Manoj Sinha announces Rs 1350 cr economic package for Jammu and Kashmir

Lieutenant Governor Manoj Sinha on Saturday announced a relief package of Rs 1350 crore for Jammu and Kashmir in a bid to boost the business and the other ailing sectors that have suffered huge losses..




IndiaTimes - Published





India flags Pakistan's anti-India campaign over Kashmir ahead of UNGA debate

Ahead of 75th session general debate of the United Nations General Assembly (UNGA), Pakistan has planned an online anti-India and free Kashmir propaganda on social media platforms on Saturday.




DNA - Published





Pakistan violates ceasefire at Jammu and Kashmir's Poonch




IndiaTimes - Published





Army chief on 2-day visit to Kashmir amid spike in ceasefire violations by Pak

Army chief General M M Naravane is on a two-day visit to Kashmir to assess the security situation along the Line of Control (LoC), amidst the spike in ceasefire violations (CFVs) by Pakistan.




IndiaTimes - Published





Pulwama-type attack averted in Kashmir with recovery of 52 kg explosives: Army officials

A Pulwama-style terror attack was averted on Thursday by the Indian Army with the recovery of 52 kg of explosives in Karewa area of Gadikal in Kashmir, Army officials said here.The location where the..




IndiaTimes - Published





Army Chief visits Jammu and Kashmir to assess situation along LoC

The Army Chief also commended the use of technology to ensure effective day and night surveillance across the LoC which has resulted in many successful operations to foil infiltration bids in the..




IndiaTimes - Published





J&K: Crisis averted as security forces recover huge cache of explosives in Pulwama

Further investigation is underway.




DNA - Published





J&K: Three terrorists eliminated, CPRF official injured in encounter in Batmaloo

A civilian also died during the exchange of fire between security forces and terrorists in Jammu and Kashmir's Batmaloo on Thursday.




DNA - Published





Indian Army fully geared to fight full-fledged war in eastern Ladakh even in winters, says retired Brigadier

JAMMU: The is fully prepared to fight a full-fledged war even in winters in eastern Ladakh and if China created conditions for war, they will face a better trained, better prepared, fully rested and..




WorldNews - Published