Vatican City
Independent papal state in the city of Rome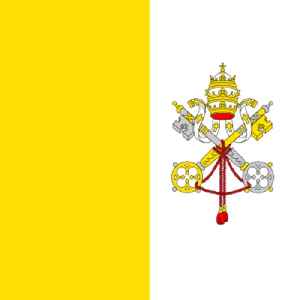 Vatican City, officially the Vatican City State, is the Holy See's independent city-state enclaved within Rome, Italy. Established with the Lateran Treaty (1929), it is a distinct territory under "full ownership, exclusive dominion, and sovereign authority and jurisdiction" of the Holy See, itself a sovereign entity of international law, which maintains the city state's temporal, diplomatic, and spiritual independence. With an area of 49 hectares and a population of about 825, it is the smallest sovereign state in the world by both area and population.


Vatican museums reopen with no crowds

The Vatican Museums reopened its majestic doors on June 1, ending a three-month closure. Joe Davies reports.
Credit: Reuters Studio Duration: 01:12
Published
Pope To World Leaders: Help Needy Now, But Plan On Long-Term Change

Pope Francis presided at an outdoor prayer service in the Vatican on Saturday, with about 130 people in attendance. According to Reuters, it was the largest gathering there in nearly three months. Most..
Credit: Wochit News Duration: 00:37
Published
Vatican workers scrub-down St. Peter's Basilica

Vatican workers sanitized every inch of the interior of the stunning St. Peter's Basilica on Friday (May 15), as part of measures to contain the spread of coronavirus.
Credit: Reuters Studio Duration: 00:58
Published
Vatican disinfects St Peter's Basilica ahead of resumption of worship

The Vatican has started to disinfect St Peter's Basilica as it prepares to welcome worshippers back for masses from May 18. It is not yet known when Pope Francis will next preside over mass in person,..
Credit: PA - Press Association STUDIO Duration: 00:34
Published
You Might Like



Former Pope Benedict leaves Vatican to visit ailing brother in Germany

Former Pope Benedict travelled to his native Germany on Thursday to visit his ailing older brother, the Vatican said.




Reuters - Published





Vatican urges Catholics to drop investments in fossil fuels, arms

The Vatican urged Catholics on Thursday to disinvest from the armaments and fossil fuel industries and to closely monitor companies in sectors such as mining to check if they are damaging the..




Reuters - Published




Vatican releases Italian arrested in London building investigation

Vatican prosecutors on Monday provisionally released Gianluigi Torzi, an Italian middleman in a controversial deal in which the Vatican used Church money to purchase a luxury building in London as an..




Reuters - Published





Pope urges end to Libyan conflict

VATICAN CITY -- Pope Francis on Sunday urged political and military leaders in Libya to end their hostilities and called on the international community to take "to heart" the plight of migrants trapped..




WorldNews - Published





Vatican arrest man over luxury property deal

The Vatican's £160m ($200m) purchase of a London apartment block is the subject of an investigation.




BBC News - Published





Vatican arrests Italian in investigation of London real estate deal

Vatican police on Friday arrested Gianluigi Torzi, an Italian middleman who was part of a deal in which the Vatican purchased a luxury building in London as an investment.




Reuters - Published





George Floyd protests, Strawberry moon, Trump visits Maine: 5 things to know Friday

Vatican official to hold George Floyd prayer service in Rome, President Trump heads to Maine despite concerns of unrest and more things to know Friday




USATODAY.com - Published





Hutton Gibson, Extremist and Father of Mel Gibson, Dies at 101

His anti-Semitic, anti-Vatican views gained notoriety after his son directed the controversial film, "The Passion of the Christ."




NYTimes.com - Published





Pope Francis calls George Floyd's death 'tragic' and racism 'sin'

VATICAN CITY — Pope Francis spoke out from the Vatican, weighing in on the death of George Floyd at the hands of police in Minneapolis, calling his death "tragic." The pontiff spoke as the eighth..




WorldNews - Published





Pope makes anti-corruption spending rules mandatory in Vatican

Pope Francis has approved sweeping new rules for procurement and spending in the Vatican meant to cut costs, ensure transparent competition and reduce the risk of corruption in awarding contracts.




Reuters - Published





Divert weapons funding to research to prevent next pandemic, pope says

Pope Francis on Saturday urged politicians to divert funds spent on weapons to research to prevent another pandemic, as he led the largest gathering in the Vatican in nearly three months.




Reuters - Published




Vatican Museums, Holy See's cash cow, to reopen from June 1

The Vatican Museums will reopen on June 1, the Vatican said on Saturday, ending a closure caused by the coronavirus lockdown that has drained the Holy See's coffers.




Reuters - Published





Vatican, Italy resume public church services as lockdown eases

Pope Francis inaugurated the full reopening of St. Peter's Basilica in the Vatican on Monday and Catholic churches across Italy held public Masses for the first time in two months, in the latest easing..




Reuters - Published





Vatican, Italy start return to religious normal as public Masses resume

Pope Francis inaugurated the full reopening of St. Peter's Basilica on Monday and Catholic churches held public Masses for the first time in two months in the latest easing of Italy's coronavirus..




Reuters - Published





Polish archbishop refers child abuse negligence case to Vatican

The Polish Catholic Church's most senior archbishop notified the Vatican on Saturday of a Polish bishop accused of shielding priests known to have sexually abused children.




Reuters - Published




Vatican to introduce temperature checks at St. Peter's Basilica

People attending Masses in St. Peter's and other papal basilicas in Rome will have their temperature checked as part of measures to contain the spread of coronavirus, the Vatican said on Thursday.




Reuters - Published





Coronavirus drains Vatican coffers as income falls, deficits loom

Late last month, the Vatican announced the coronavirus pandemic had forced Pope Francis to postpone an annual fund raising campaign among Catholics worldwide to help him carry out his ministry.




Reuters - Published





Cardinal George Pell 'knew of clergy abuse for decades'

Cardinal George Pell was aware of child sexual abuse by Catholic clergy in Australia as far back as the 1970s and failed to seek the removal of accused priests, according to parts of a top-level..




WorldNews - Published





Cardinal Pell 'knew of' clergy abuse, says Australian royal commission

The ex-Vatican treasurer was aware of priests' abuse in Australia and failed to act, an inquiry says.




BBC News - Published





Vatican urges internal migrants get same rights as refugees

ROME (AP) — The Vatican says internal migrants should have the same legal protections as refugees and says their children should have the right to birth certificates, education and being reunited..




WorldNews - Published





Order of Malta: Grand Master Giacomo Dalla Torre dies at 75

Giacomo Dalla Torre, the head of the Catholic chivalric group, helped smooth ties with the Vatican.




BBC News - Published





Knights of Malta Grand Master who healed rift with Vatican dies

Giacomo Dalla Torre, the Grand Master of the Knights of Malta who steered the global Catholic chivalric order and charity to reconciliation with the Vatican after a period of conflict, died on..




Reuters - Published





Pope postpones two mega-events by a year because of coronavirus

Pope Francis has postponed two major international Catholic Church events by a year because of the uncertainties caused by the coronavirus pandemic, the Vatican said on Monday.




Reuters - Published





Pope marks 'Easter of solitude' in virus lockdown

Pope Francis gives Easter blessing following Easter Sunday Mass on April 12, 2020 behind closed doors at St. Peter's Basilica in The Vatican, during the country's lockdown aimed at curbing the spread..




WorldNews - Published





'Be messengers of life in a time of death,' pope says on Easter eve

Vatican City - Pope Francis urged people to "not yield to fear" and focused on a "message of hope" as he led an Easter eve Mass in an empty St. Peter's Basilica on Saturday amid the coronavirus..




WorldNews - Published





Pope guides locked-down world through virtual Easter

Vatican City: Church doors will be shut and the Vatican sealed off when Pope Francis leads 1.3 billion Catholics in Easter Sunday celebrations held under a worldwide coronavirus lockdown. Fear and..




WorldNews - Published





Cardinal Pell accuser 'accepts' acquittal

A former choirboy who accused Australian Cardinal George Pell of molesting him has said he accepts the top Vatican cleric's acquittal, but urged survivors of child sex abuse to keep coming forward. A..




WorldNews - Published





Vatican welcomes Cardinal Pell acquittal; says he waited for the truth

The Vatican on Tuesday welcomed Cardinal George Pell's acquittal by Australia's highest court on charges of sexual abuse, praising him for having "waited for the truth to be ascertained".




Reuters - Published





After Cardinal George Pell acquitted, Pope Francis decries 'unjust sentences' as Vatican 'welcomes' verdict

Pope Francis has appeared to offer George Pell support, dedicating his morning mass for those who suffer today from unjust sentences.




SBS - Published





Cardinal Pell walks free after Australian court acquittal

Australia's highest court on Tuesday acquitted former Vatican treasurer George Pell of sexually assaulting two teenaged choirboys in the 1990s, allowing the 78-year-old cardinal to walk free from jail.




Reuters - Published




Palm Sunday ceremonies in Vatican City, Jerusalem limited over coronavirus fears as Easter restrictions loom

Palm Sunday marks the beginning of Holy Week for Christians. This year, it looks very different across the world because of the coronavirus pandemic.




USATODAY.com - Published





As people are ordered to stay home, pope calls for help for homeless

VATICAN CITY (CNS) -- As national and local governments have been issuing stay-at-home or shelter-in-place orders to curb the spread of the coronavirus, Pope Francis asked people to pray for and assist..




WorldNews - Published





Italy, Vatican lower flags, observe silence to honor coronavirus dead

Italians marked a minute of silence and flags at government buildings were lowered to half mast on Tuesday to honor the thousands of victims of the coronavirus outbreak.




Reuters - Published




Pope and closest aides do not have coronavirus: Vatican

The Vatican said on Saturday that tests carried out in the residence where Pope Francis lives showed that the 83-year-old pontiff and his closest aides do not have coronavirus.




Reuters - Published




Stunning visual as Pope Francis delivers prayer to empty St. Peter's Square

As Easter approaches, Pope Francis spoke to an empty Vatican, which, along with surrounding Italy, has been afflicted by coronavirus.




USATODAY.com - Published





Vatican readies contingency plan against coronavirus in busy papal residence

The Vatican is conducting tests for coronavirus on the dozens of priests who live in the same residence as Pope Francis and making contingency plans to move those diagnosed with the disease elsewhere,..




Reuters - Published





Person who lives in papal residence tests positive for coronavirus: report

A person who lives in the same Vatican residence as Pope Francis has tested positive for coronavirus and is being treated in an Italian hospital, the Rome newspaper Il Messaggero reported on Wednesday.




Reuters - Published





160-year-old Vatican newspaper succumbs to coronavirus

The Vatican daily L'Osservatore Romano, which Pope Francis has jokingly called "the party newspaper", suspended printing for only the third time in nearly 160 years on Wednesday due to the coronavirus.




Reuters - Published





Pope Francis' May 31 trip to Malta postponed due to coronavirus

Pope Francis's trip to Malta, which had been scheduled to take place on May 31, has been postponed indefinitely, the Vatican said on Monday.




Reuters - Published





Vatican cancels public participation at pope's Easter events due to virus

Pope Francis' Holy Week and Easter services, which normally draw tens of thousands of people, will be held without the public attending because of the coronavirus outbreak, a step believed to be..




Reuters - Published





Papal Easter events to be held without faithful attending, Vatican says

All of Pope Francis' Easter services next month will be held without the faithful attending due to the coronavirus outbreak, Vatican said on Sunday, in a step believed to be unprecedented in modern..




Reuters - Published





Pope holds his first ever virtual general audience with Italy on lockdown

Pope Francis, holed up in the Vatican by Italy's coronavirus epidemic, held his first virtual general audience on Wednesday, thanking medical staff but urging the world not to forget the plight of..




Reuters - Published





Australian court hears final appeal by ex-Vatican treasurer Pell

Australia's highest court began hearing the final bid on Wednesday by former Vatican treasurer George Pell to overturn his conviction for sexually assaulting two teenaged choirboys in the 1990s when he..




Reuters - Published





Feeling 'caged' by coronavirus alarm, pope delivers Sunday address over internet

Saying he felt "caged," Pope Francis delivered his Sunday blessing over the internet from inside the Vatican on Sunday instead of from a window to stop crowds gathering during Italy's coronavirus..




Reuters - Published





First Vatican coronavirus patient attended big conference last week

The Vatican said on Friday that a patient in its health services had tested positive for coronavirus, the first in the tiny, walled city-state surrounded by Rome.




Reuters - Published





Pope lets French cardinal embroiled in abuse cover-up resign

VATICAN CITY (AP) — Pope Francis on Friday accepted the resignation of a French cardinal who was convicted and then acquitted of covering up for a pedophile priest in a case that fueled a reckoning..




WorldNews - Published





Vatican reports first case of coronavirus inside its walls

The Vatican said on Friday that a patient in its health services had tested positive for the coronavirus, the first in the tiny, walled city state surrounded by Rome.




Reuters - Published

Also reported by •WorldNews